Overview
Dive into the world of vaping with the Voopoo Argus GT II Starter Kit – a harmonious blend of style, power, and performance.
The vaping landscape is ever-evolving, with new devices continually pushing the boundaries of innovation. Amidst this dynamic backdrop, the Voopoo Argus GT II Starter Kit stands out, seamlessly combining a futuristic aesthetic with state-of-the-art technology.
The Argus GT II is more than just a vaping device; it's a statement of intent. It signifies the evolution of vaping technology and the direction it's taking. With its sleek design, rapid charging capabilities, and unparalleled performance, the Argus GT II is poised to redefine the vaping experience for both newcomers and seasoned vapers.
Experience the pinnacle of vaping innovation with the VOOPOO ARGUS GT II – where power meets precision.
— Black Note
The Voopoo Argus GT II Starter Kit is a testament to Voopoo's unwavering commitment to excellence. Every feature, from its powerful 200W output to its IP68 tri-proof rating, showcases Voopoo's dedication to providing the best vaping experience.
The kit's Volcano Crater Design ensures efficient condensate drainage, while the Turbo mode offers a peak vaping experience. Powered by the advanced GENE.TT 2.0 Chip, the Argus GT II supports multiple vaping modes, including Smart, RBA, Turbo, and TC.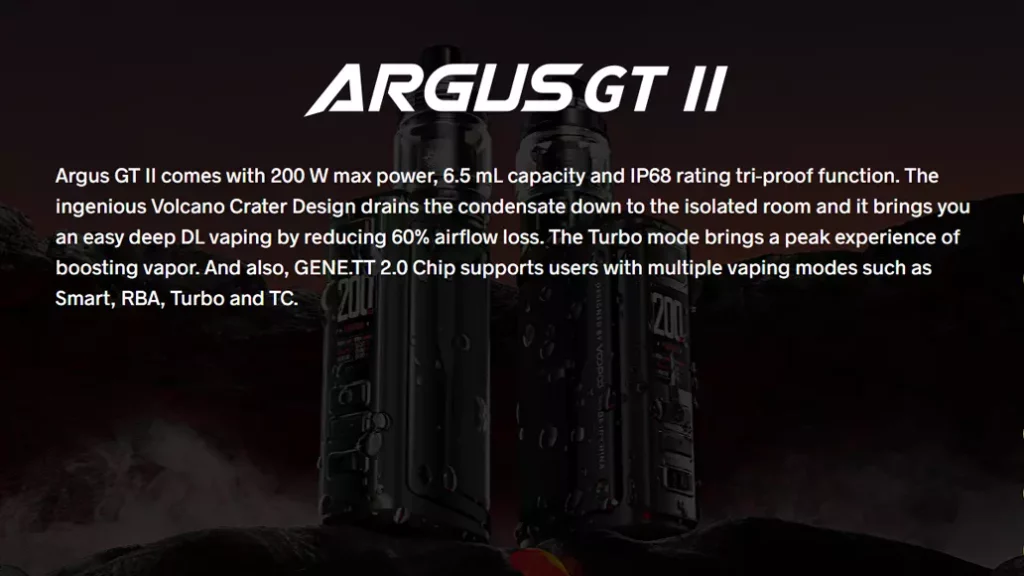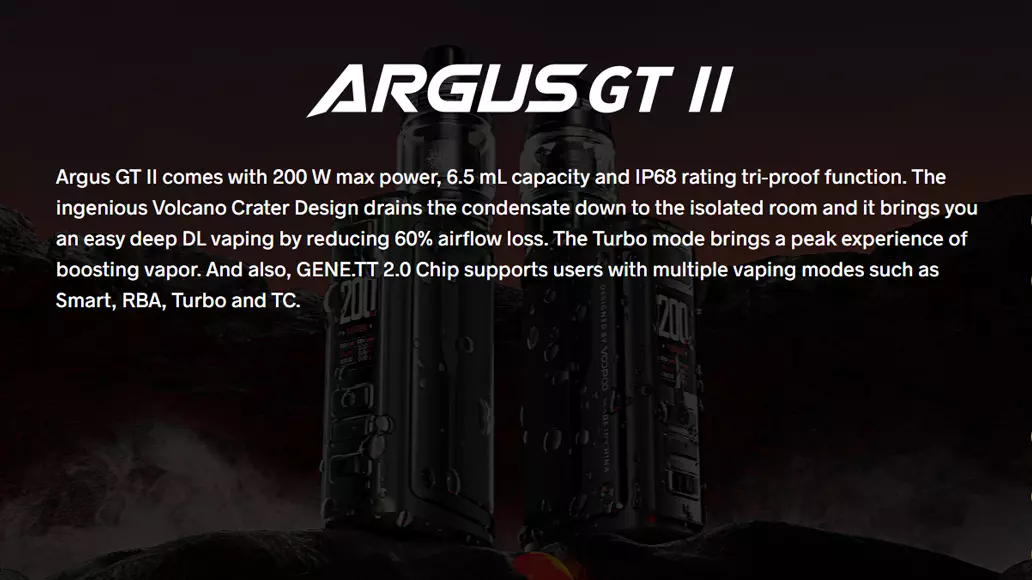 Features and Specs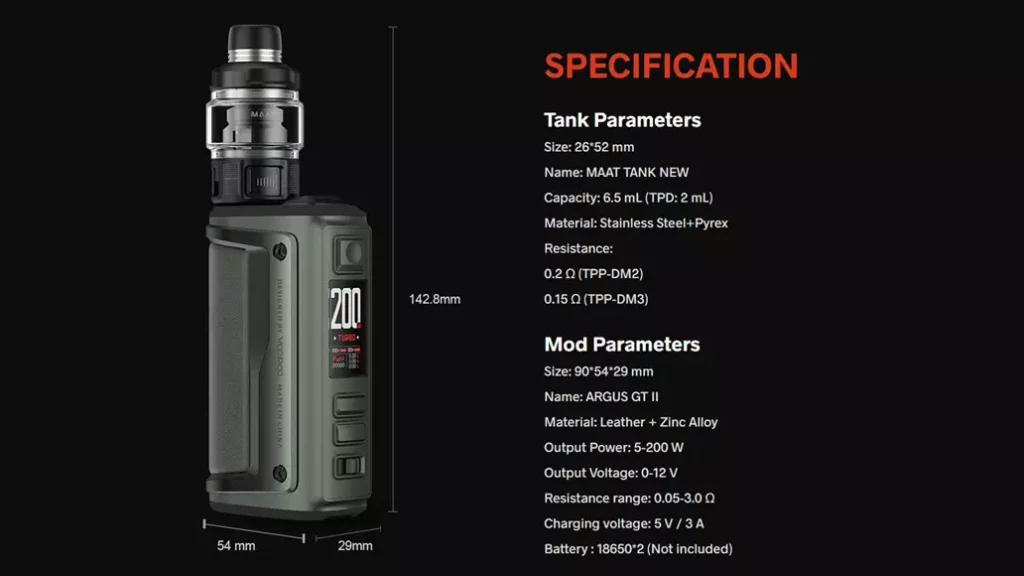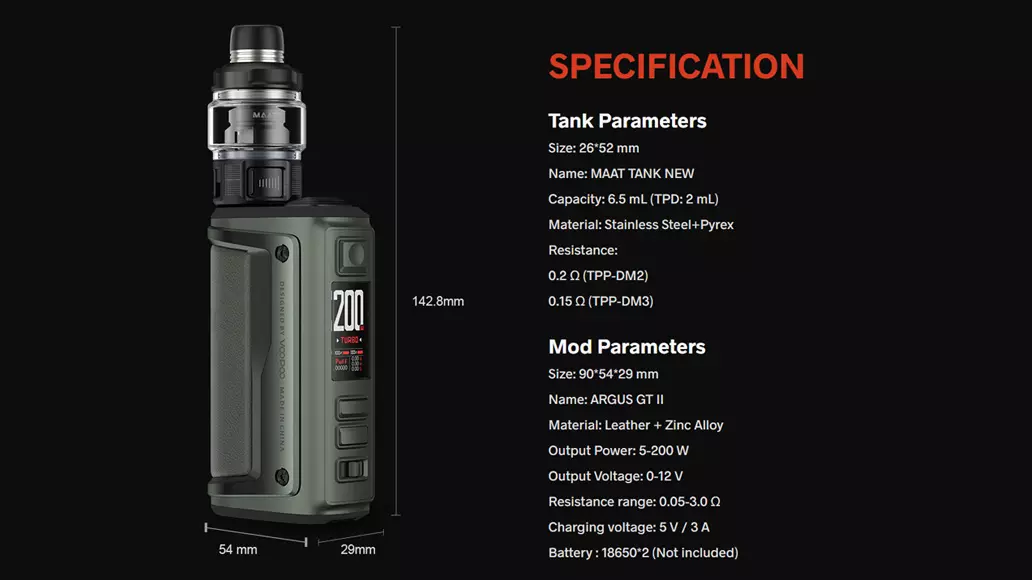 Specifications
Max Power: 200W for a powerful and stable output.
Chipset: GENE.TT 2.0 Chip with Smart, RBA, Turbo, and TC modes.
Battery: Utilizes dual 18650 batteries (not included) with a 3A Type-C fast charging capability.
Tank: The new MAAT Tank with a 6.5mL capacity, featuring a top-fill system and middle adjustable airflow control ring.
Coils: Compatible with TPP Coil Series, including the TPP-DM1, TPP-DM2, TPP-DM3, and TPP-DM4, each offering a unique vaping experience.
Safety: Multiple protections including Overtime, Short-Circuit, Overcharge, and more.
What's in the Box?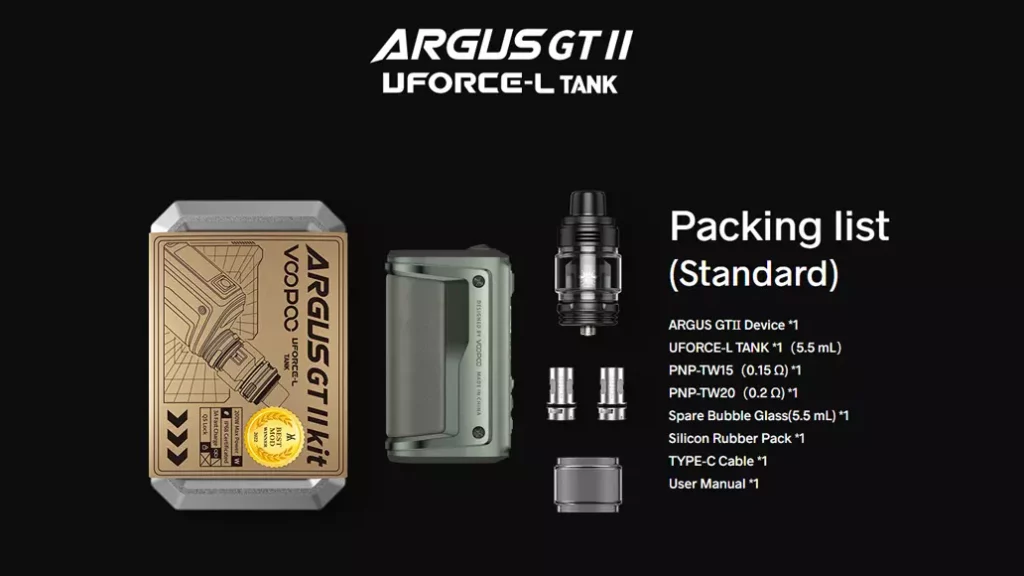 1 x ARGUS GT II Device
1 x 5.5mL UForce-L Tank
2 x PnP Coils (0.2ohm & 0.15ohm)
1 x Type-C Cable
1 x User Manual
Design and Appearance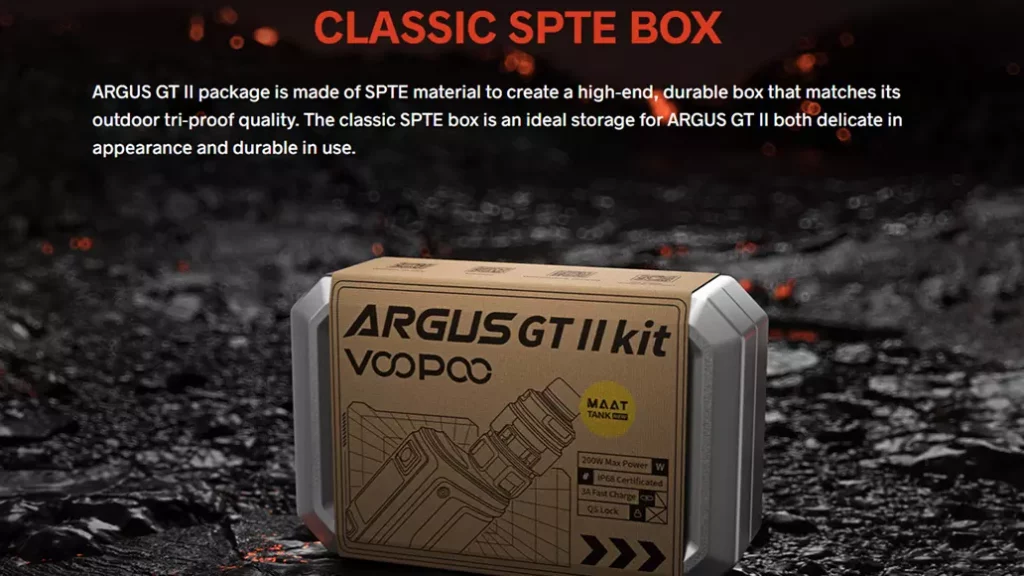 The Argus GT II boasts a sophisticated design, crafted from a blend of leather and zinc alloy. Its ergonomic structure ensures a comfortable grip, while the visually appealing aesthetic ensures it stands out in any crowd.
Available Colors:
The VOOPOO ARGUS GT II is available in the aforementioned colors.
ARGUS GT II Functionality
The Argus GT II is equipped with a range of features to enhance the vaping experience. From its Turbo mode that boosts vapor production to its GENE.TT 2.0 Chip that offers multiple vaping modes, the device is designed for versatility and performance.
ARGUS GT II Performance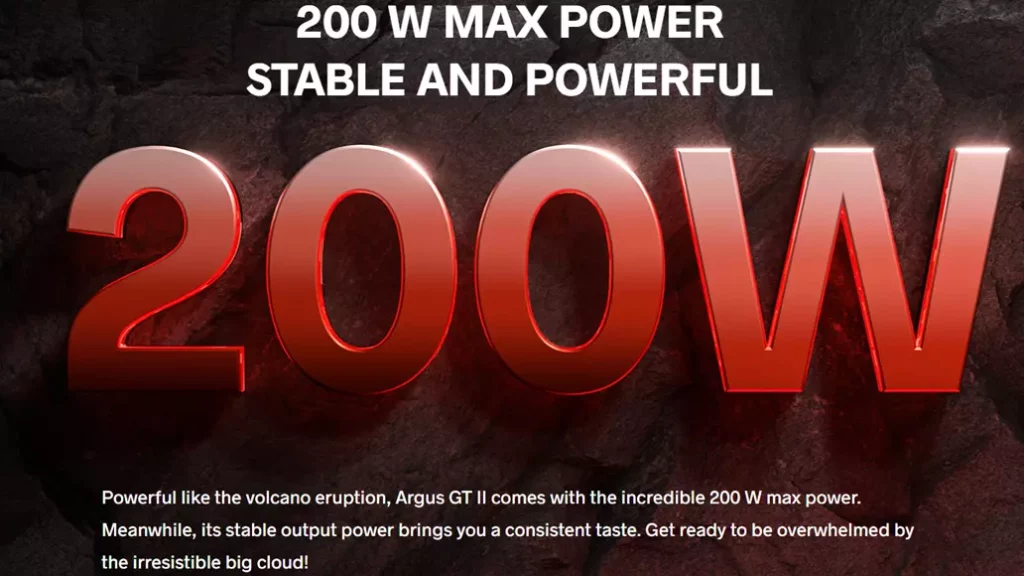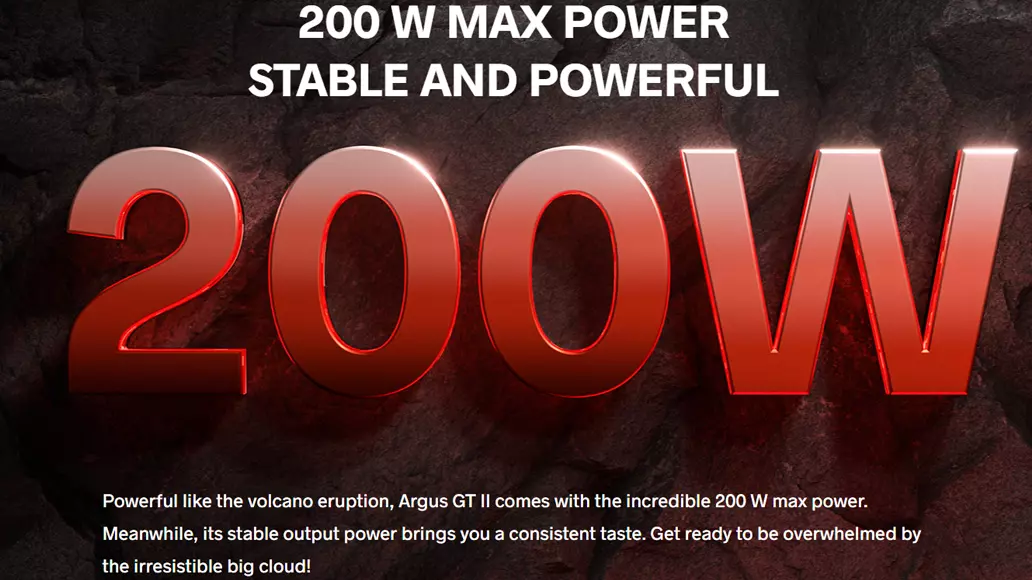 With its powerful 200W output and dual coil options, the Argus GT II promises an unparalleled vaping experience, ensuring optimal flavor and cloud production.
ARGUS GT II Battery Performance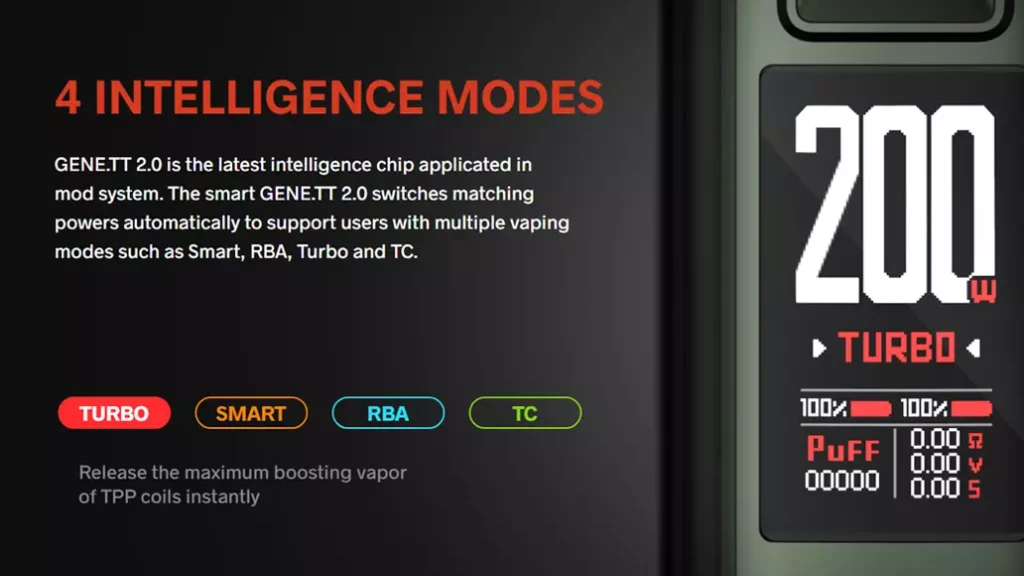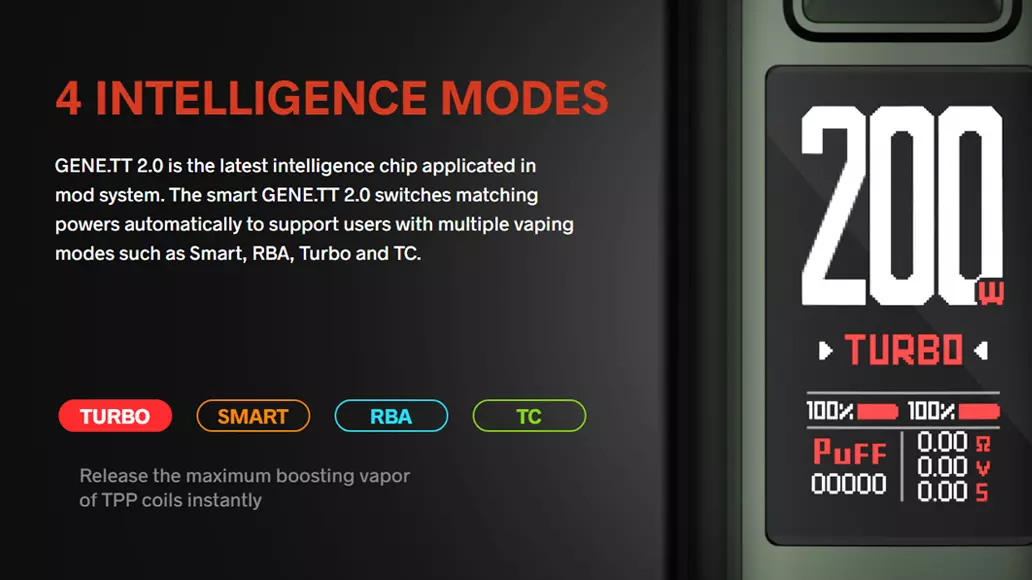 Powered by dual 18650 batteries, the Argus GT II ensures consistent performance throughout your vaping sessions. The 3A Type-C fast charging ensures your device is powered up quickly, making waiting times a thing of the past.
Pros & Cons
Pros
Powerful 200W max output.
IP68 certified for water, dust, and drop resistance.
Innovative Volcano Crater Design for efficient condensate drainage.
GENE.TT 2.0 Chip for versatile vaping modes.
Turbo mode for enhanced vapor production.
3A Type-C fast charging.
Cons
Requires dual 18650 batteries (not included).
The tank may be considered large for some users.
Types of Coils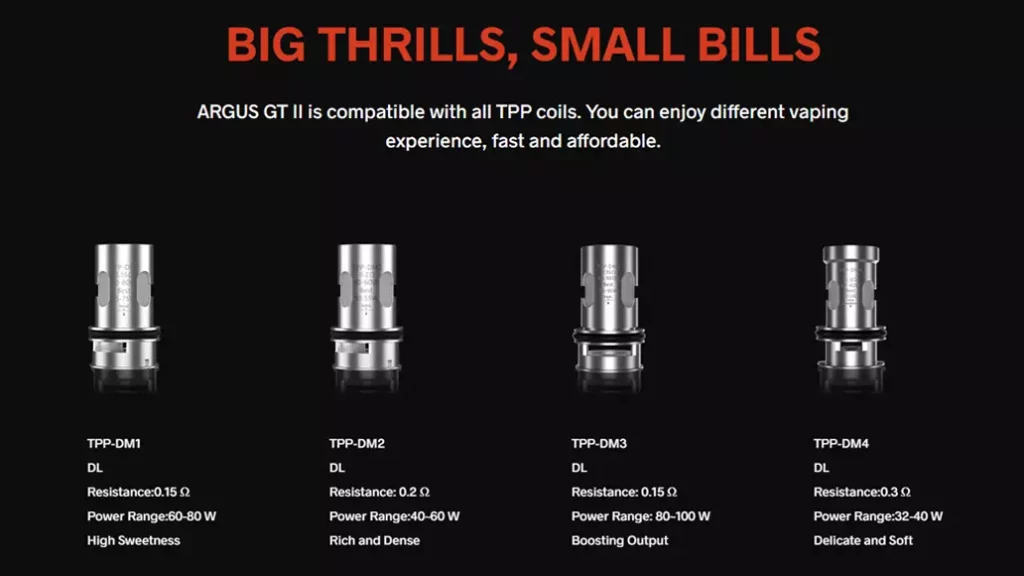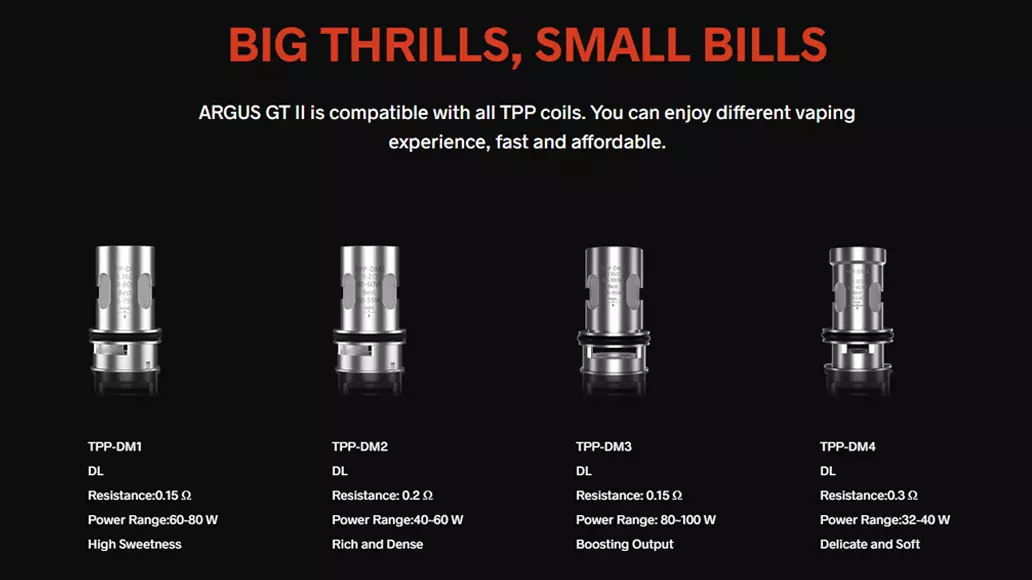 The Argus GT II utilizes two distinct coils:
TPP-DM2 Coil (0.2 Ω): Ideal for rich and dense vapor production.
TPP-DM3 Coil (0.15 Ω): Designed for boosting output and delivering a powerful vaping experience.
Both coils are designed to provide a multi-layered and flavorful vaping experience, ensuring that every puff is memorable.
Perfectly Paired E-Liquids
Enhance your vaping experience with Black Note Natural Tobacco Eliquids. Our e-liquids, crafted from organic tobacco leaves, are free from artificial flavors, sweeteners, and synthetic nicotine.
This juice is like the first cigarette from a fresh pack of Marlboro Lights in every puff! I started with the 6 mg and found myself still wanting cigarettes now & then, so i bought the 12 mg this time- that was kind of strong so I mixed the two and Perfection happened! I change my cartridge after every third refill for the best flavor. Thank You Black Note!
— Crystal Osteen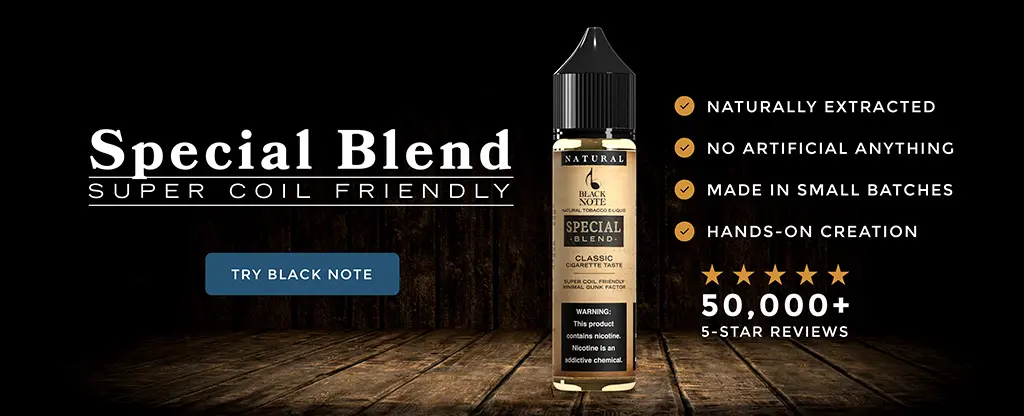 Pairing Guide for Optimal Flavor
Coils between 0.15 – 0.8Ω: Opt for Black Note's 70VG/30PG blends.
Coils above 0.8Ω: Choose Black Note's 50VG/50PG blends.
Coils above 1.0Ω: Dive into Black Note's Salt Nicotine blends.
Order the VOOPOO ARGUS GT II
To shop Voopoo Vaping Devices, visit Blacknote.com and make sure to explore our wide range of vaping products.
Gallery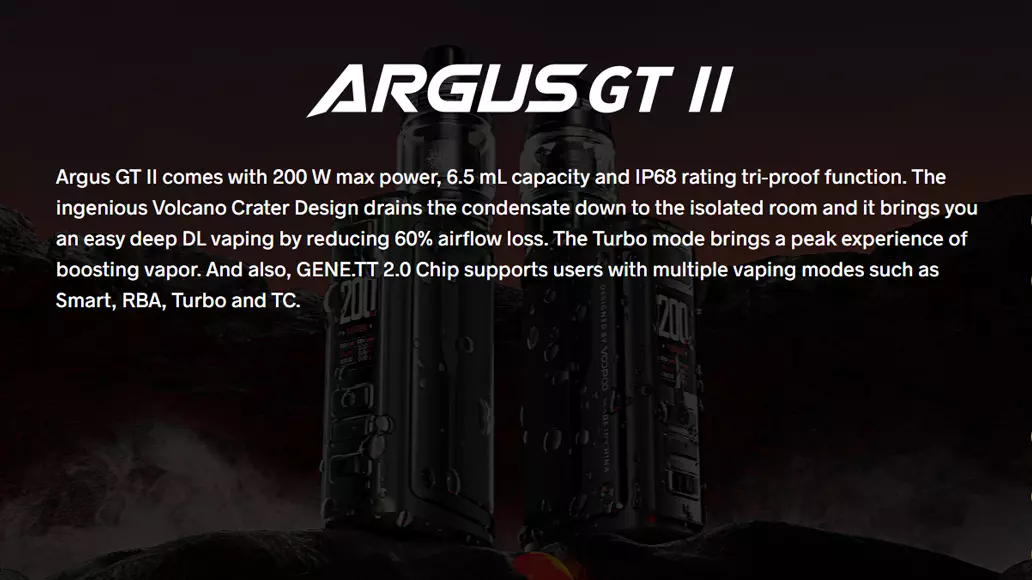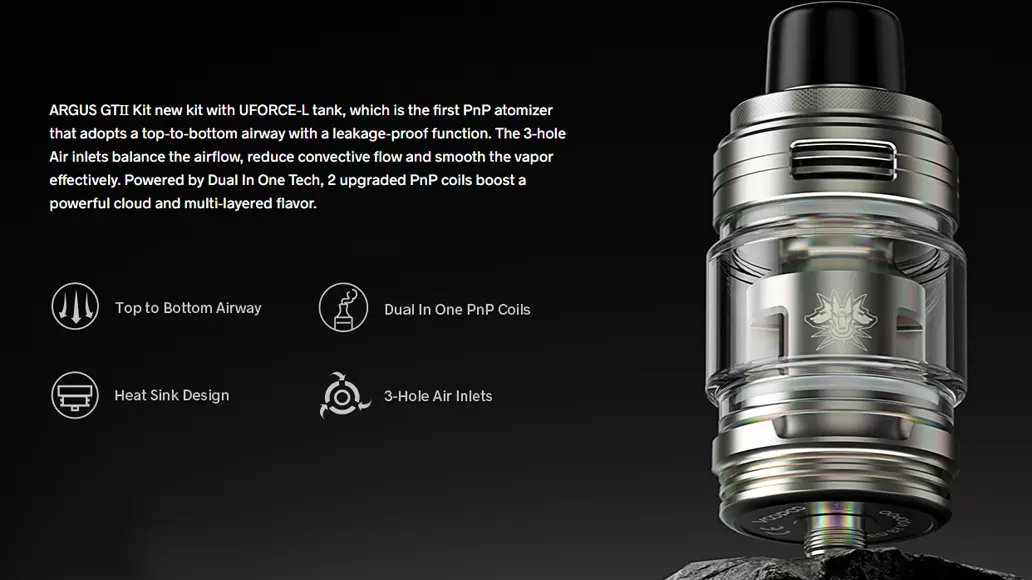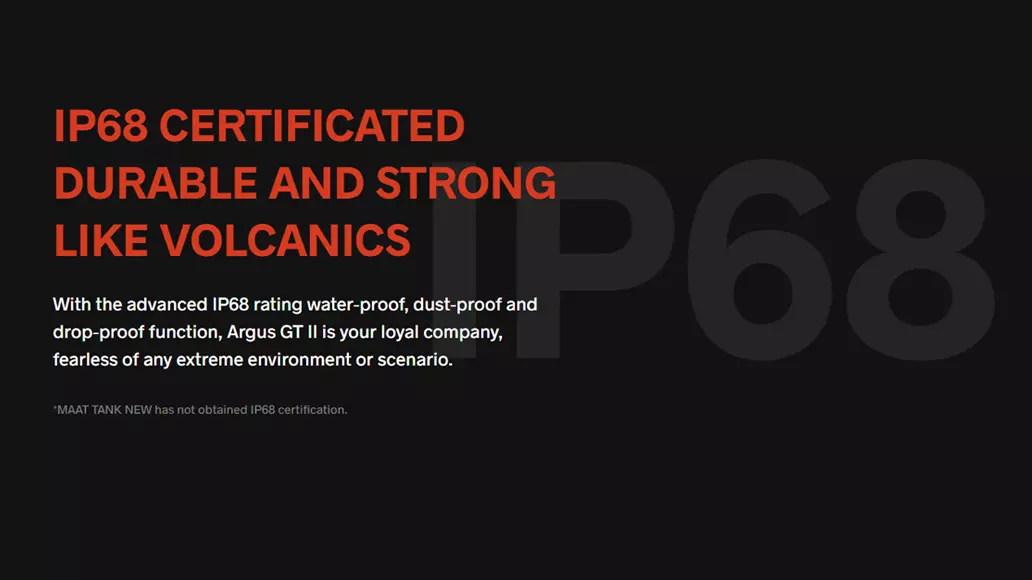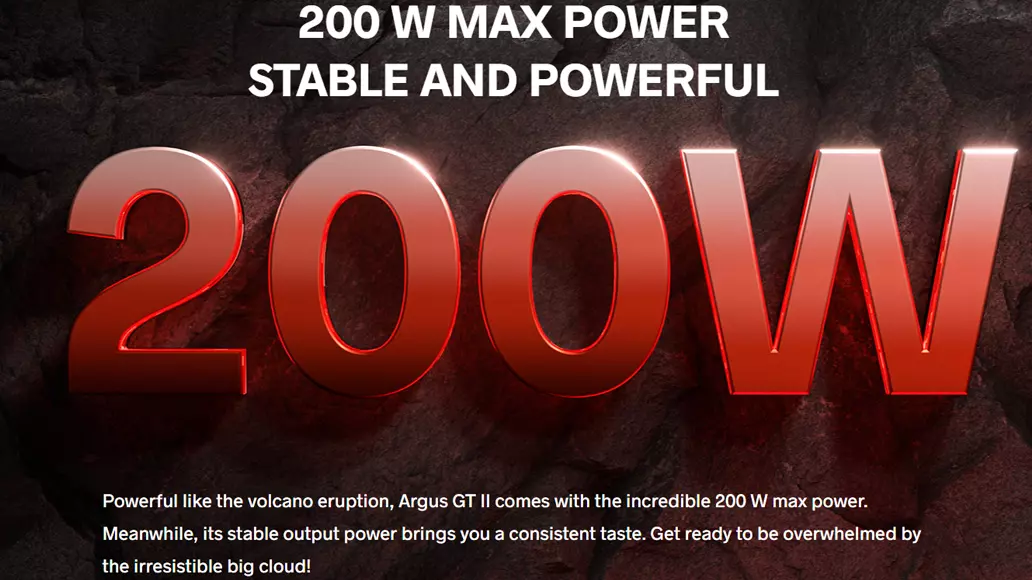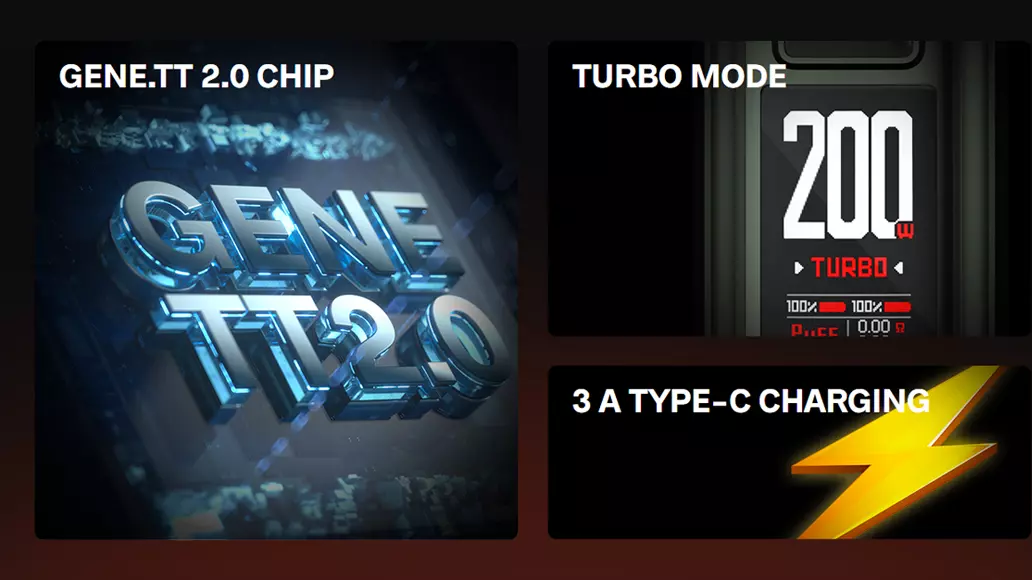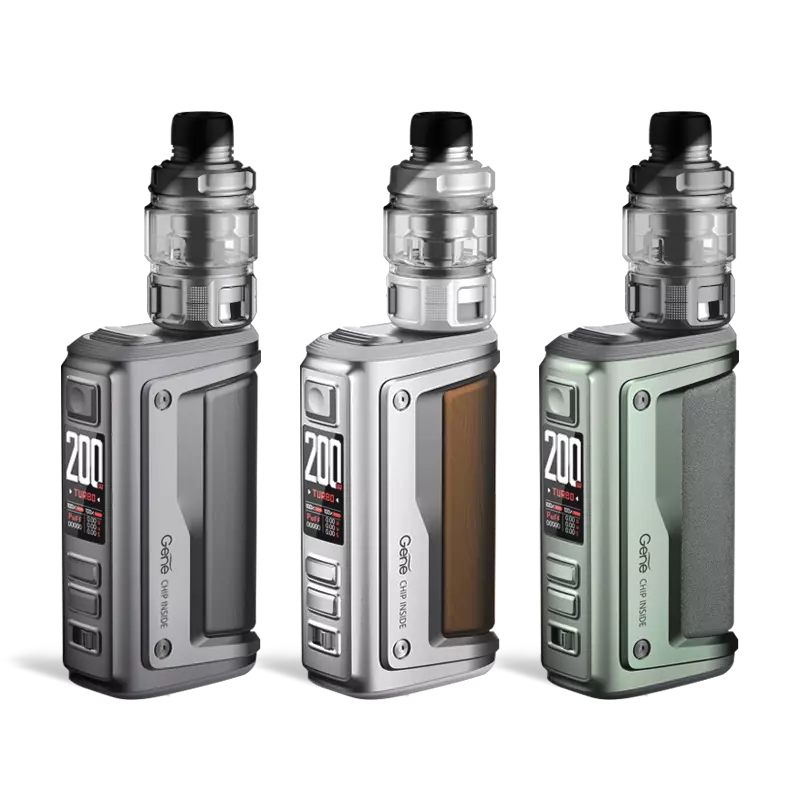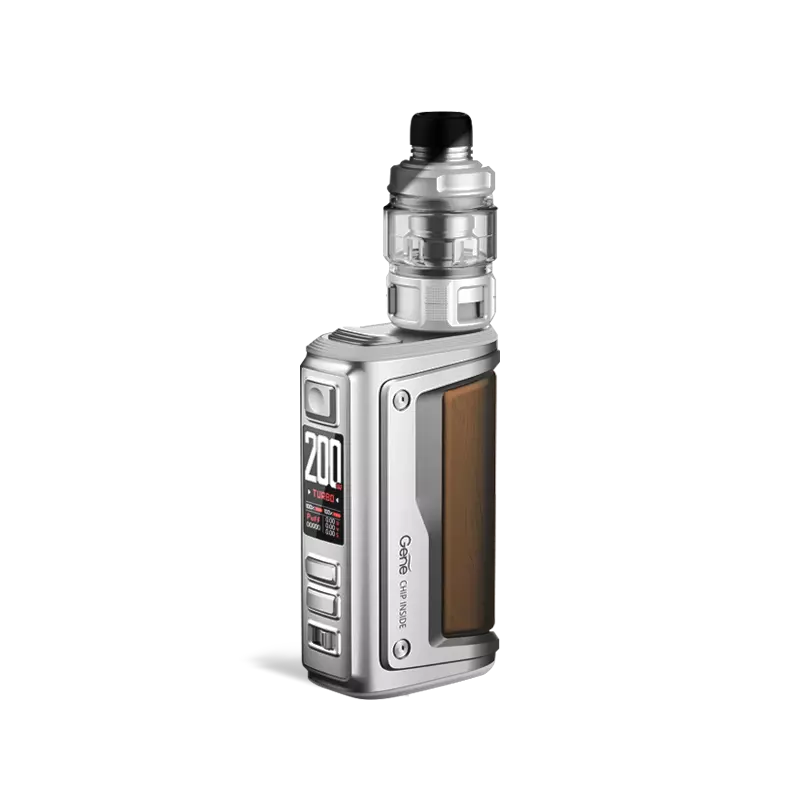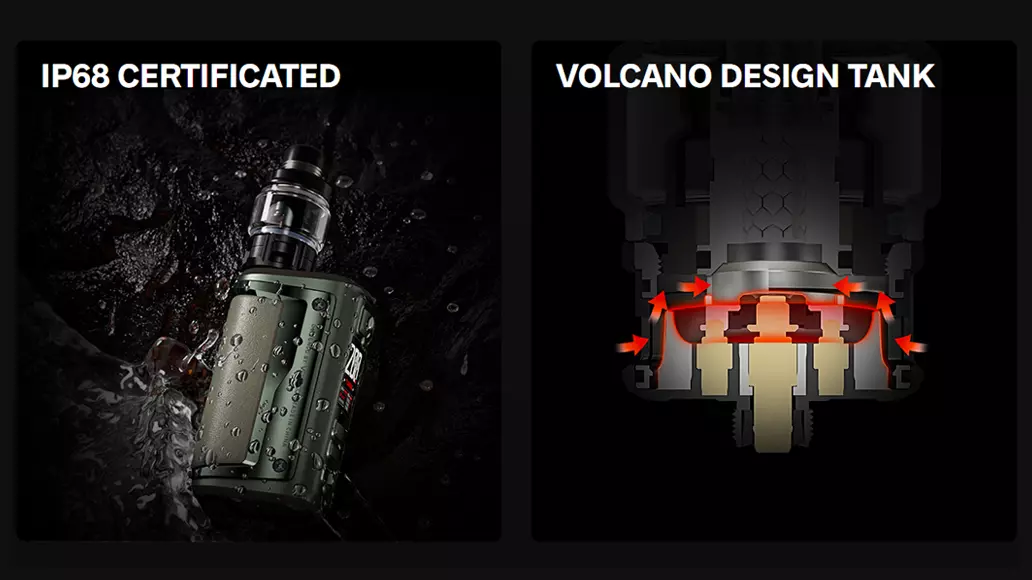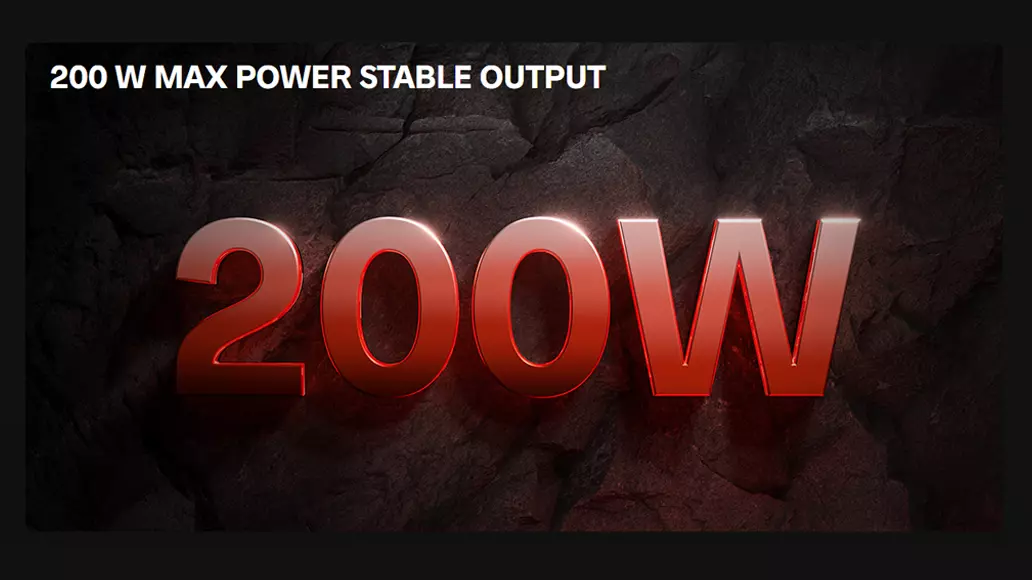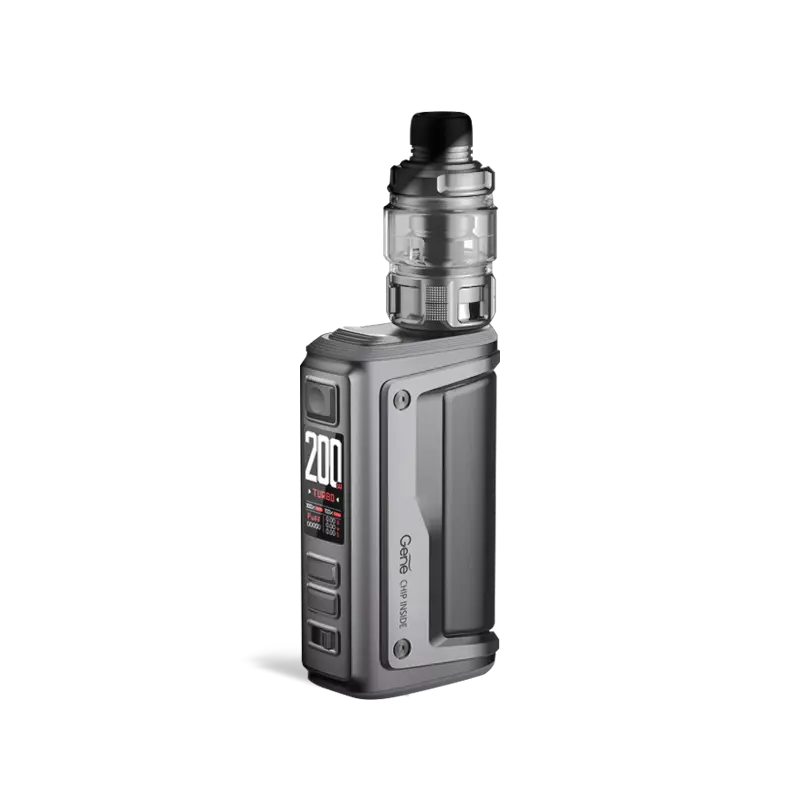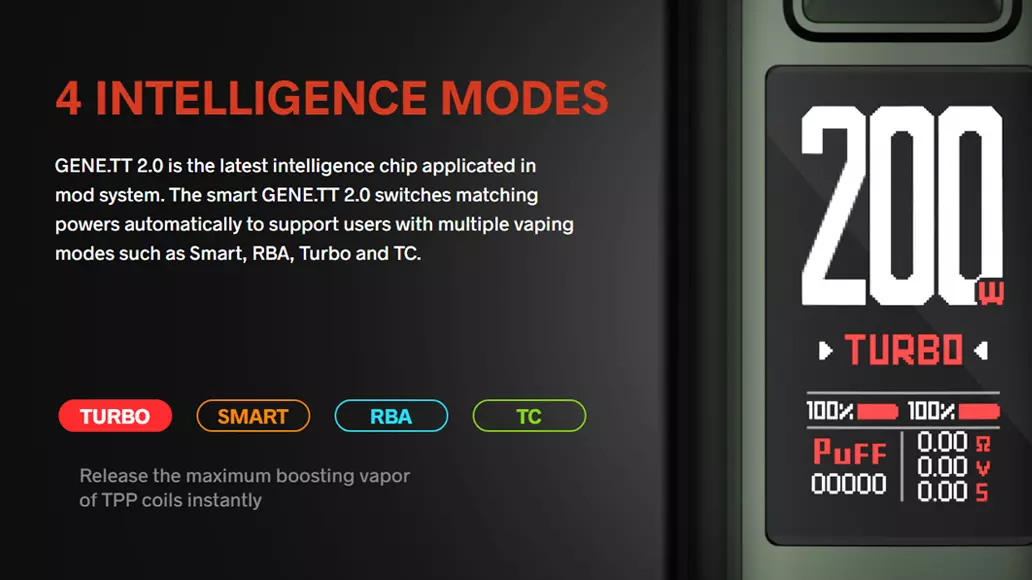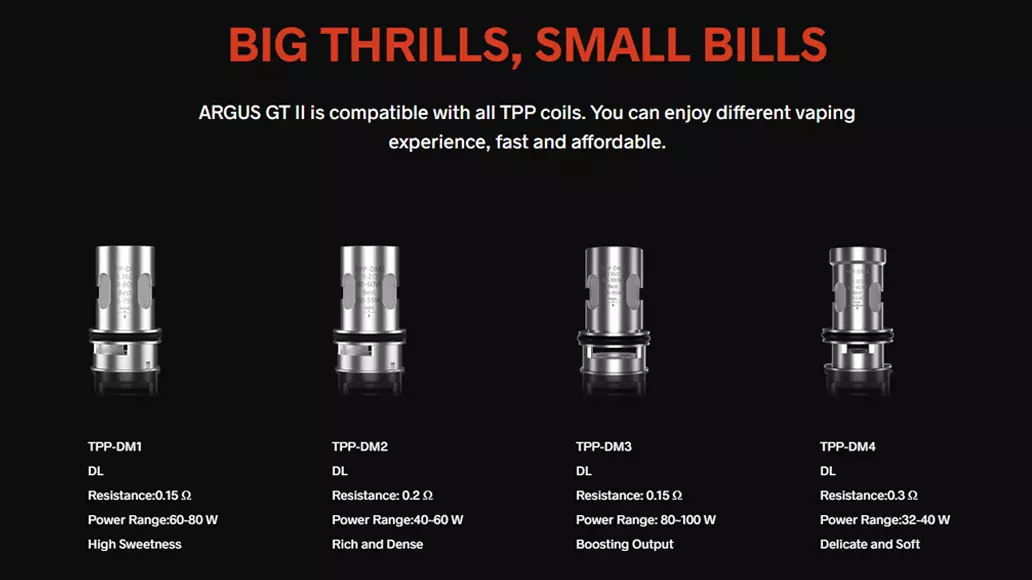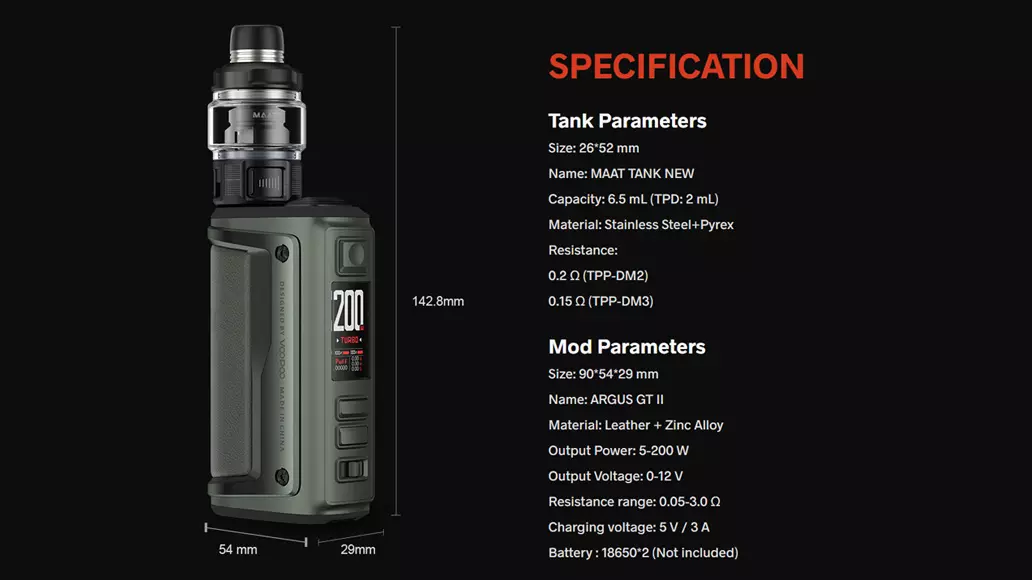 FAQ's
What type of e-liquid is best suited for the Argus GT II?
The Argus GT II is versatile and can be used with a variety of e-liquids. However, it's recommended to use e-liquids that are compatible with the coil you're using.
How do I change the coil on the Argus GT II?
The Argus GT II features a simple coil replacement system. Simply unscrew the old coil from the base of the tank and replace it with a new one.
How long does the battery last on the Argus GT II?
Battery life depends on usage patterns and the power settings you choose. However, with dual 18650 batteries, you can expect extended vaping sessions before needing a recharge.
How do I charge the Argus GT II?
The Argus GT II charges with the included Type-C cable. Simply plug it into the charging port on the device and connect it to a power source.
Is the Argus GT II suitable for beginners?
Absolutely! The Argus GT II is user-friendly and comes with a range of features that cater to both beginners and experienced vapers.
Key Takeways
In conclusion, the Voopoo Argus GT II Starter Kit is a perfect blend of style, functionality, and performance. Whether you're a newbie or a seasoned vaper, the Argus GT II promises a vaping experience like no other.
With its range of features and powerful performance, it's a must-have for anyone looking to elevate their vaping journey.
Want more articles like this one delivered straight to your inbox? Use our "Stay in Touch" form below to get up-to-date news, tips and discounts on vape devices and juices.