Overview
The Uwell Caliburn Explorer Pod System is a cutting-edge addition to the vaping market, showcasing a unique dual-sided cartridge system, a powerful 32W max output, and a durable integrated 1000mAh rechargeable battery. This device is a testament to Uwell's commitment to innovation and quality, offering vapers a versatile and robust pod system that caters to a variety of vaping preferences.
Experience double the flavor and double the fun with the Uwell Caliburn Explorer's revolutionary dual-sided cartridge system.
— Black Note
Constructed from sturdy aluminum alloy, the Caliburn Explorer is not only lightweight and portable but also resilient enough to handle the daily wear and tear of vaping. The device's dual-sided cartridge feature is a standout, allowing users to enjoy two different e-liquid flavors without the need to switch out cartridges, effectively doubling the convenience and flavor experience.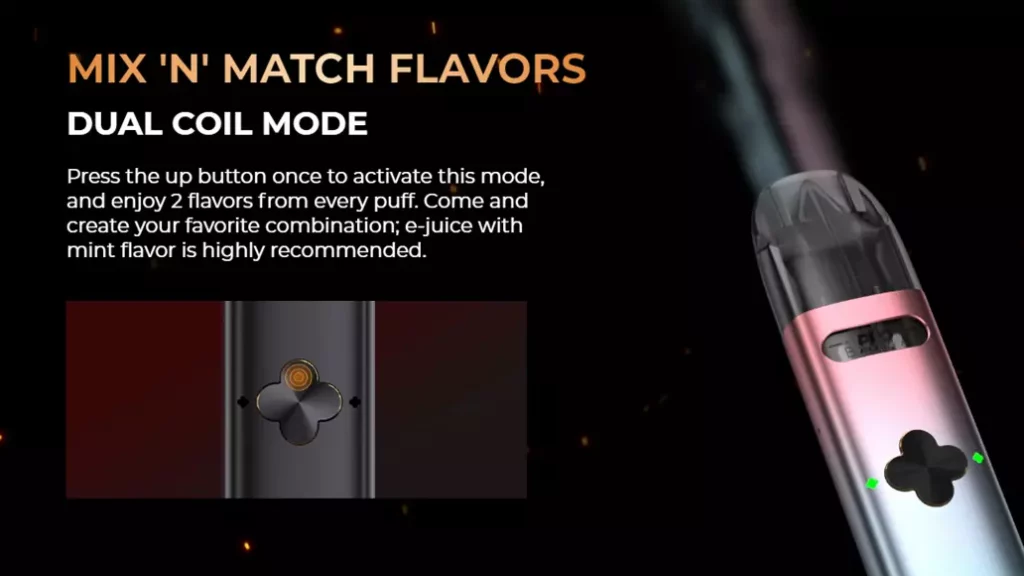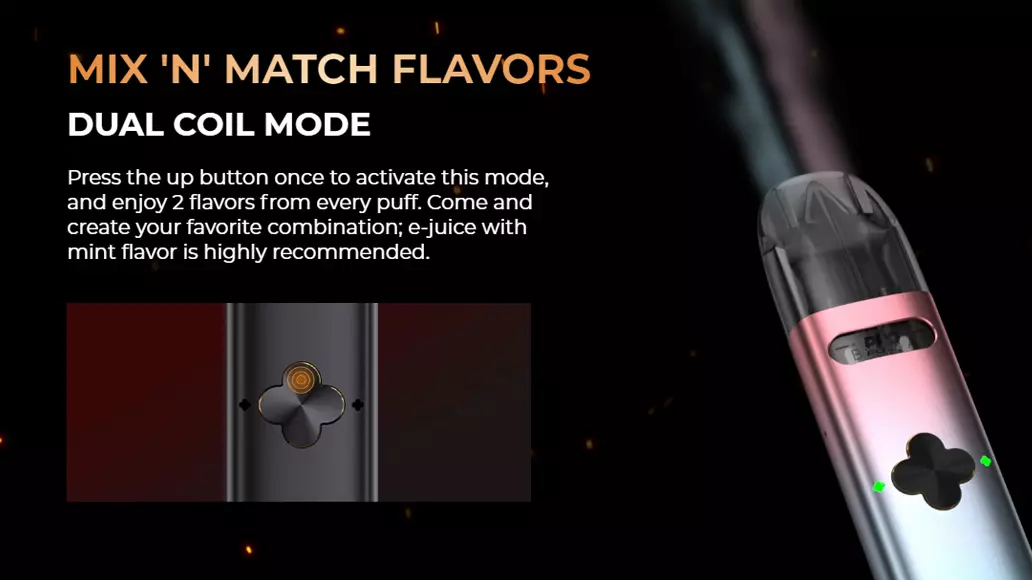 The integrated 1000mAh battery ensures that the device can last throughout the day, minimizing the need for frequent recharging. However, when the time comes, the Type-C port facilitates quick and efficient recharging, so you're never out of action for long. The device operates with a variable voltage output and can be activated either by a directional firing button or by a simple draw, making it accessible for both beginners and seasoned vapers.
The pod system is compatible with Uwell's G and G2 series coils, which are renowned for their flavor production and longevity. The press-fit coil installation makes it easy to switch coils, and the dual-sided 4mL pod capacity (2mL per side) ensures you have enough juice to last you through your sessions.
Features and Specs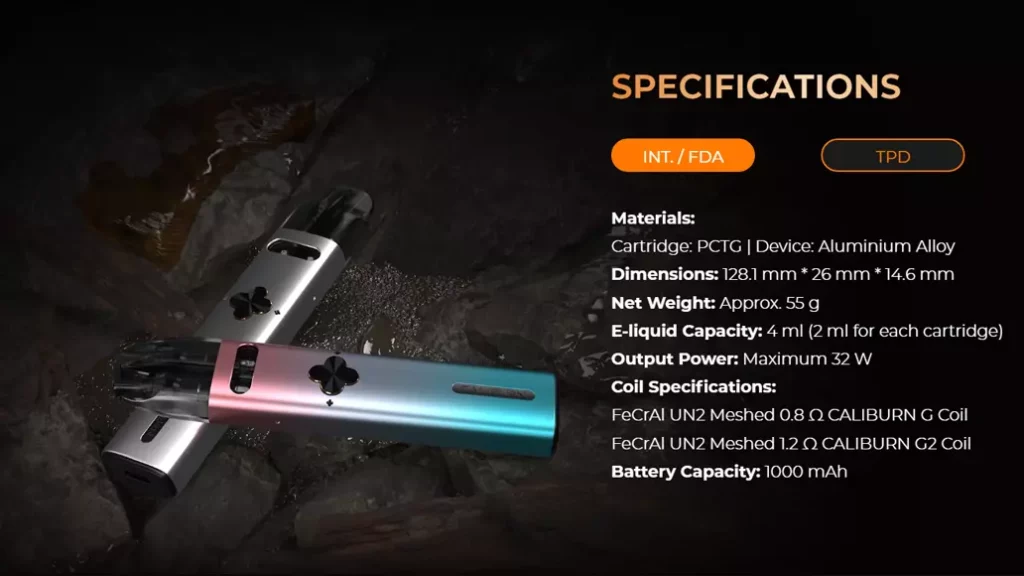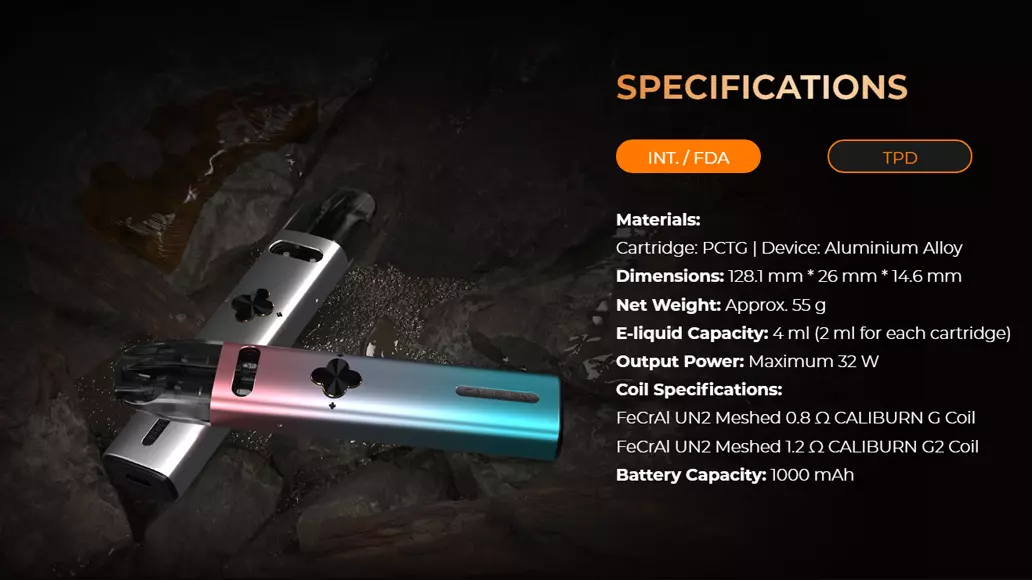 Specifications
Dimensions: 128.1mm x 26mm x 14.6mm
Chassis Material: Aluminum-Alloy
Max Wattage: 32W
Resistance Range: 0.8-1.2ohm
Battery Capacity: 1000mAh
Charging Port: USB Type-C
Output: Variable Voltage
Operation: Directional Firing-Button Activation / Draw-Activation
Fill System: Dual Side-Fill – Silicone Stoppers
Pod Material: PCTG
Pod Capacity: Dual Sided 4mL (2mL per Side)
Pod Connection: Plug 'n' Play
Coil Installation: Press-Fit
Coil Support: G / G2 Series
What's in the Box?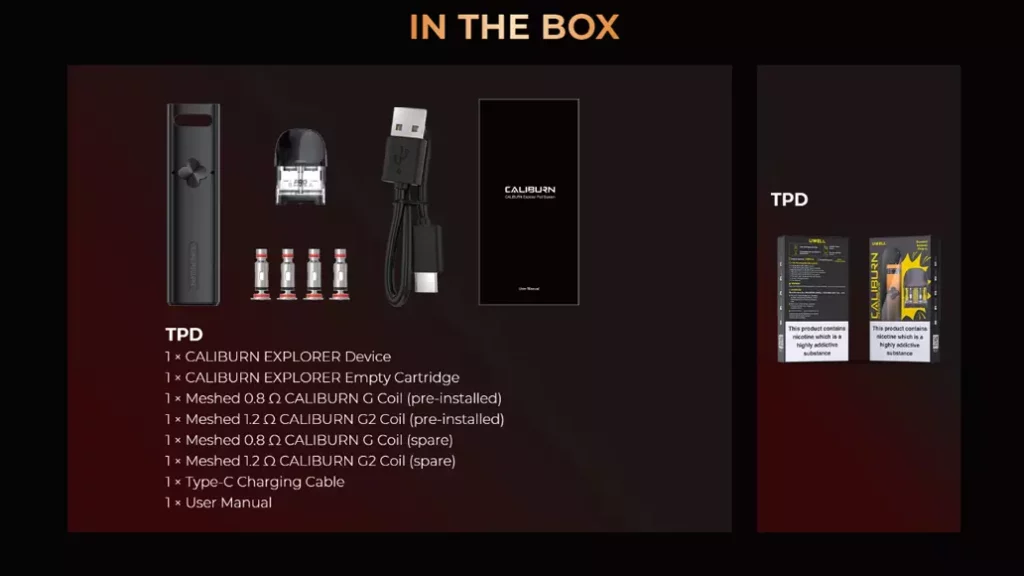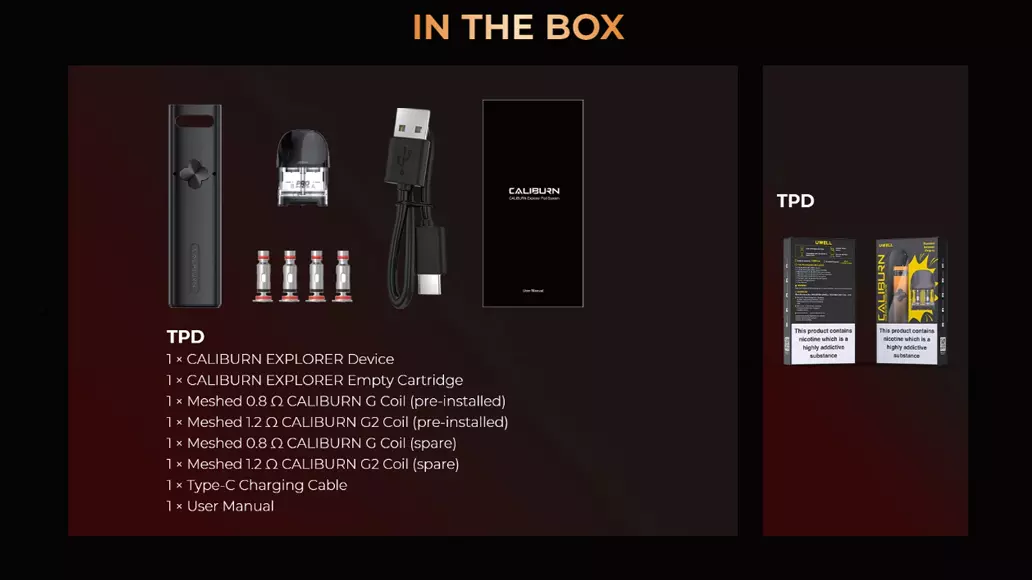 1 Uwell CALIBURN Explorer Pod System
1 Uwell CALIBURN Explorer Pod (Preinstalled)
1 0.8ohm Meshed CALIBURN G Coil (Preinstalled)
1 1.2ohm CALIBURN G2 Coil (Preinstalled)
1 0.8ohm Meshed CALIBURN G Coil (Spare)
1 1.2ohm CALIBURN G2 Coil (Spare)
1 USB Type-C Cable
1 User Manual
Design and Appearance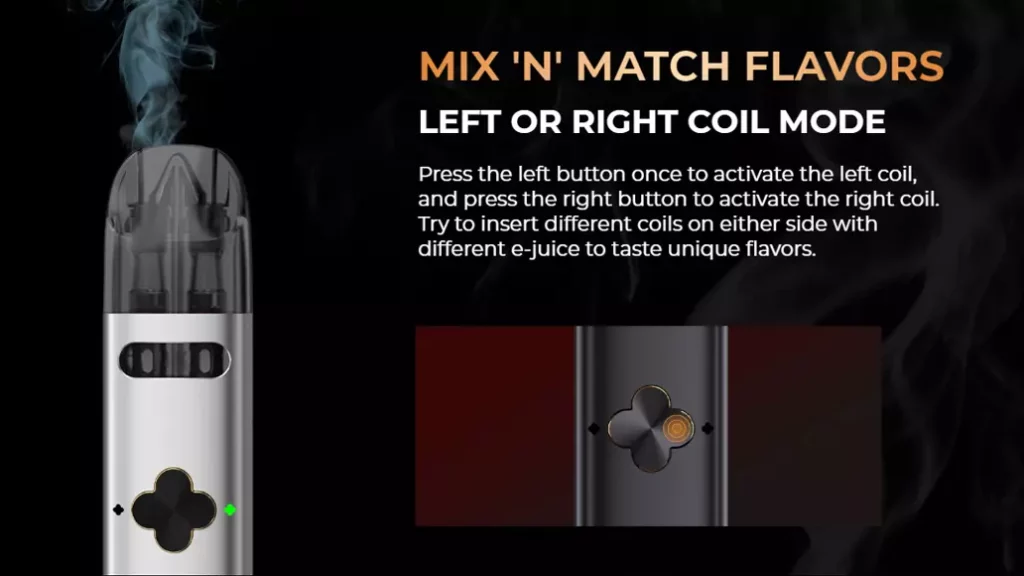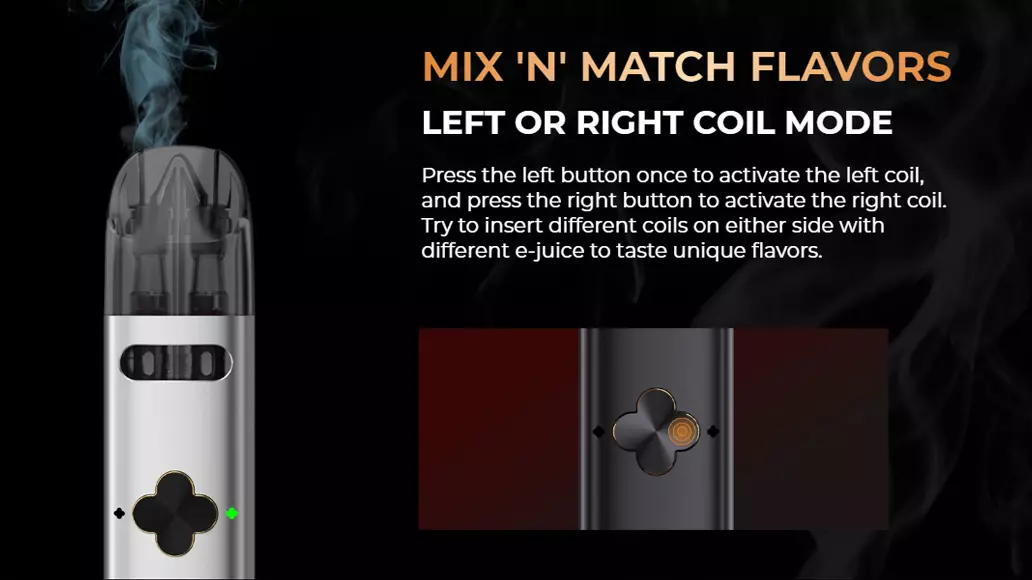 The Uwell Caliburn Explorer Pod System boasts a sleek and modern design, with a slim profile that is both aesthetically pleasing and comfortable to hold. The aluminum-alloy chassis offers a premium feel, while the super wide ClearView juice window ensures you can easily monitor your e-liquid levels. The device is available in several color options, including Black, Silver, Orange and Black, and Pink and Cyan, allowing users to choose a style that best suits their personality.
Available Colors: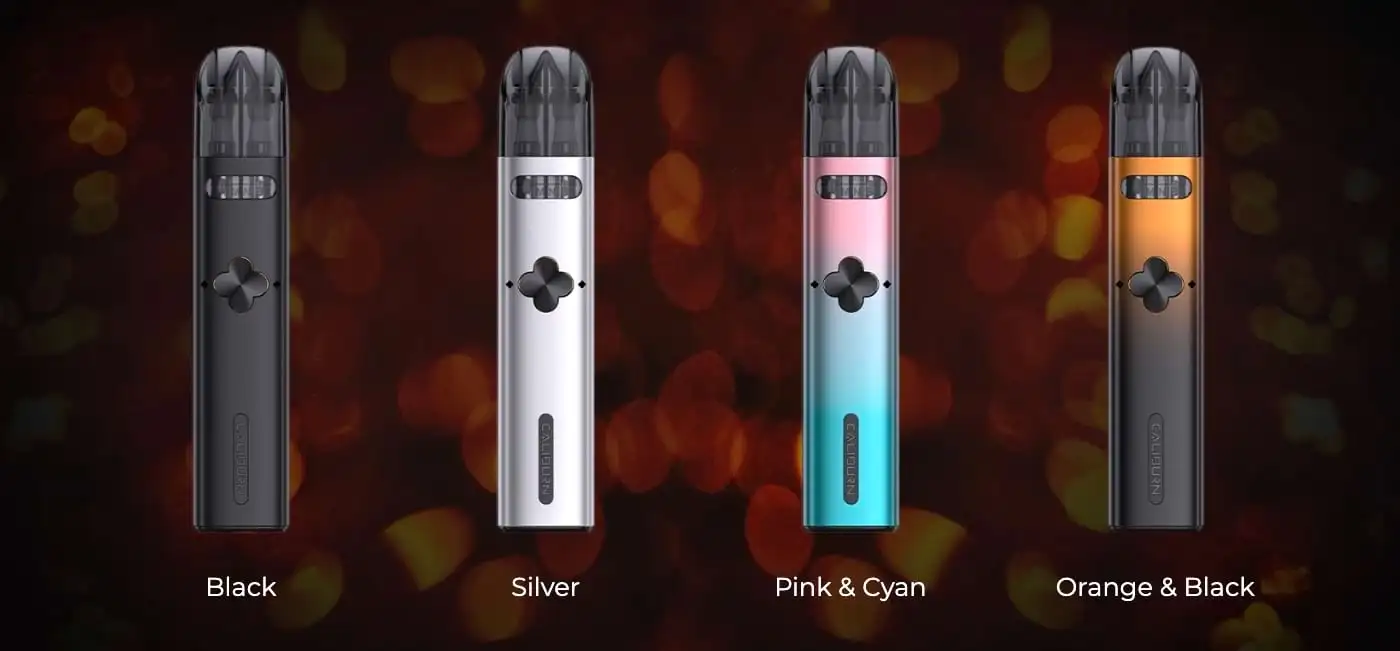 The Uwell Caliburn Explorer is available in aforementioned colours
Uwell Caliburn Explorer Pod Functionality
The Caliburn Explorer is designed with user convenience in mind. It features a 4-leaf clover menu button for easy navigation and a dual-sided cartridge system that supports two coils simultaneously, allowing for dual-flavor immersion. The device's variable voltage output and the option for button or draw-activated firing provide a customizable vaping experience.
Uwell Caliburn Explorer Pod Performance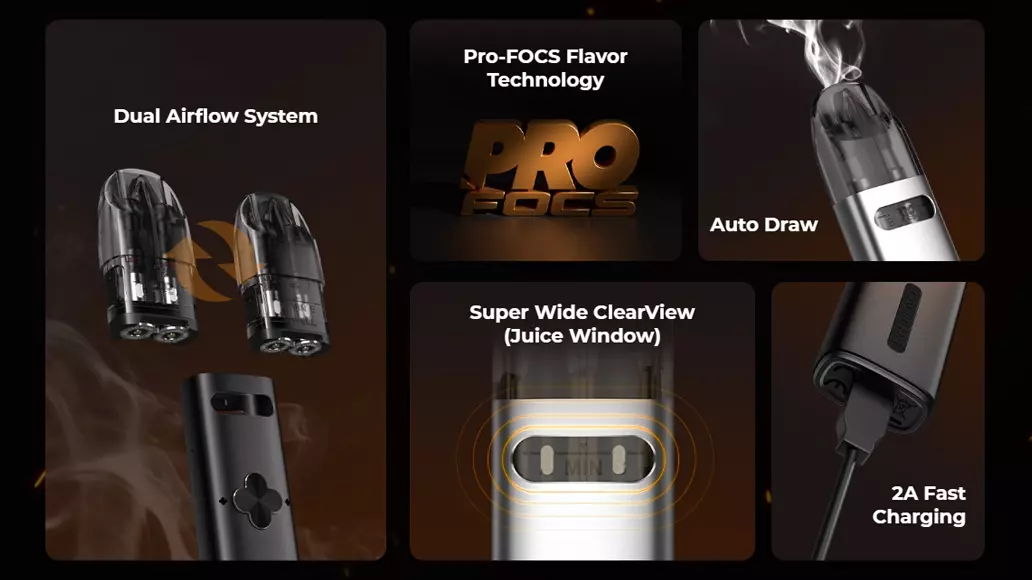 Uwell's Pro-FOCS Flavor Technology ensures that the Caliburn Explorer delivers exceptional flavor with every puff. The device's ability to support two flavors at once without the need to switch pods is a game-changer for vapers who enjoy variety. The 32W max output paired with the G and G2 series coils results in dense, flavorful vapor production that satisfies both cloud chasers and flavor aficionados.
Uwell Caliburn Explorer Pod Battery Performance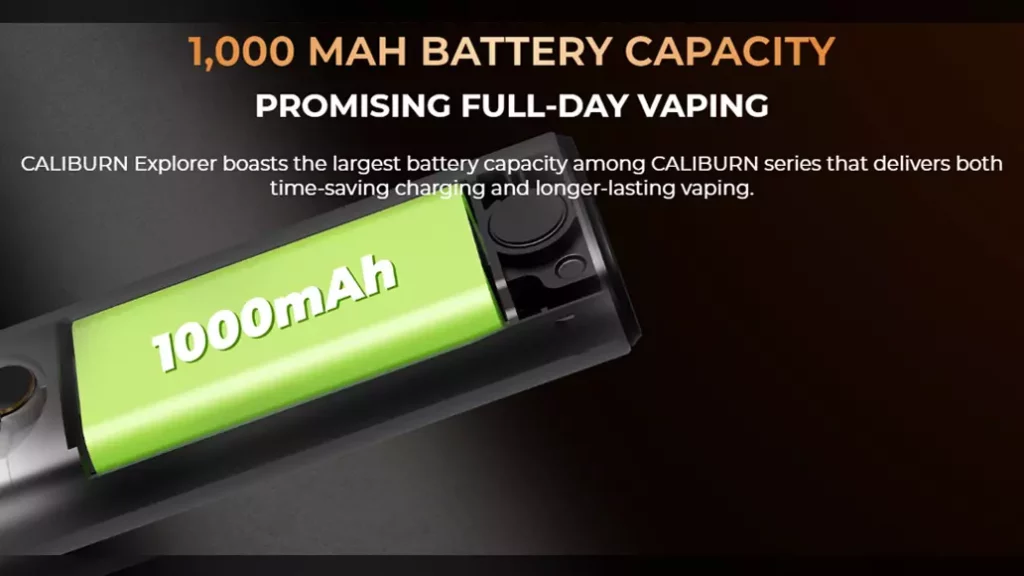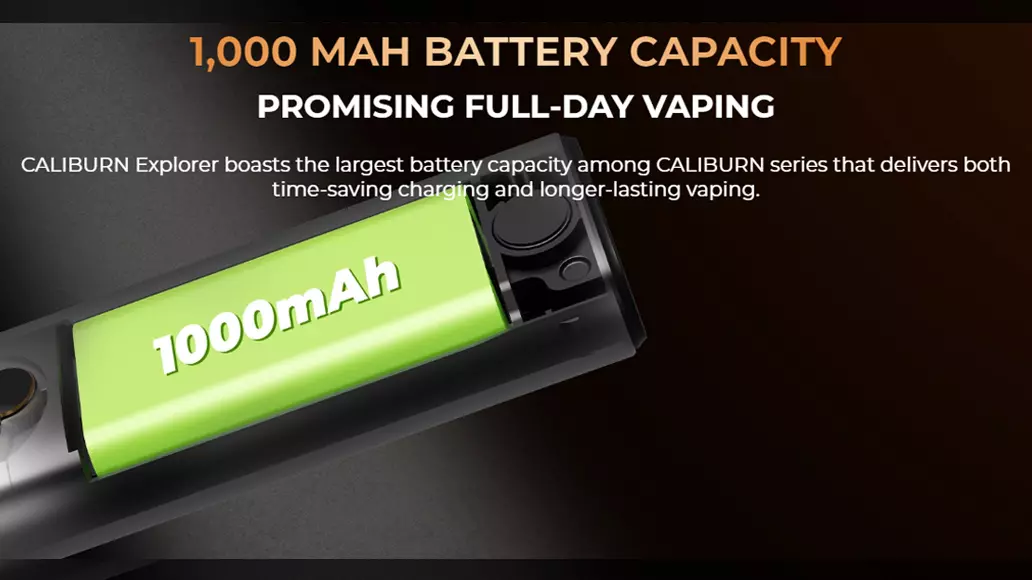 The 1000mAh battery is a powerhouse, providing ample power to support the device's 32W output. With 2A Type-C charging, the Caliburn Explorer recharges quickly, ensuring that you spend less time tethered to a power source and more time enjoying your vape.
Pros & Cons
Pros:
Dual-sided cartridge system for two flavors
Sturdy aluminum-alloy construction
Long-lasting 1000mAh battery
Quick Type-C charging
Compatible with G and G2 series coils
Cons:
Limited to a 4mL total pod capacity (2mL per side)
May be more complex for absolute beginners
Types of Coils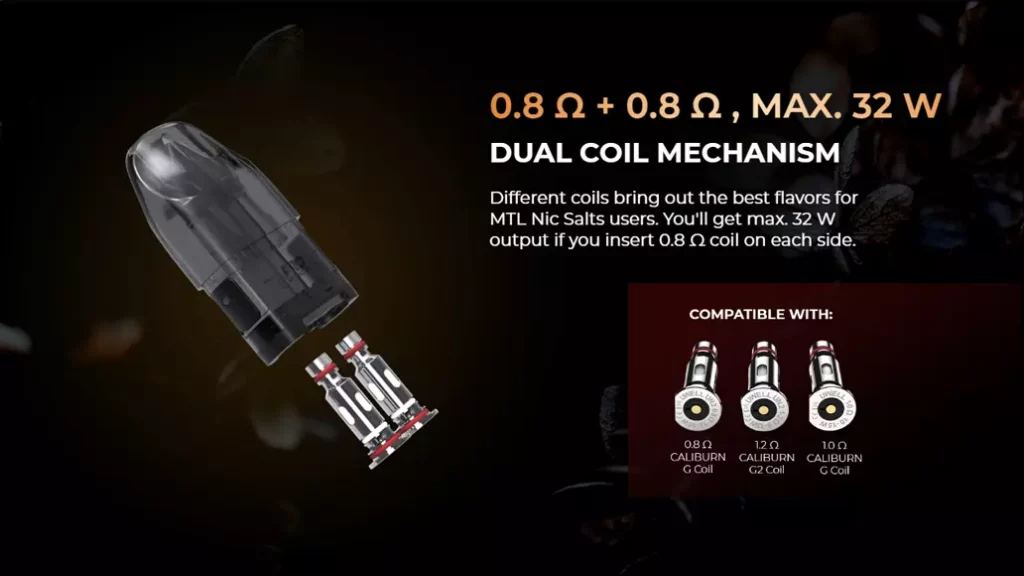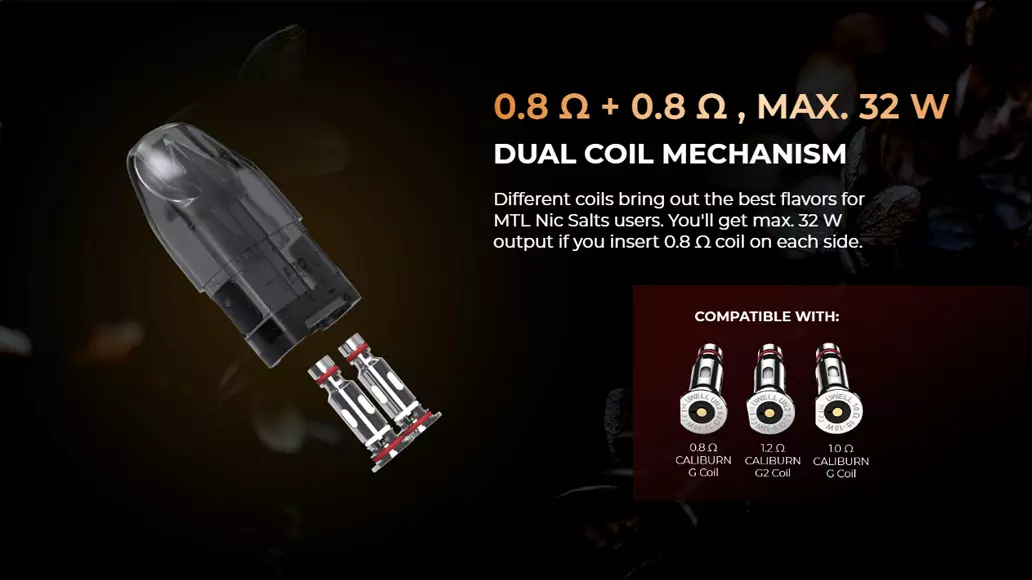 0.8ohm Meshed CALIBURN G Coil: Ideal for those who prefer a balance of flavor and vapor production.
1.2ohm CALIBURN G2 Coil: Best suited for vapers who enjoy a tighter draw and enhanced flavor concentration.
Perfectly Paired E-Liquids
Enhance your vaping experience with Black Note Natural Tobacco Eliquids. Our e-liquids, crafted from organic tobacco leaves, are free from artificial flavors, sweeteners, and synthetic nicotine.
This juice is like the first cigarette from a fresh pack of Marlboro Lights in every puff! I started with the 6 mg and found myself still wanting cigarettes now & then, so i bought the 12 mg this time- that was kind of strong so I mixed the two and Perfection happened! I change my cartridge after every third refill for the best flavor. Thank You Black Note!
— Crystal Osteen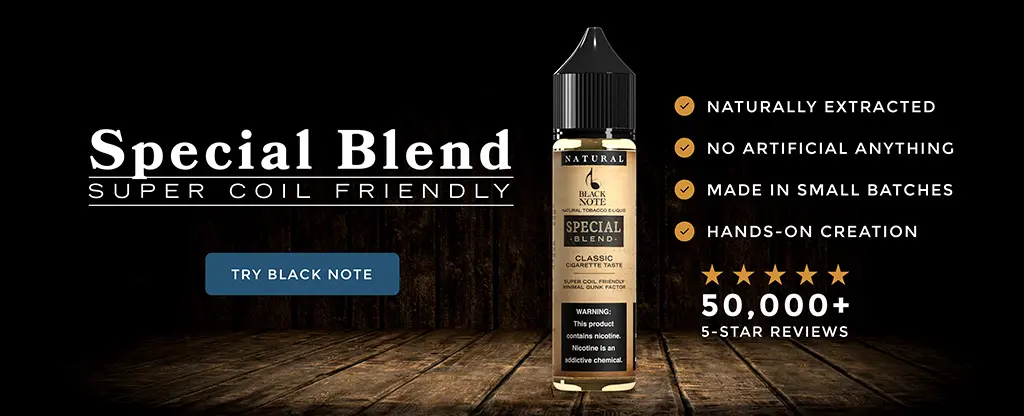 Pairing Guide for Optimal Flavor
Coils between 0.15 – 0.8Ω: Opt for Black Note's 70VG/30PG blends.
Coils above 0.8Ω: Choose Black Note's 50VG/50PG blends.
Coils above 1.0Ω: Dive into Black Note's Salt Nicotine blends.
Order the Uwell Caliburn Explorer Pod
To shop Uwell Vaping Devices, visit Blacknote.com and make sure to explore our wide range of vaping products.
Gallery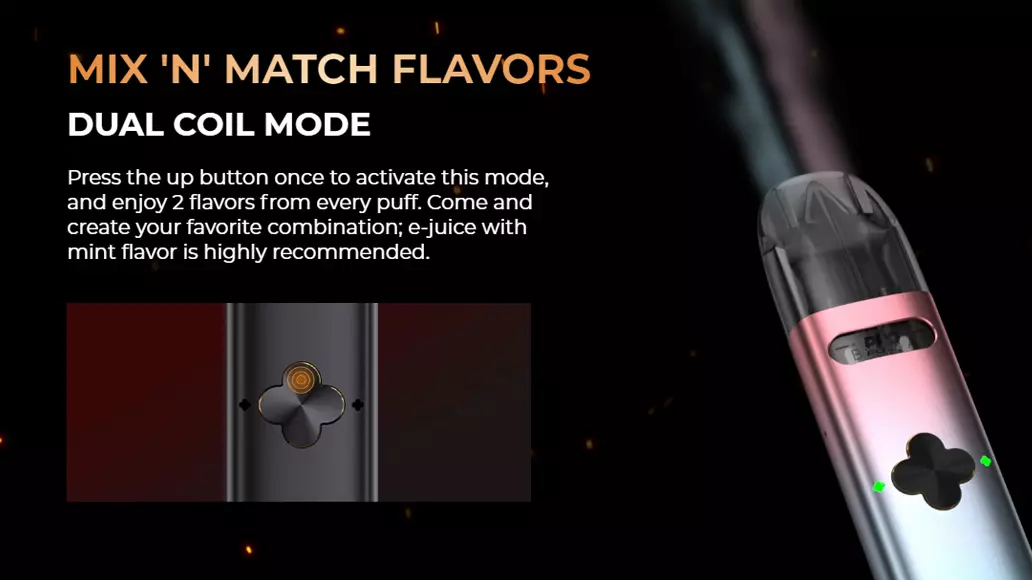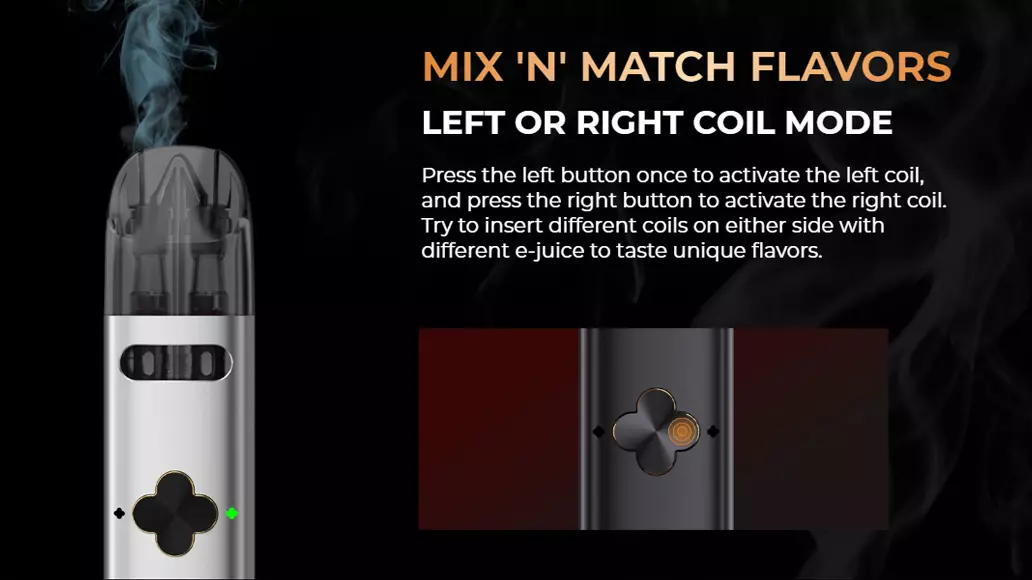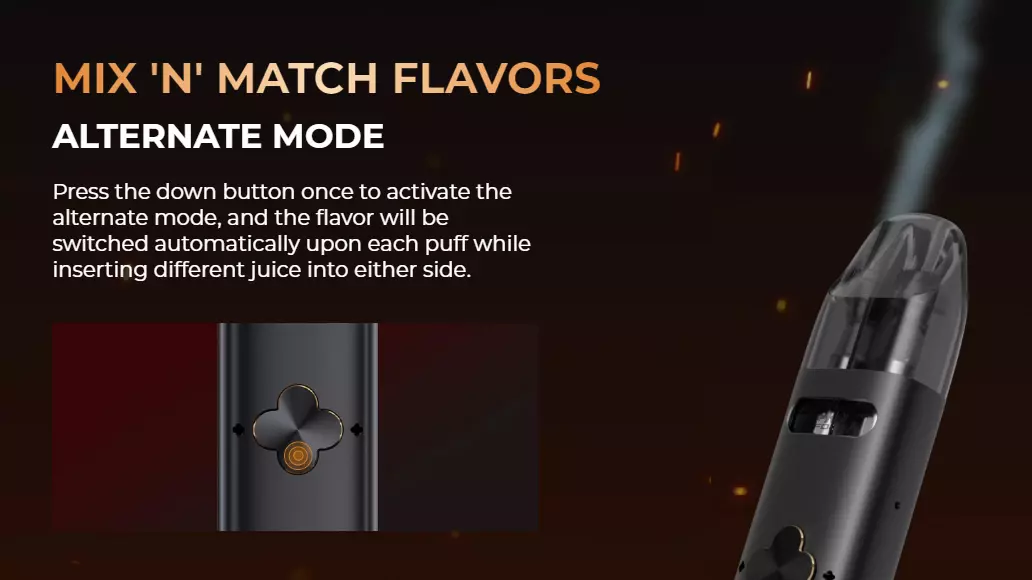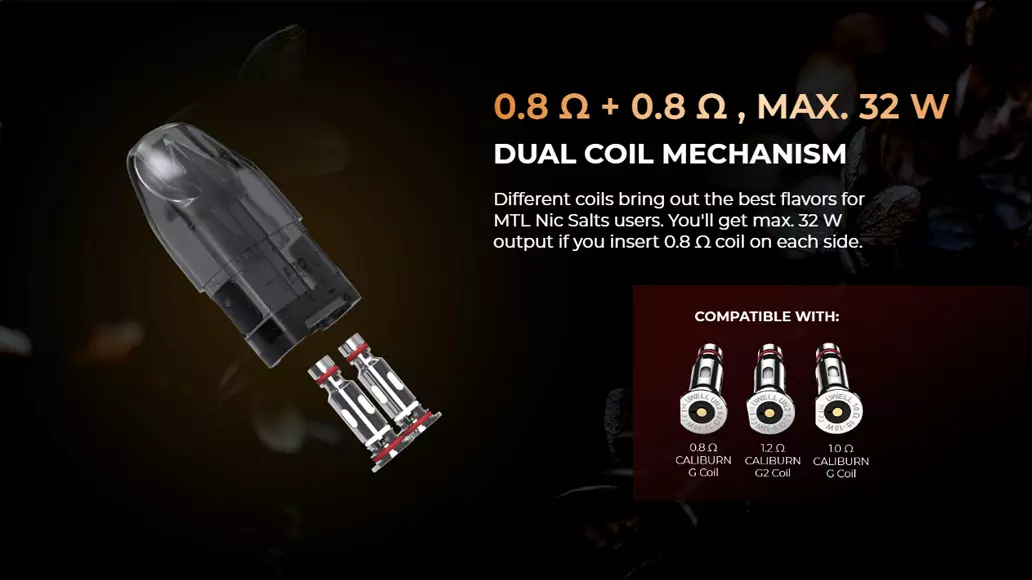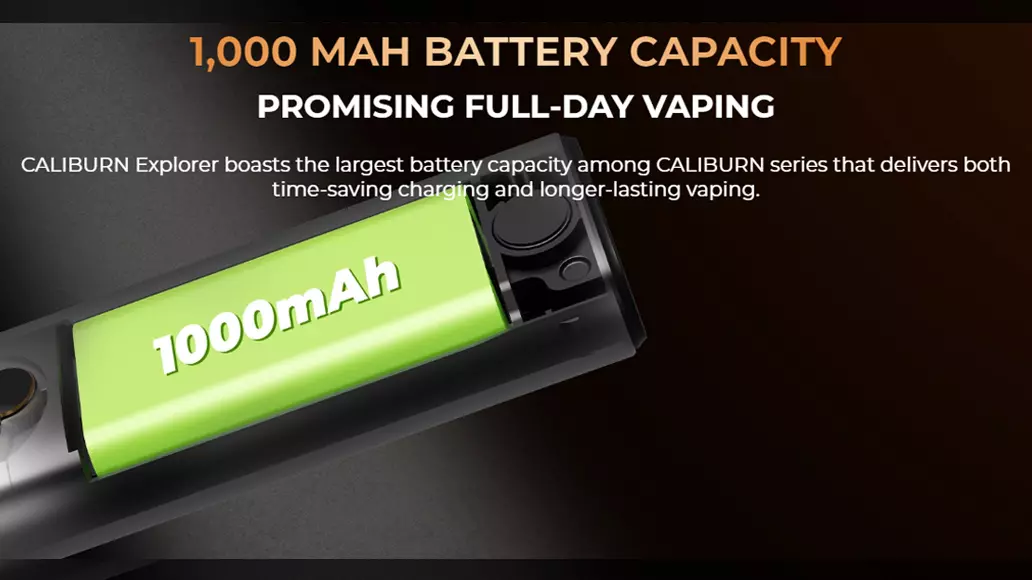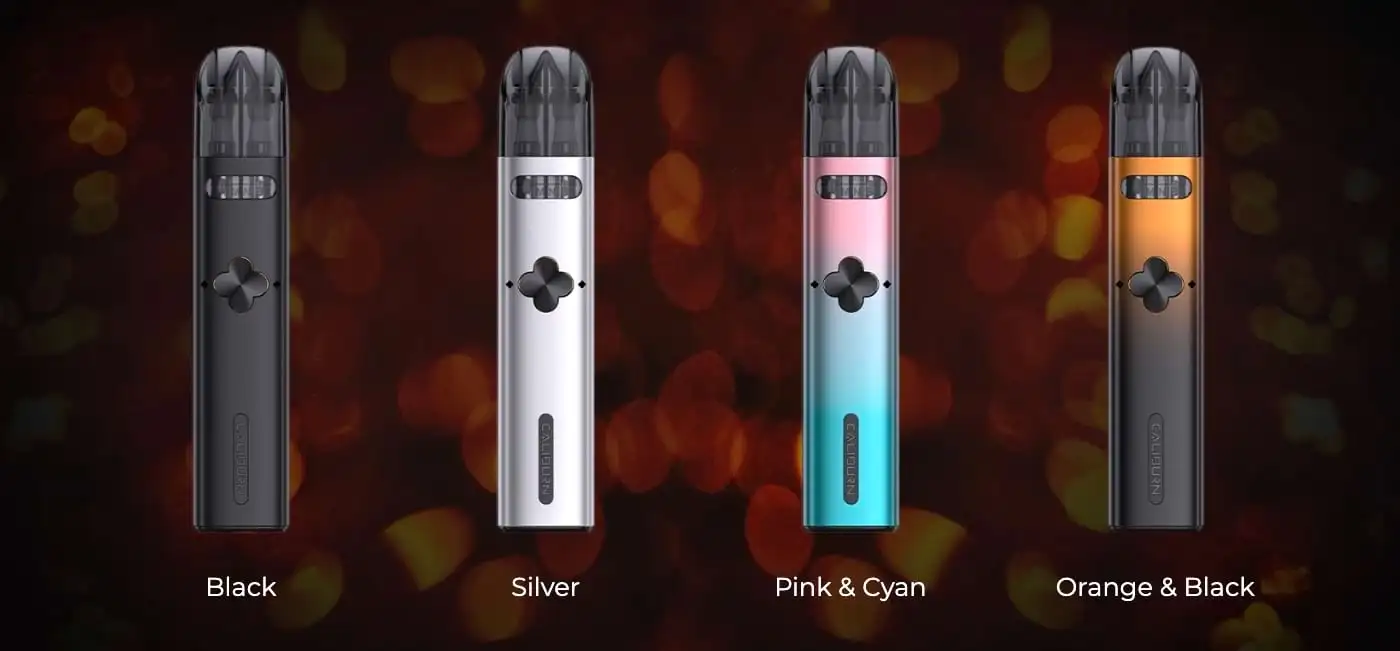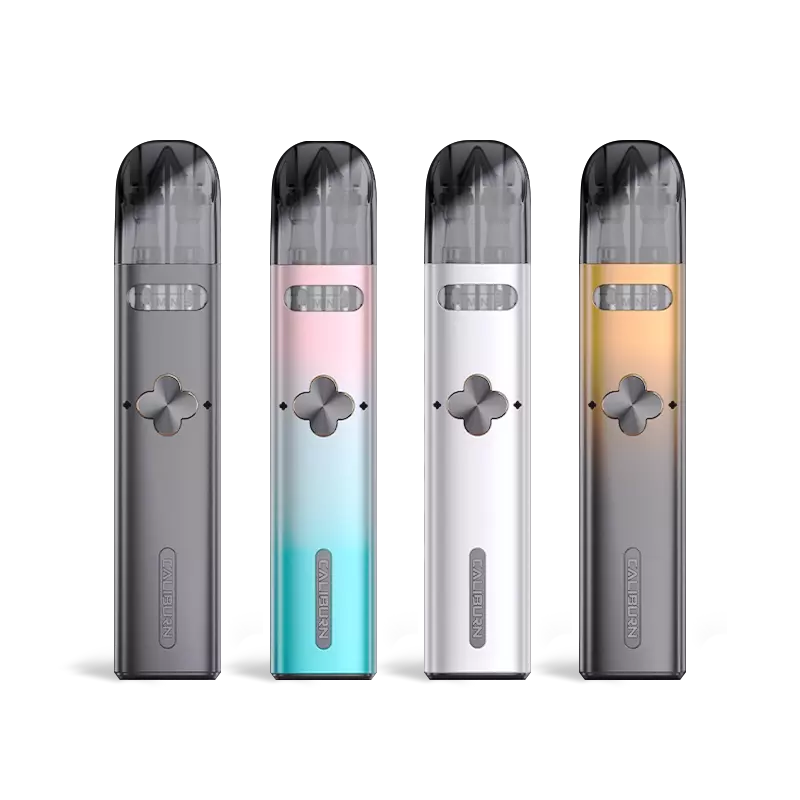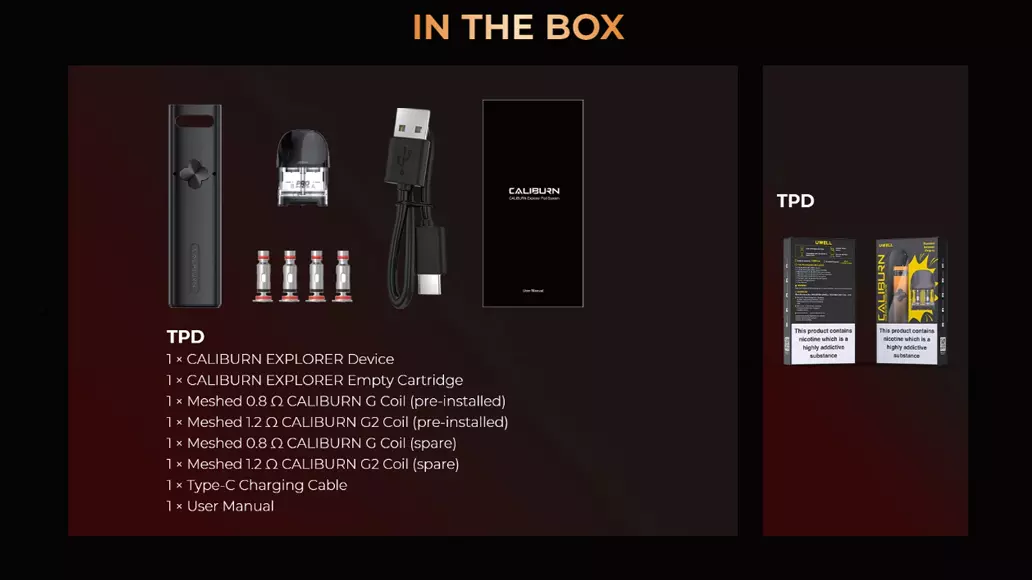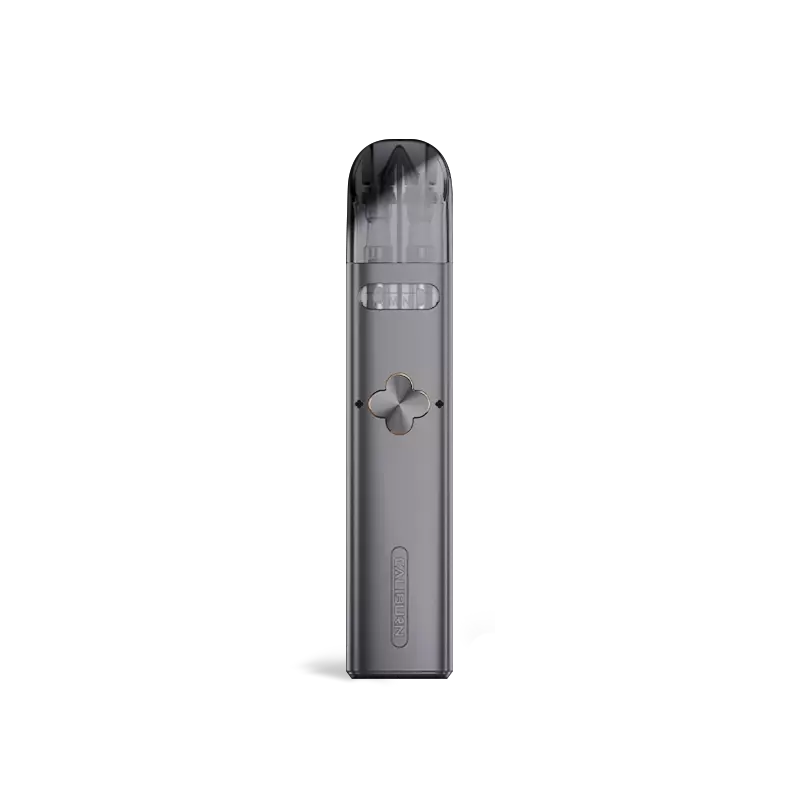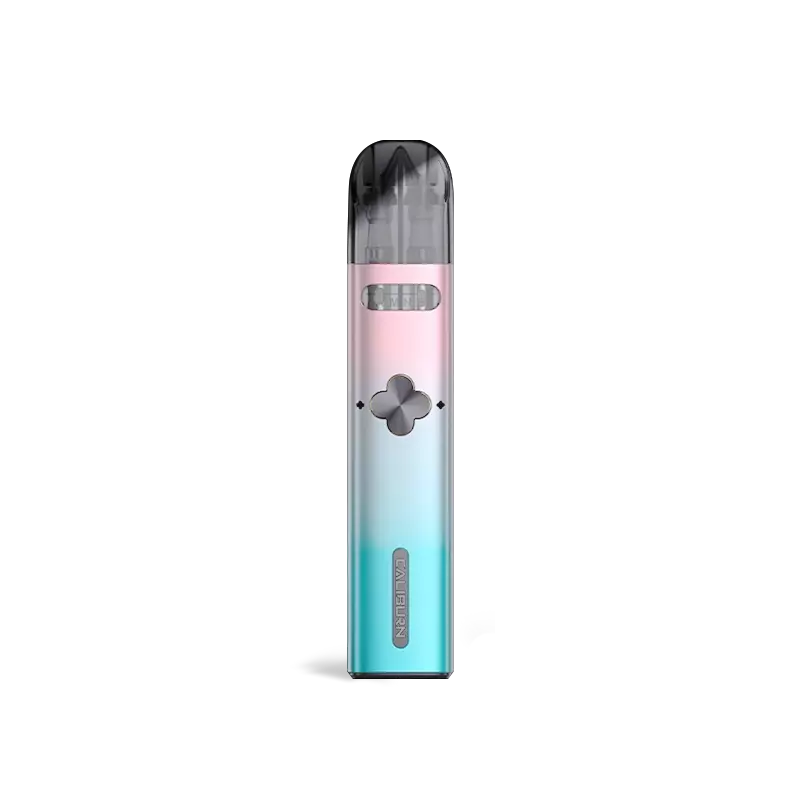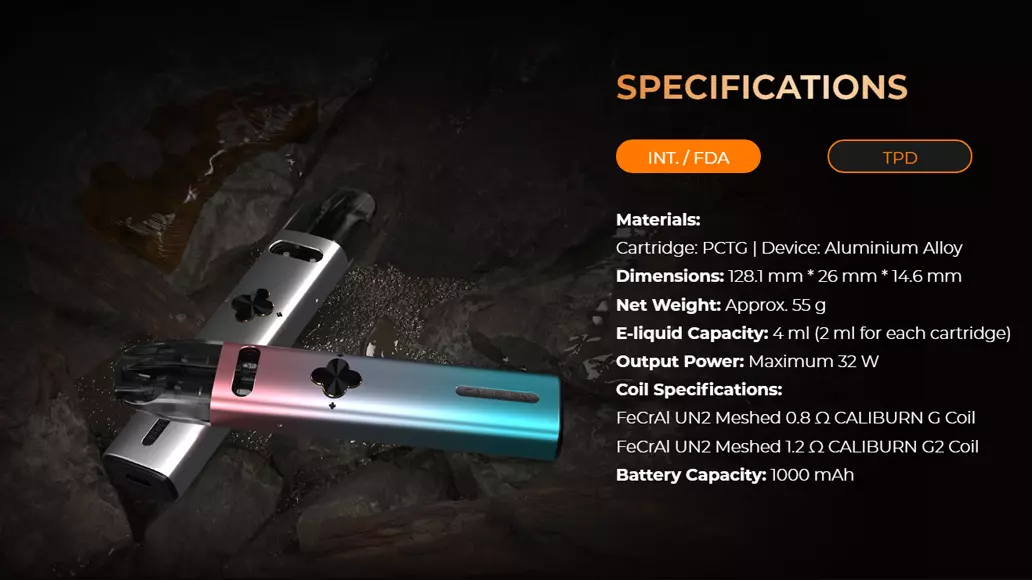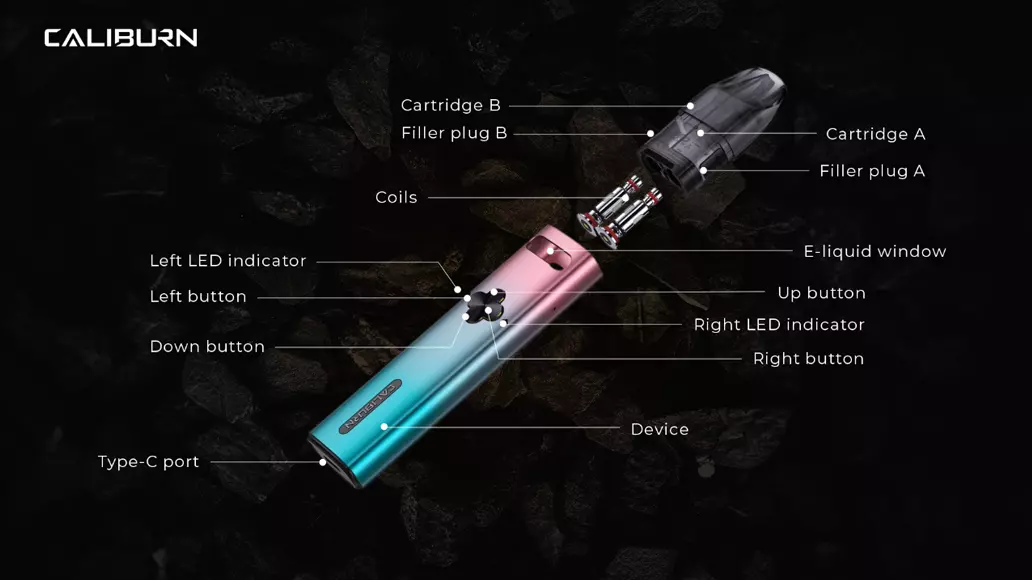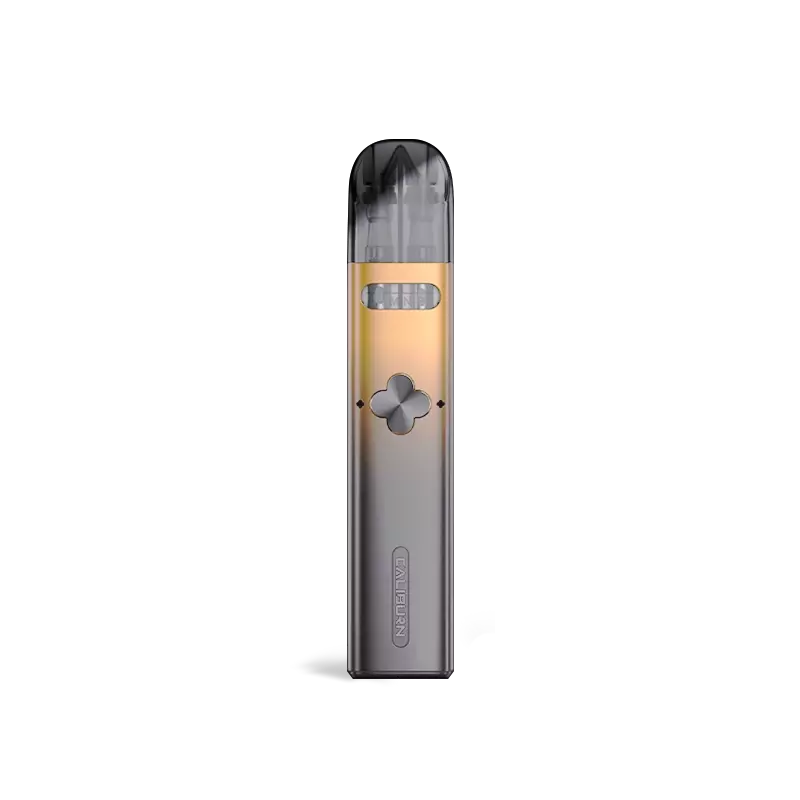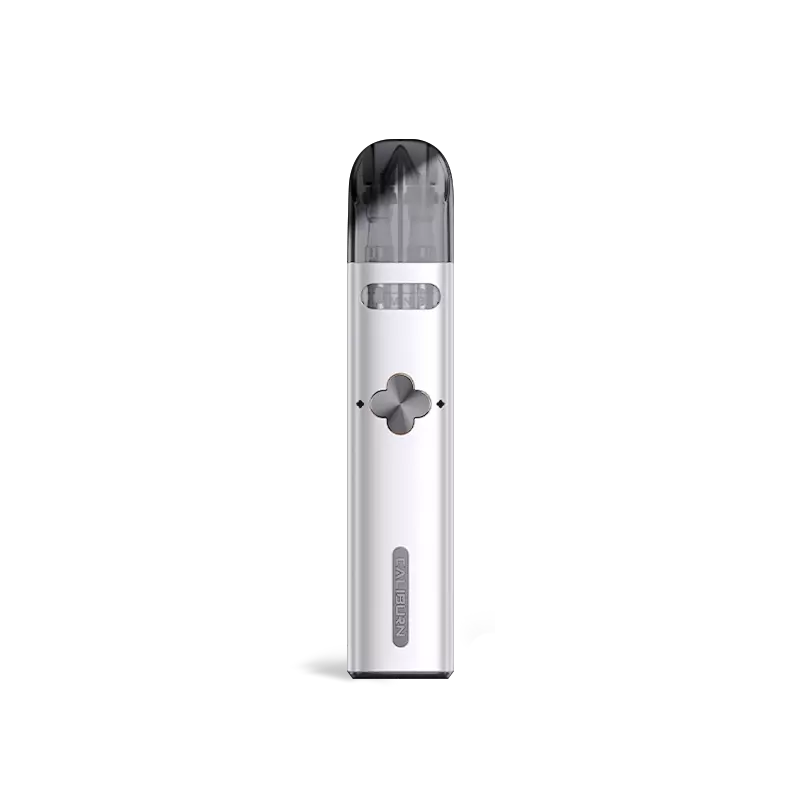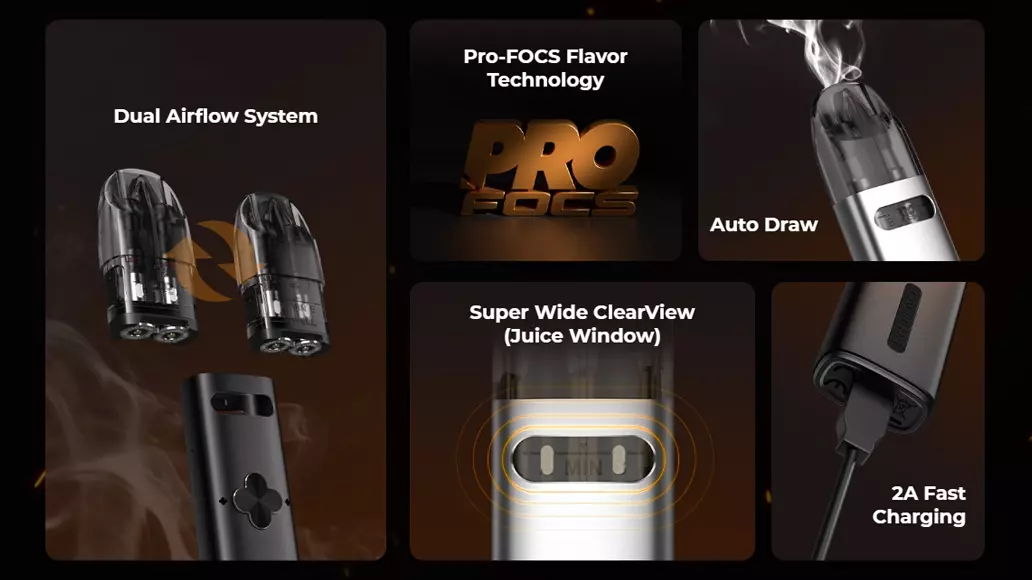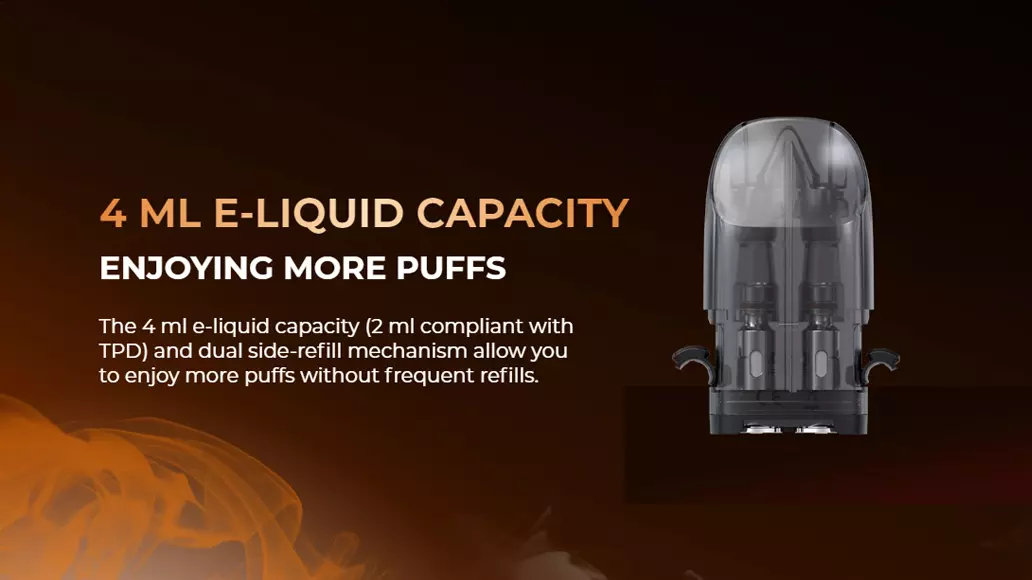 FAQ's
 What is the battery capacity of the Uwell Caliburn Explorer Pod System?
The device features a 1000mAh integrated rechargeable battery.
 Can I use two flavors at the same time with the Caliburn Explorer? 
Yes, the dual-sided 4mL cartridge allows you to load and vape two flavors simultaneously.
 What type of charging does the Caliburn Explorer support? 
It supports USB Type-C charging with a 2A fast charge capability.
 Are the coils for the Caliburn Explorer interchangeable with other Uwell products?
The Explorer is compatible with Uwell's G and G2 series coils.
 What is the maximum wattage output of the Uwell Caliburn Explorer? 
The device has a maximum wattage output of 32W.
Key Takeways
The Uwell Caliburn Explorer Pod System is an innovative and versatile device that offers a unique dual-flavor experience, robust performance, and a sleek design. It's an excellent choice for vapers who value flavor, convenience, and quality.
Want more articles like this one delivered straight to your inbox? Use our "Stay in Touch" form below to get up-to-date news, tips and discounts on vape devices and juices.