Overview
The Yocan LUX 510 Threaded Vape Pen Battery is a standout product for those seeking simplicity and ease in vaping wax concentrates, oils, and hemp extracts. Renowned for its user-friendly vaporizers, Yocan has crafted the LUX with an intuitive design, eliminating complicated steps for both newcomers and experienced users. It boasts a sturdy yet lightweight alloy construction, ensuring durability without the bulk, making it an ideal companion for on-the-go vaping. With its 400mAh battery and a variable voltage setting that ranges from 1.8 to 4.2 volts, the Yocan LUX allows for easy customization of heat levels. Lower settings provide gentle, flavor-rich vapors, while higher settings ramp up the potency for more robust effects, all with the convenience of a twist-to-adjust voltage dial. This device is particularly suited for those who value a straightforward, efficient vaping experience for their concentrates and oils.
Indulge in the luxury of simplicity with the Yocan Lux Battery – where elegance meets effortless vaping.
— Black Note
Yocan's commitment to simplicity and quality shines through in the Lux Battery. This device is not just about its good looks; it's about providing a seamless and intuitive vaping experience. With its variable voltage setting and sturdy construction, the Lux Battery is poised to become a staple in the daily lives of both novice and experienced vapers.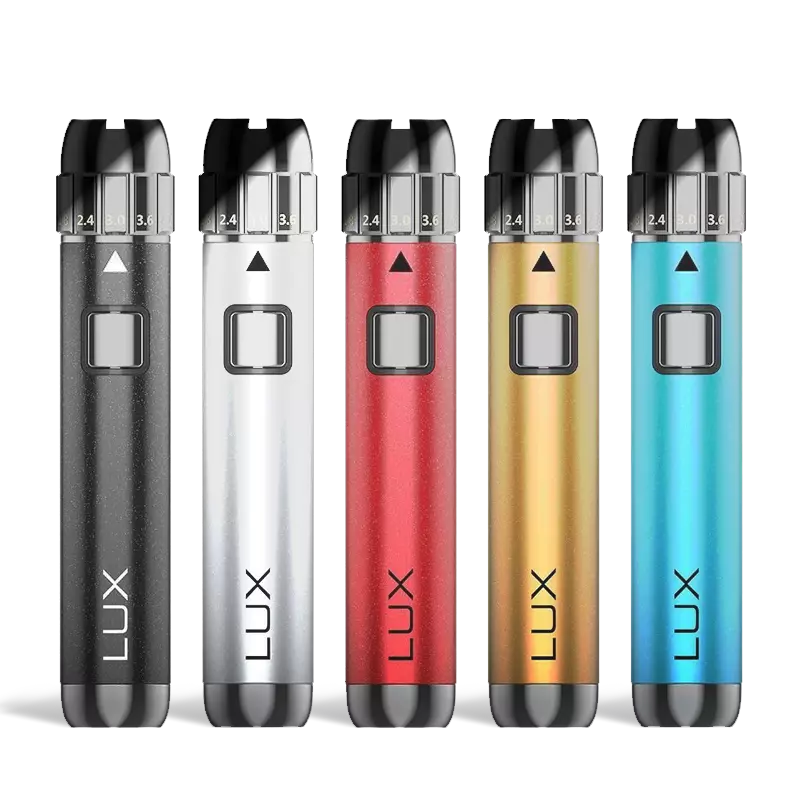 Features and Specs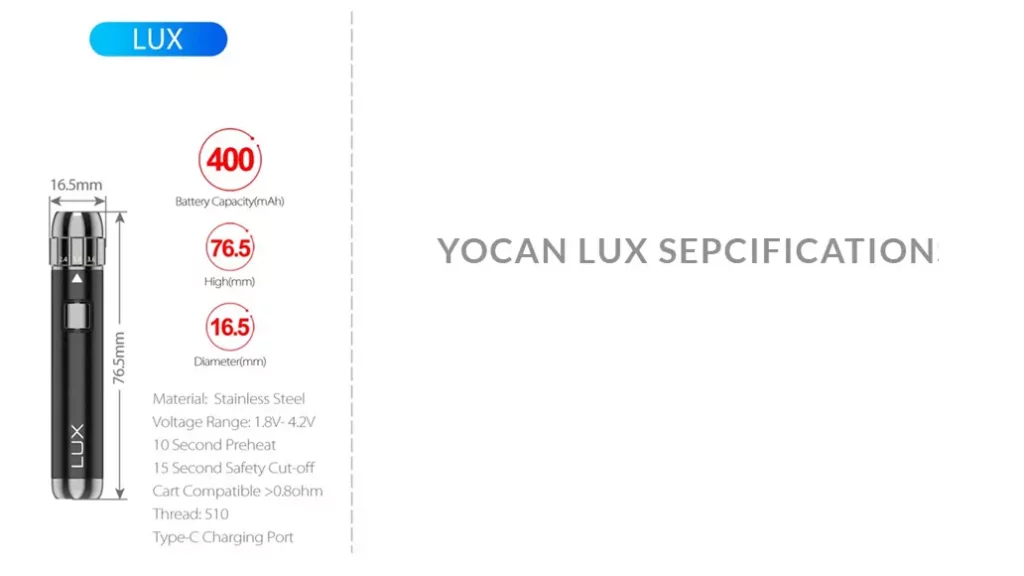 Specifications
Material: Durable alloy body for a premium feel and increased longevity.
Battery: 400mAh capacity, ensuring a balance between size and power.
Voltage Settings: Variable voltage (1.8V to 4.2V) adjustable by twisting the dial, offering a tailored vaping experience.
Preheat Function: Prepares oils and extracts without reaching vaporization, conserving battery and material.
Charging: Micro USB charging for universal convenience.
Safety Features: 15-second cut-off to prevent overheating and preserve battery life.
Compatibility: 510-threaded connection for a wide range of atomizer options.
Size: Compact and lightweight, ideal for discreet use and travel.
What's in the Box?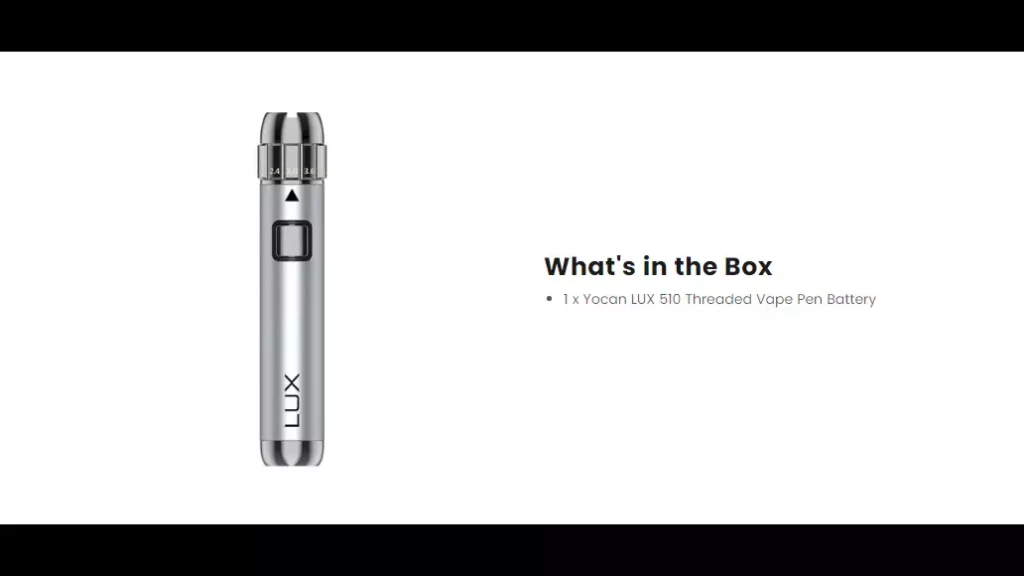 Each Yocan Lux Battery includes:
1 Yocan Lux Battery
1 Micro USB Cable
Design and Appearance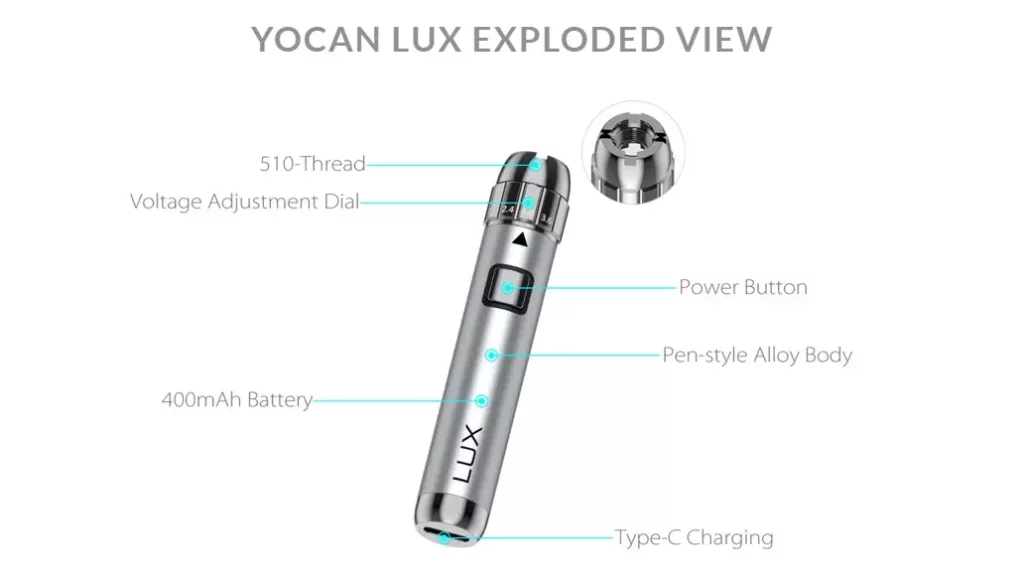 The Yocan Lux Battery is a testament to Yocan's ability to craft devices that are not only functional but also visually appealing. The alloy body not only ensures durability but also gives the device a sleek, modern look that stands out in a crowd.
Available Colors: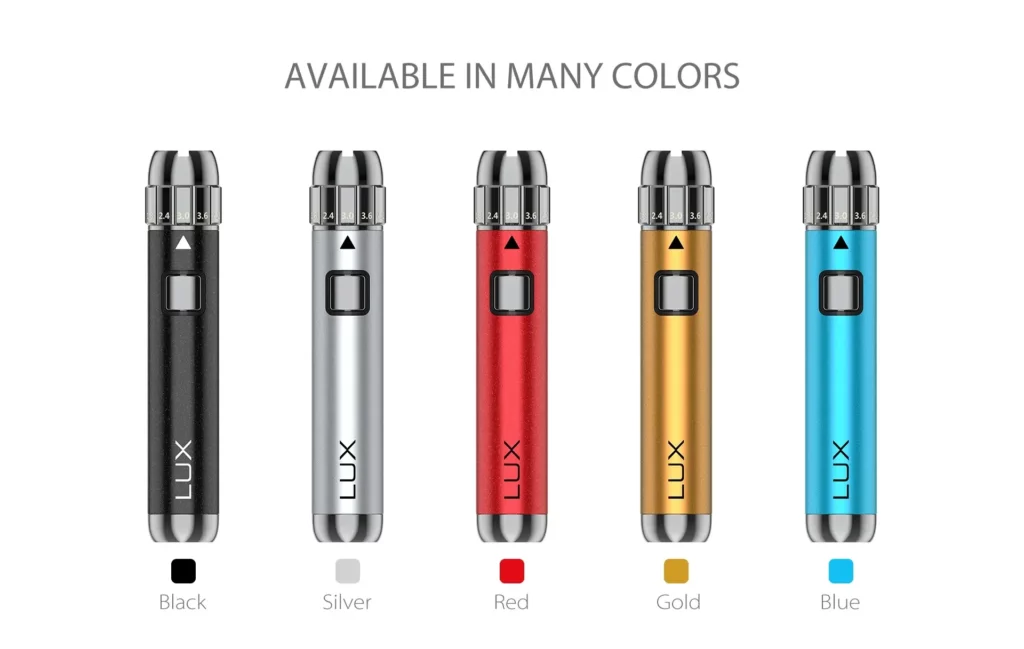 The Yocan Lux Battery is available in the aforementioned colors.
Yocan Lux Battery Functionality
Functionality is at the forefront of the Lux Battery's design. The variable voltage setting is easily adjusted with a twist, allowing for a customizable experience without the hassle of button combinations or color codes. This user-friendly approach is ideal for those seeking a straightforward vaping session.
Yocan Lux Battery Performance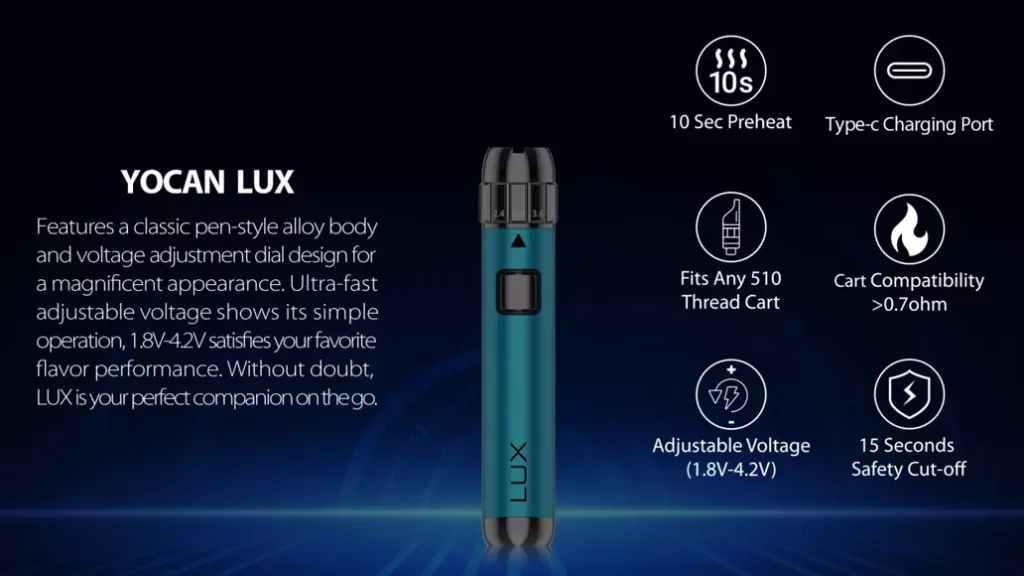 Performance-wise, the Lux Battery delivers consistent output, with the ability to fine-tune the voltage to match your vaping preferences. Whether you prefer flavorful, smooth hits at lower voltages or potent, fast-acting vapors at higher settings, the Lux Battery adapts to your needs.
Yocan Lux Battery Battery Performance
The 400mAh battery strikes a balance between compact portability and reliable power. It's suited for hours of vaping, especially with oils, and can be easily recharged with any compatible micro USB cable.
Types of Coils
The Yocan Lux Battery is designed to be compatible with a broad range of coils and cartridges thanks to its 510-threaded connection. This versatility ensures that users can explore various materials and vaping experiences.
Pros and Cons
Pros:
Elegant alloy construction that's both durable and lightweight.
Variable voltage for a customizable experience.
Preheat function for efficient material use.
Wide compatibility with various atomizers and cartridges.
Simple operation suitable for all levels of vapers.
Cons:
The 400mAh battery may require frequent charging for heavy users.
Lacks the advanced features found in more complex mods.
Order the Yocan Lux Battery
To shop Yocan Vaping Devices, visit Blacknote.com and make sure to explore our wide range of vaping products.
Gallery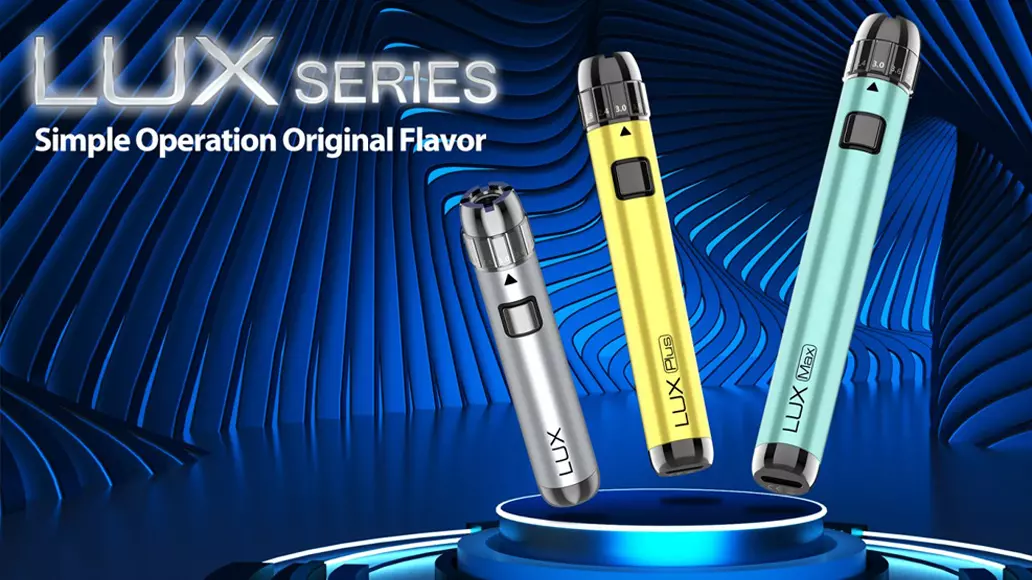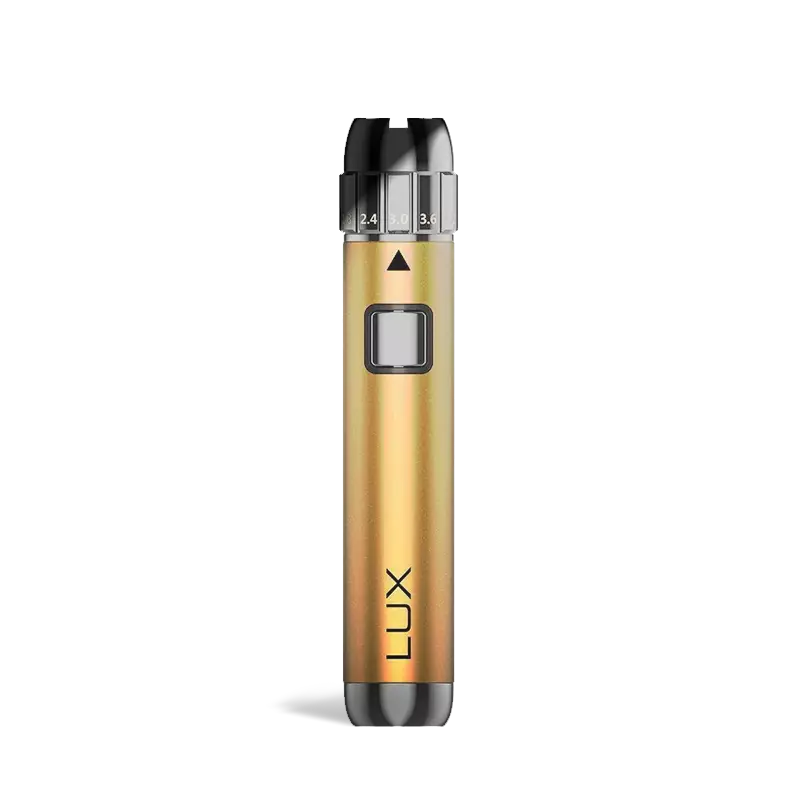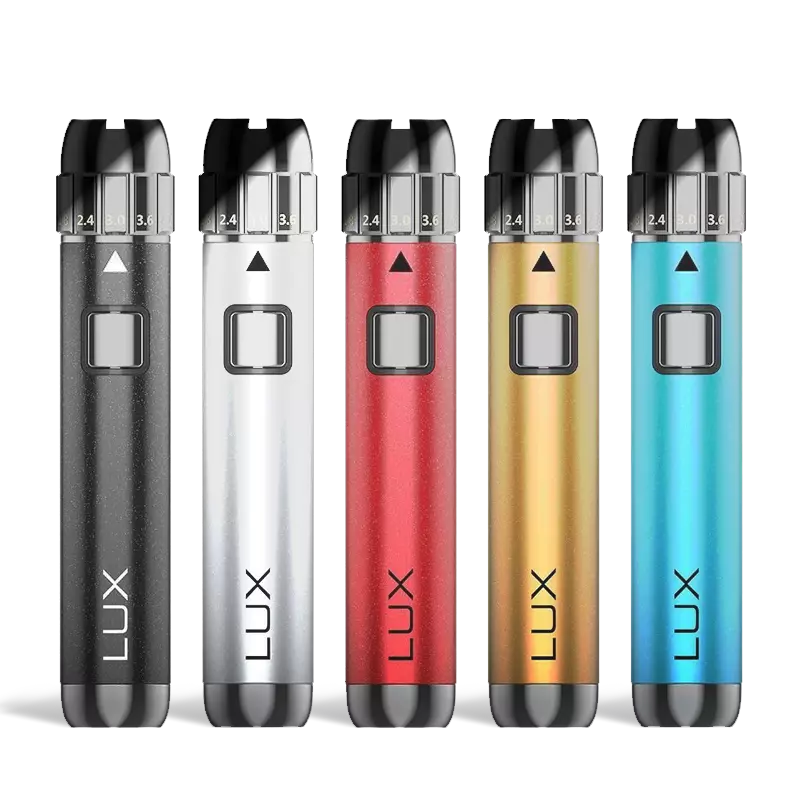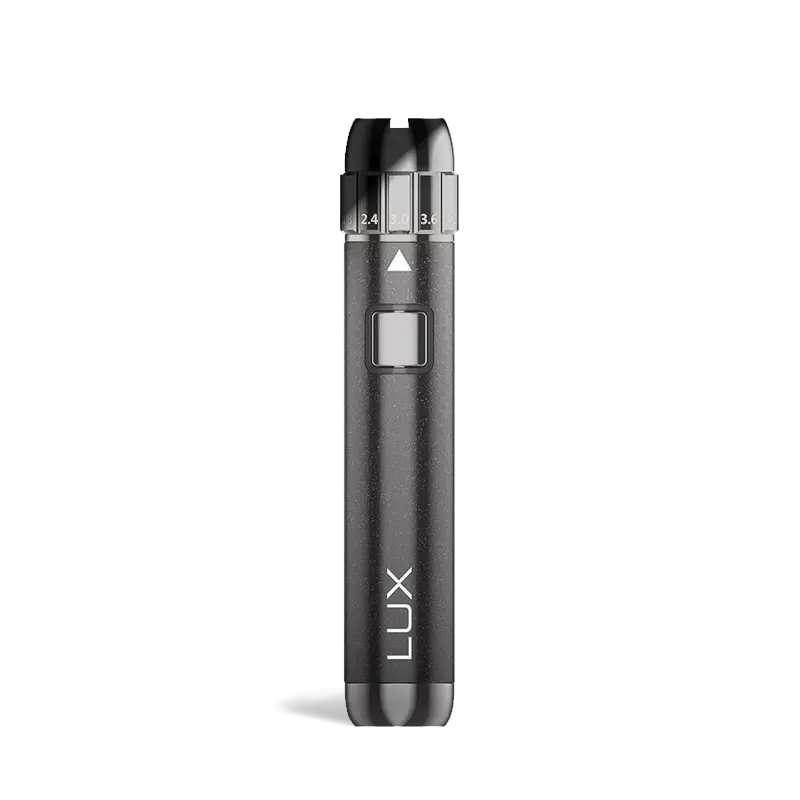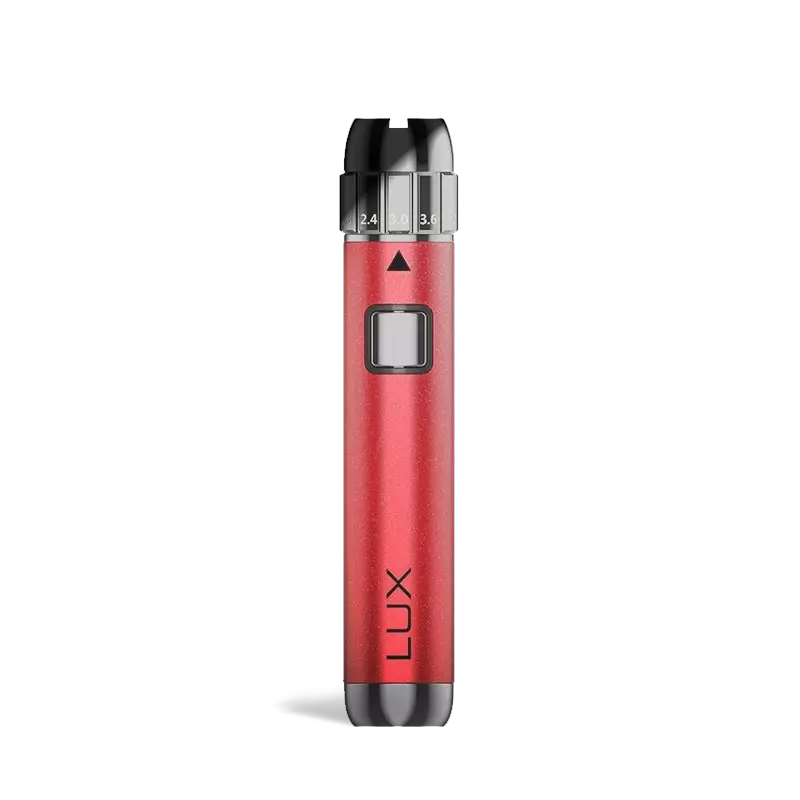 FAQ's
How do I adjust the voltage on the Yocan Lux Battery?
Simply twist the dial at the bottom of the device to your desired voltage setting, visible on the edge of the dial.
Can the Yocan Lux Battery be used with any cartridge?
Yes, it can be used with most 510-threaded cartridges available on the market.
What safety features does the Yocan Lux Battery have?
It includes a 15-second cut-off feature to prevent overheating and accidental firing.
Key Takeways
The Yocan Lux Battery is a stylish, efficient, and user-friendly device that stands out for its elegant design and versatile functionality. It's an excellent choice for vapers who need a reliable, portable solution without the complexity of larger mods. With its wide compatibility and straightforward operation, the Lux Battery is sure to satisfy both new and experienced vapers looking for a high-quality vaping experience.