Overview
The Yocan Ari Vaporizer Battery series, crafted by the seasoned manufacturer Yocan, offers a versatile and portable solution for vaping wax concentrates, essential oils, and hemp extracts. This range is designed to accommodate various 510-threaded coils and cartridges, making it a flexible choice for both recreational and medicinal users.
This line includes four models: the pocket-sized Yocan Ari Mini, the pen-like Yocan Ari Slim, the ergonomic standard Yocan Ari, and the robust Yocan Ari Plus. Each variant is tailored to fit different lifestyles and usage preferences, balancing compactness and power.
Battery life varies across the models to match their sizes. The Yocan Ari Slim houses a 350mAh battery suitable for light, daily sessions, while the Yocan Ari Mini steps up with a 400mAh battery for extended use. The standard Yocan Ari features a 650mAh battery, aligning with other Yocan products for consistent performance. The Yocan Ari Plus boasts a 900mAh battery, ideal for those needing extended battery life to handle denser materials.
Adjustability is a key feature, with a twist-type voltage selector ranging from 1.8 to 4.2 volts, adjustable in 0.1-volt increments, allowing users to fine-tune their vaping experience. Lower settings cater to thinner oils for flavorful vapors, while higher settings are perfect for extracting full potency from thicker concentrates.
Yocan ARI Plus – Your pocket-sized partner for a personalized vaping journey.
— Black Note
The Yocan Ari Plus 900mAh Battery is a testament to Yocan's dedication to crafting products that resonate with the needs of modern vapers. This sleek battery, with its impressive 900mAh capacity and variable voltage settings, is designed for those who refuse to compromise on performance. With its rapid charging capability and universal 510 threading, the Ari Plus is set to become an essential part of your vaping arsenal.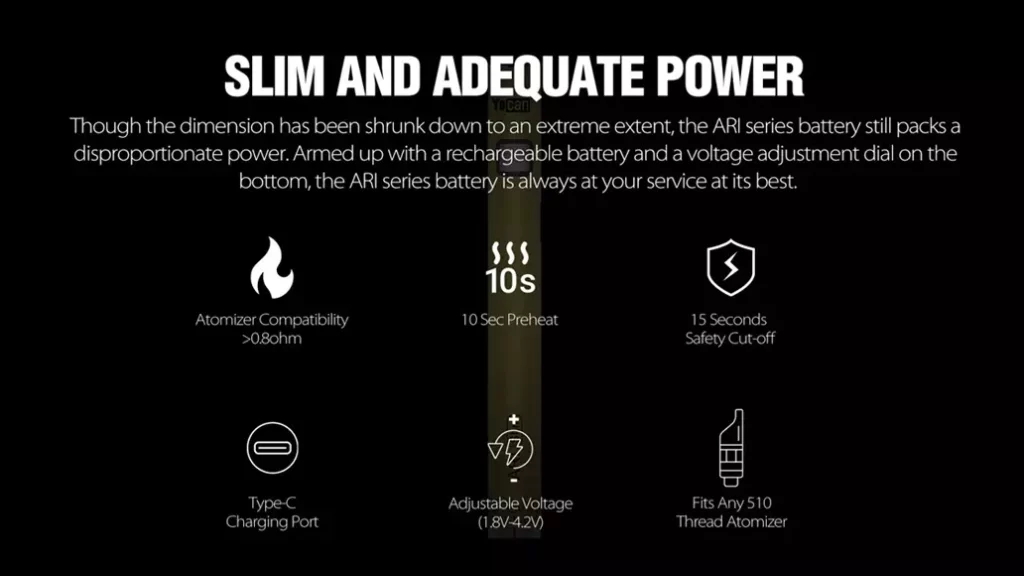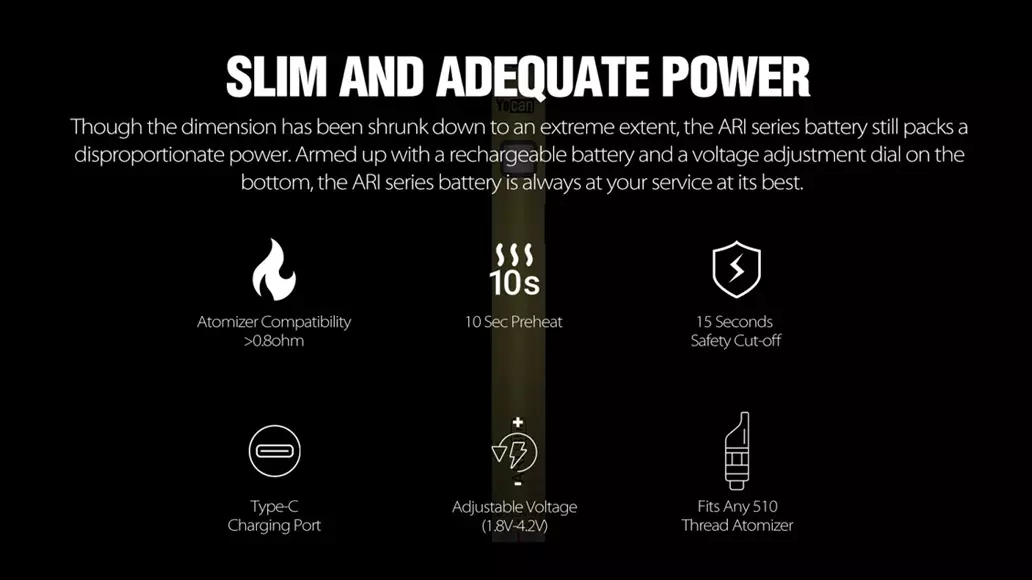 Features and Specs
Specifications
Battery Capacity: 900mAh for extended use
Connection: Threaded 510, compatible with a wide range of cartridges
Voltage: Variable settings for customized vaping
Charging: USB Type-C for fast and convenient charging
Activation: Firing-button mechanism for precise control
Safety: 15-second cutoff protection to prevent overheating
What's in the Box?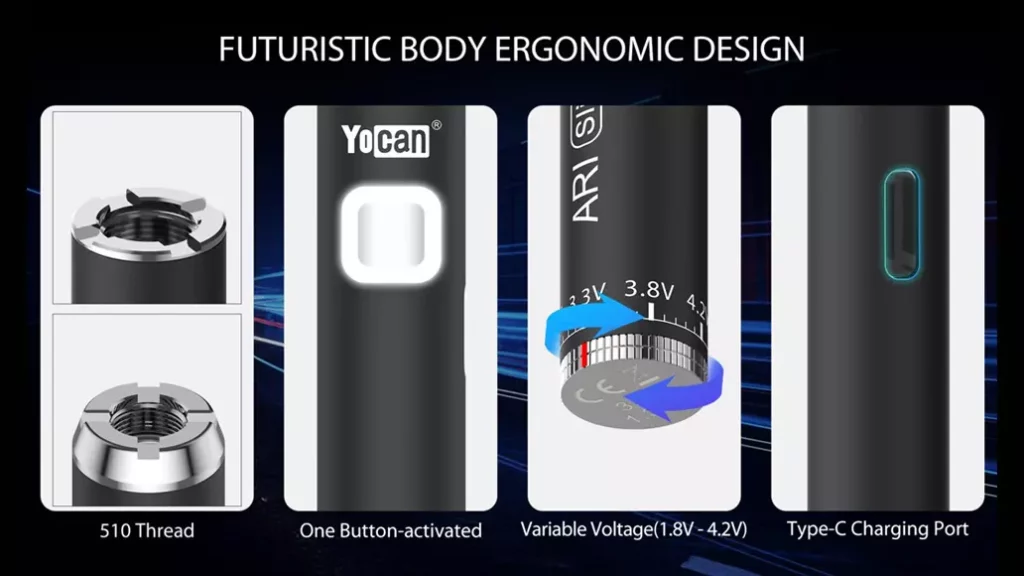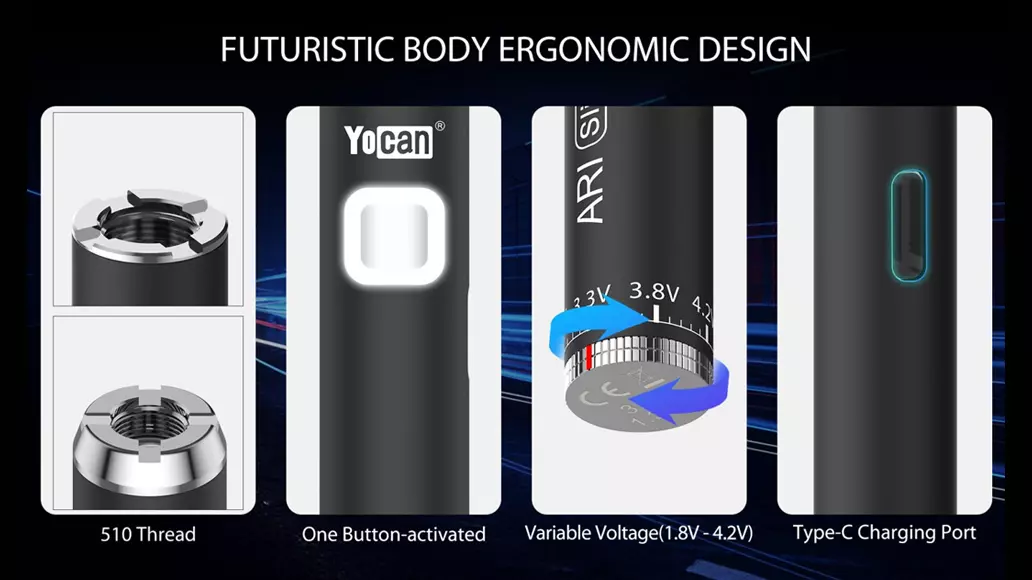 Each Yocan ARI Plus Kit includes:
1 Yocan ARI Plus 900mAh Battery
Design and Appearance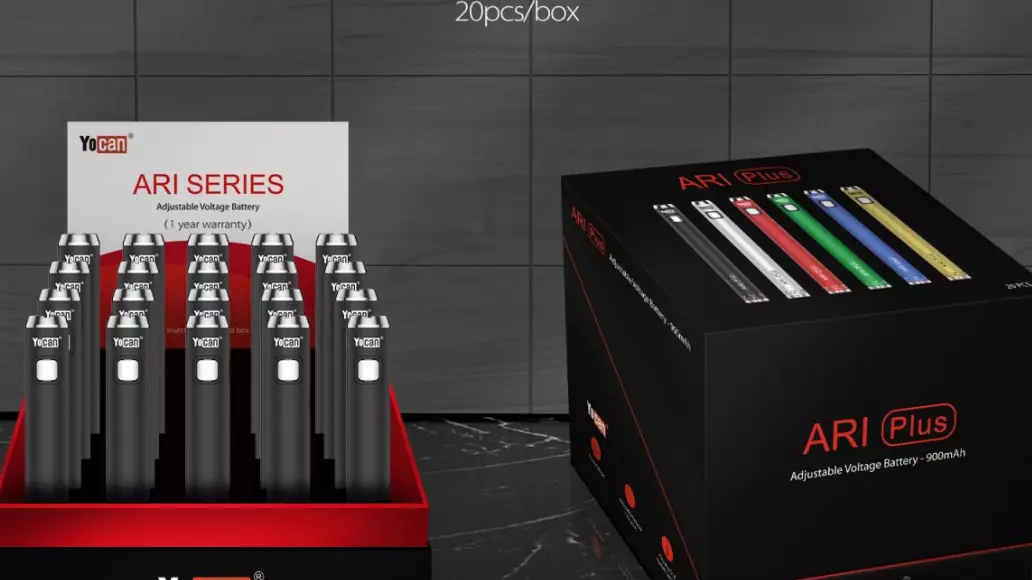 The ARI Plus maintains a discreet and portable design, perfect for vaping on the go. Its simple yet functional build caters to both beginners and experienced users.
Available Colors: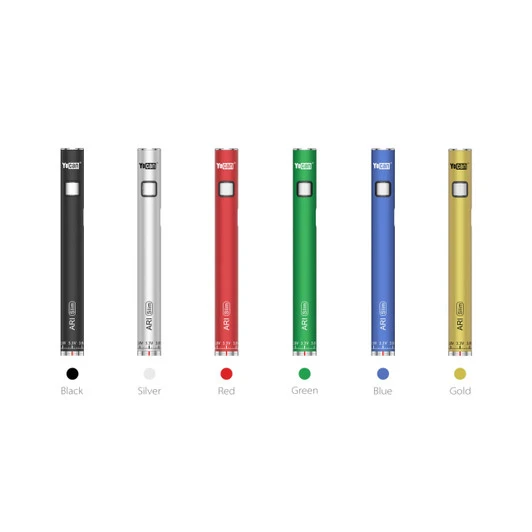 The Yocan Ari Plus is available in the aforementioned colors.
Yocan Ari Plus Functionality
With its variable voltage feature, the ARI Plus allows for a customizable vaping experience, while the firing-button activation gives users control over their sessions.
Yocan Ari Plus Performance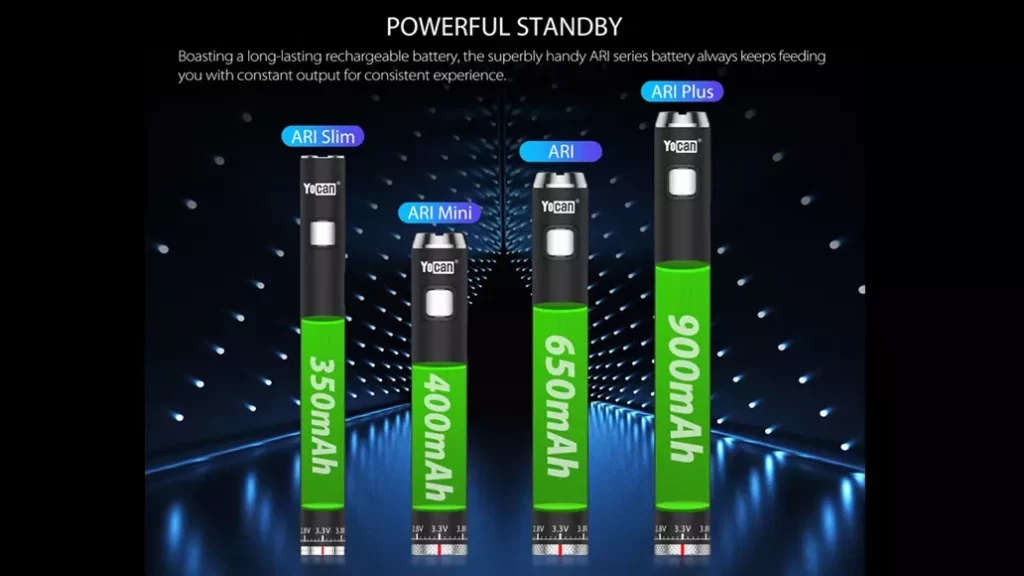 With its universal 510 threading, the Ari Plus is compatible with a wide range of cartridges. The device's three voltage settings ensure that users can achieve the desired balance between flavor and vapor production, catering to individual vaping preferences.
Yocan Ari Plus Battery Performance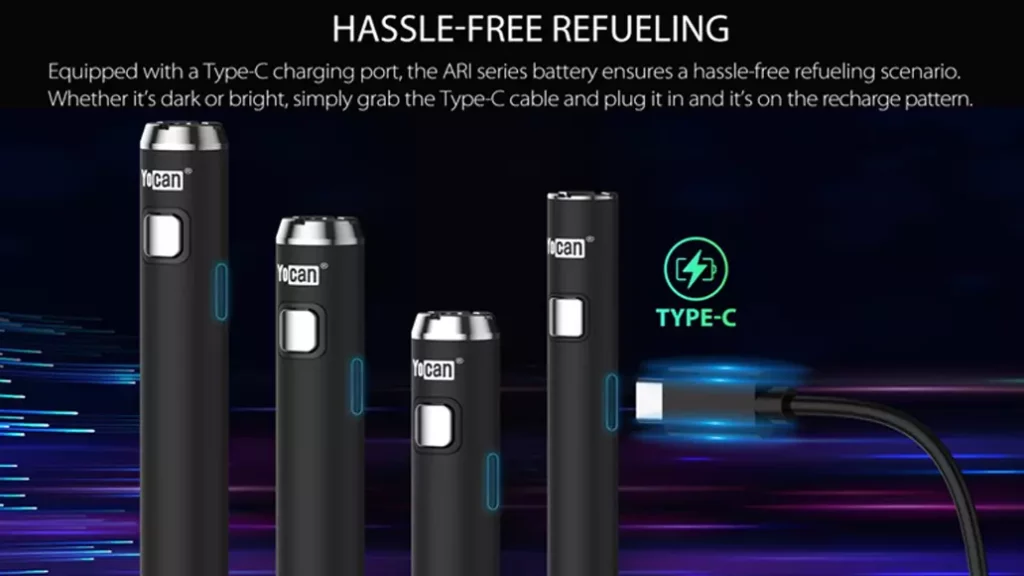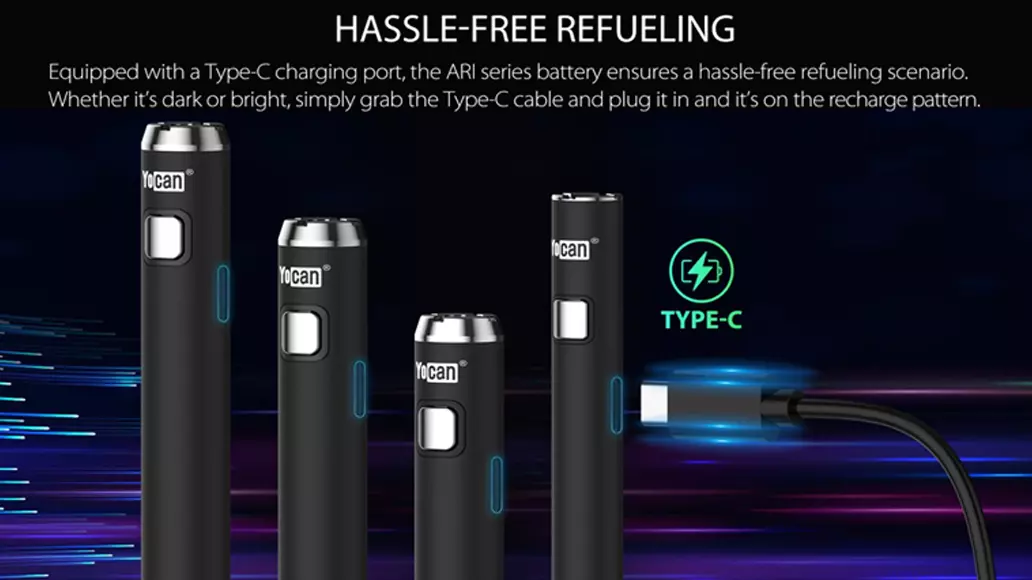 Powered by a 900mAh integrated battery, the Yocan Ari Plus promises consistent and long-lasting performance throughout your vaping sessions. The device's rapid charging capability ensures minimal downtime, and the LED indicator provides real-time battery status updates.
Types of Coils
The Yocan Ari Plus 900mAh Battery is primarily designed for oil cartridges and does not come with specific coil types. However, its 510 threading ensures compatibility with a vast range of cartridges available in the market.
Pros and Cons
Pros:
Compact and portable
Variable voltage for customization
USB Type-C fast charging
Cons:
Limited battery capacity might not be suitable for heavy vapers.
No pass-through charging.
Order the Yocan Ari Plus
To shop Yocan Vaping Devices, visit Blacknote.com and make sure to explore our wide range of vaping products.
Gallery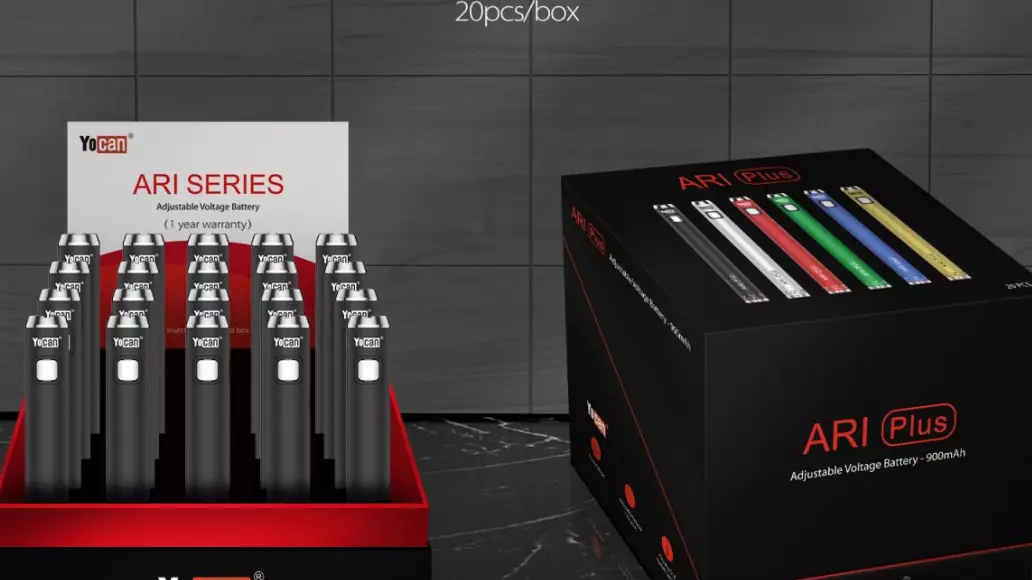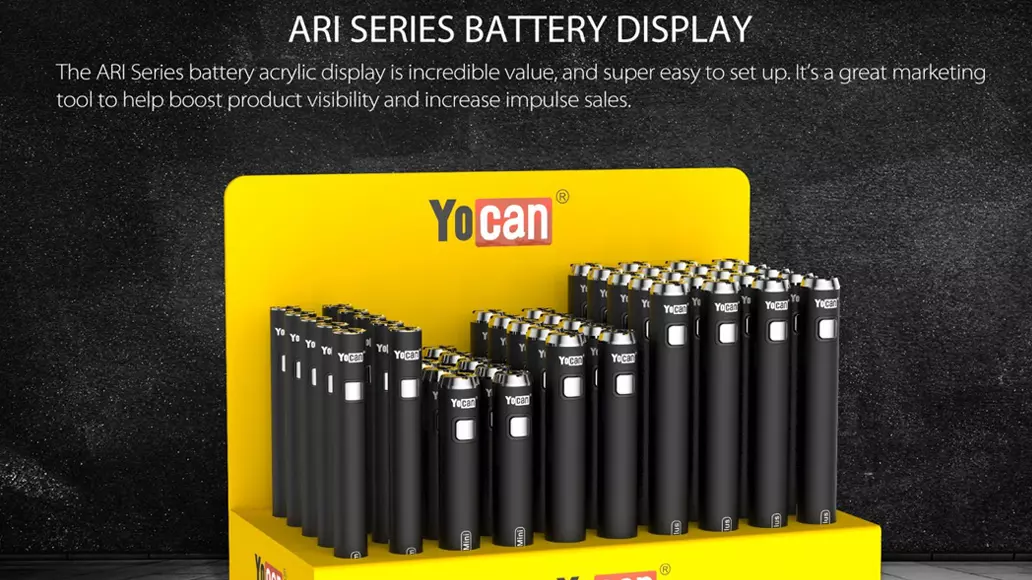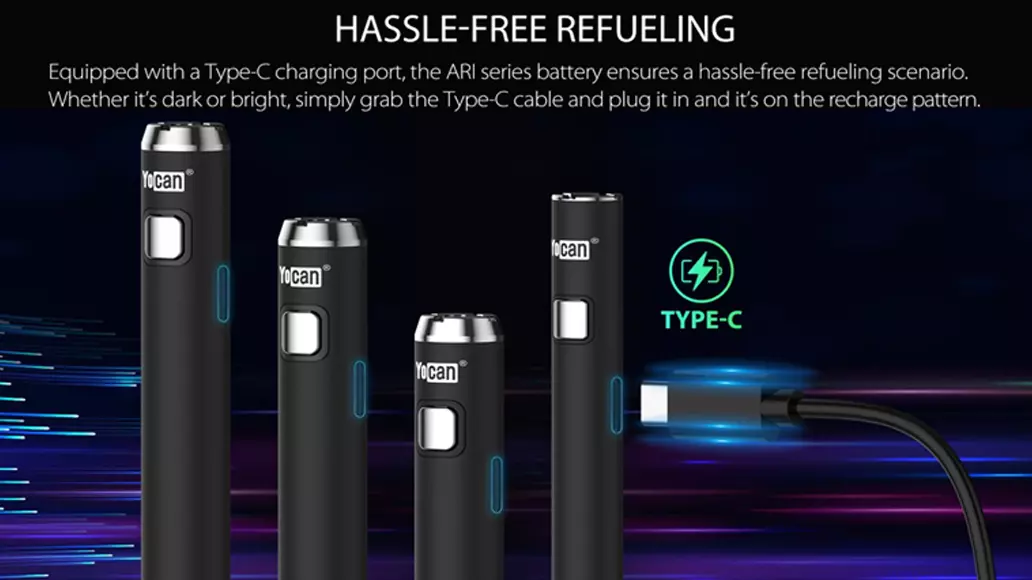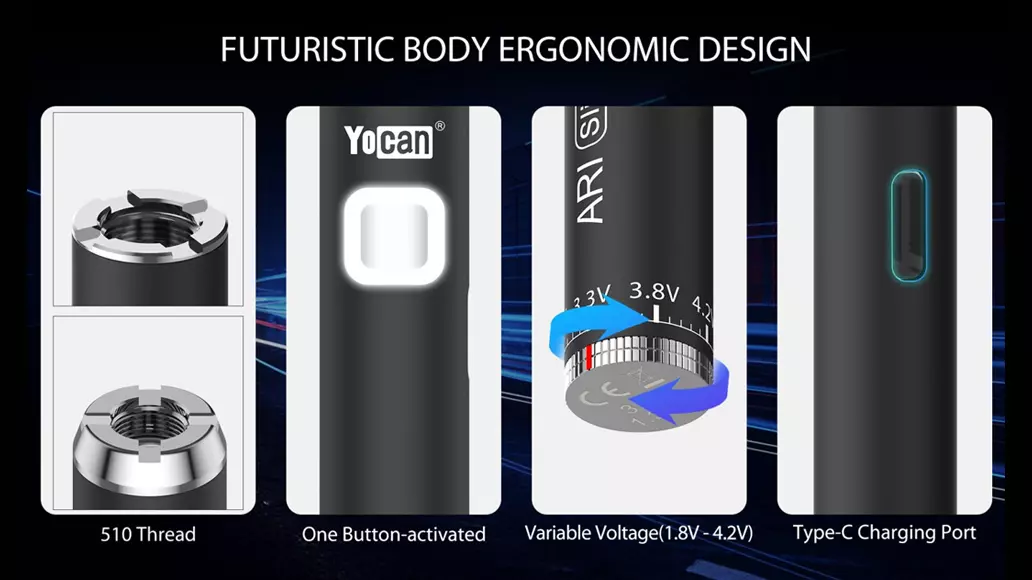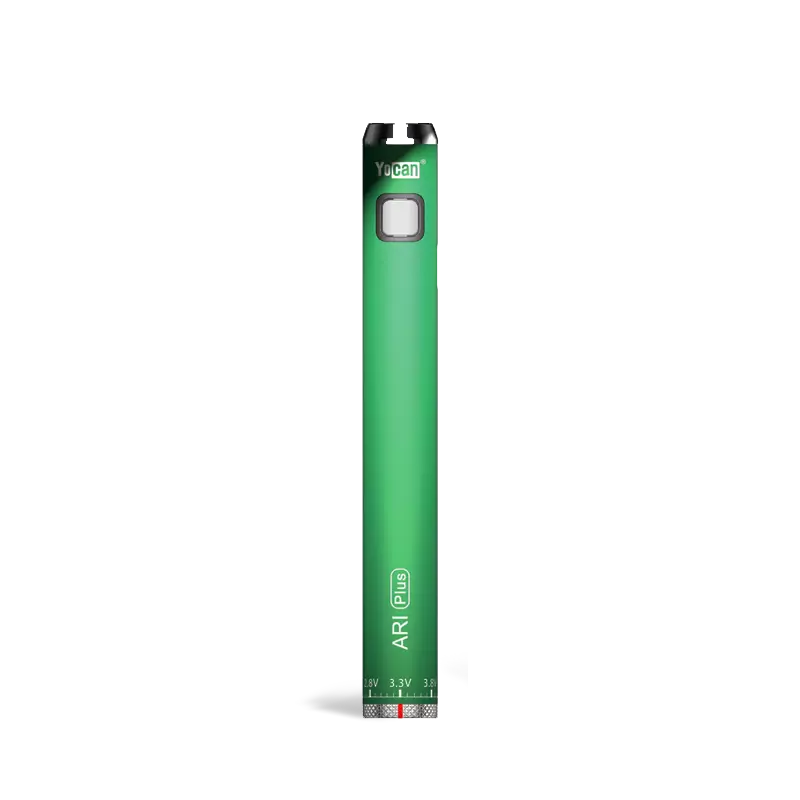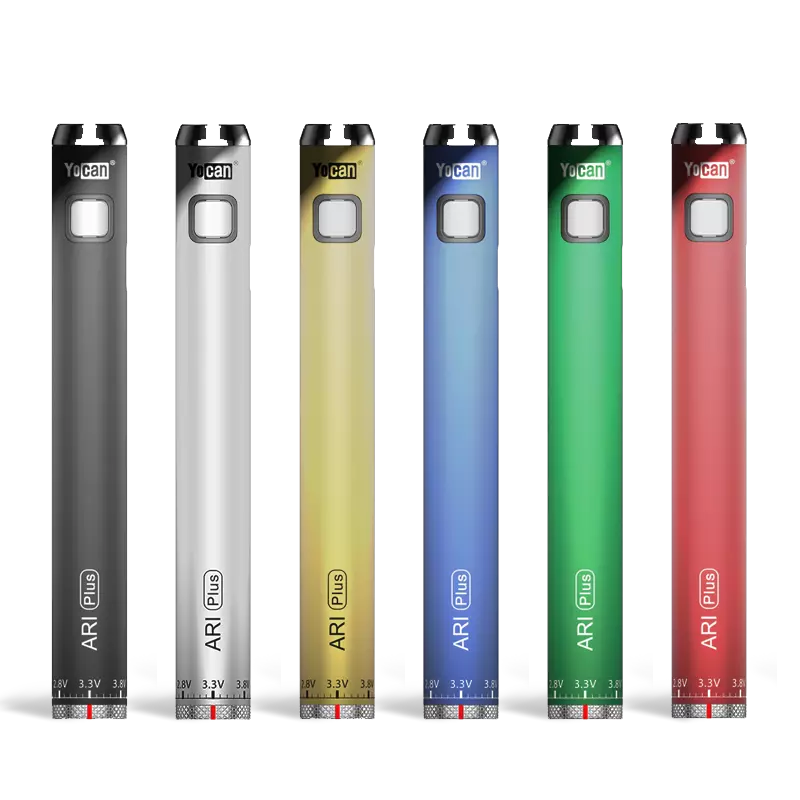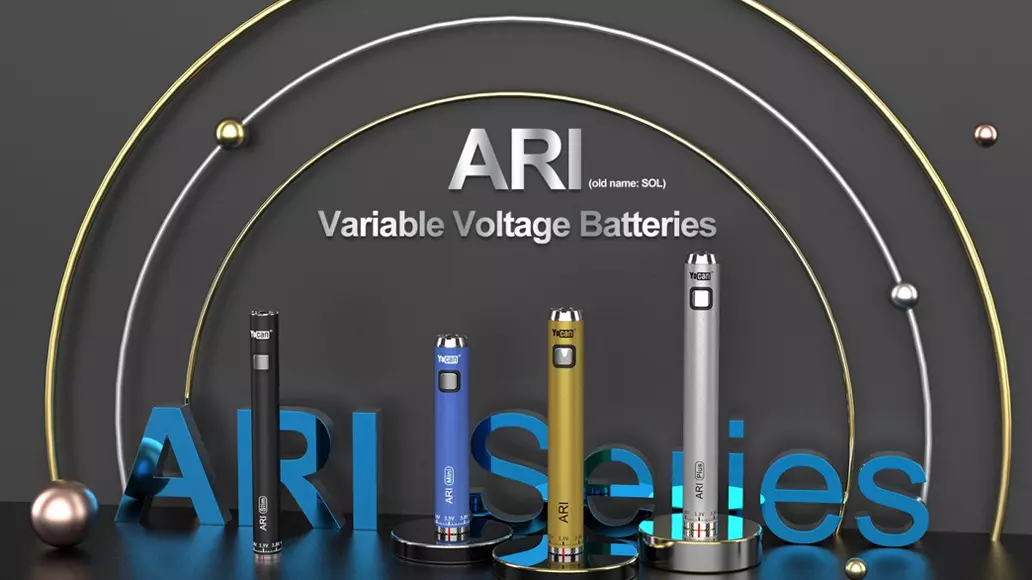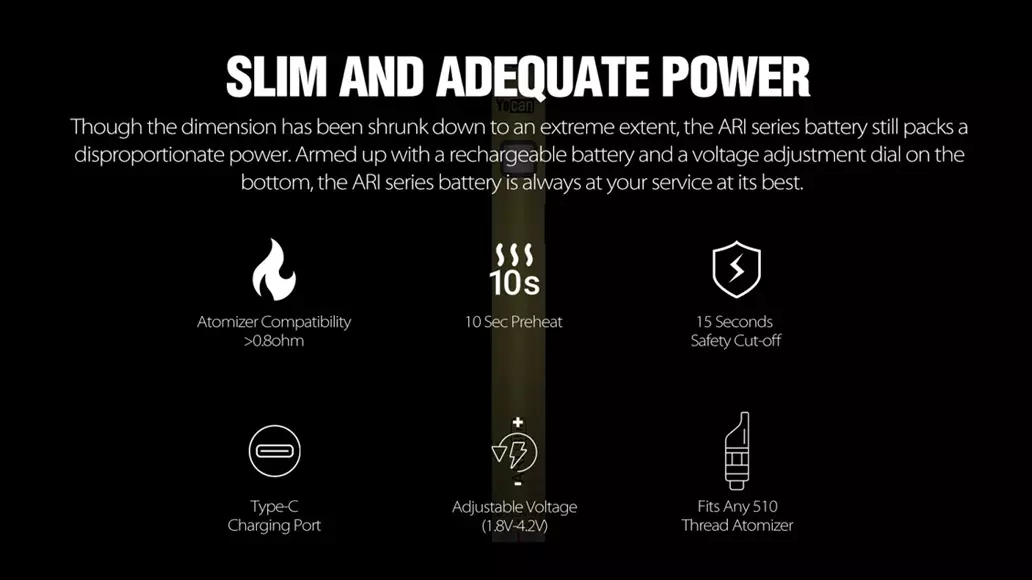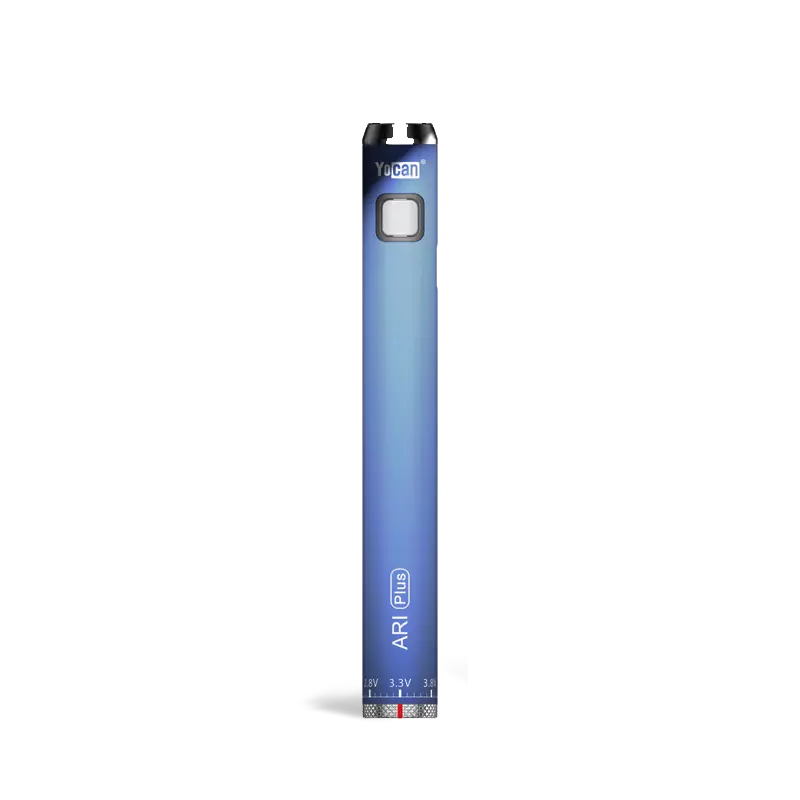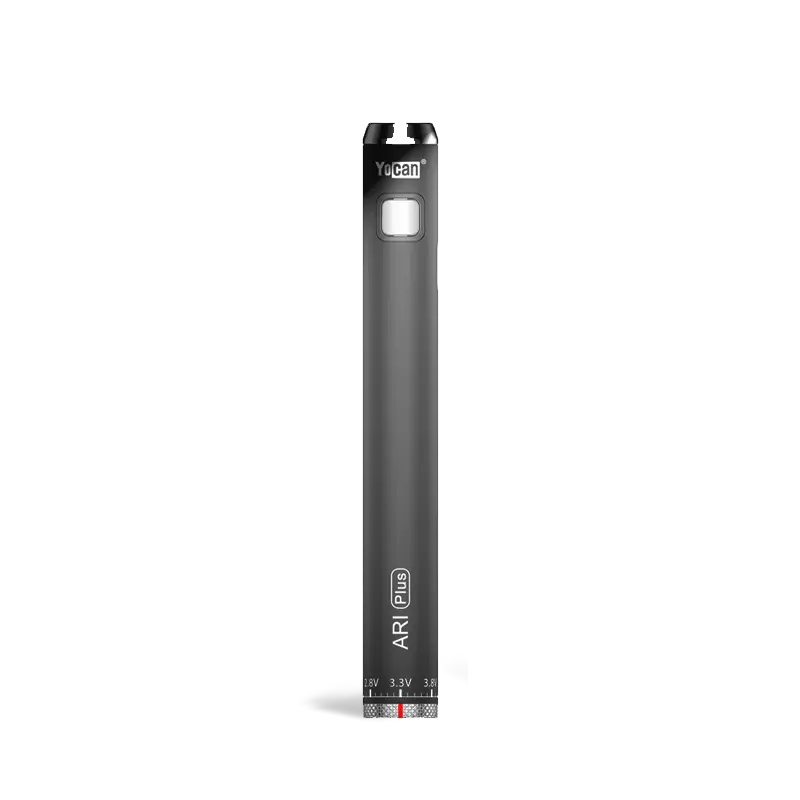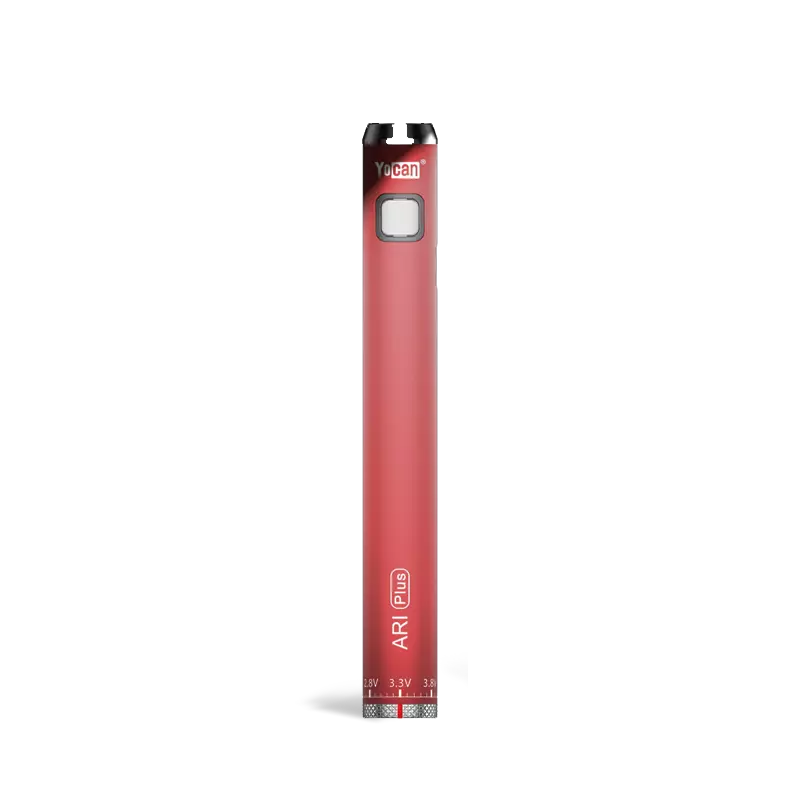 FAQ's
How do I charge the Yocan Ari Plus 900mAh Battery?
The Yocan Ari Plus can be charged using the included MicroUSB cable. Simply connect the cable to the device and plug the other end into a power source.
What cartridges are compatible with the Yocan Ari Plus?
The Yocan Ari Plus features a 510-threaded connection, ensuring compatibility with most oil cartridges available in the market.
How do I adjust the voltage settings on the Yocan Ari Plus?
The voltage settings can be easily adjusted using the single-button operation. Simply press the button three times to cycle through the available voltage levels.
How long does the battery last on a full charge?
The battery life largely depends on individual usage patterns. However, with a 900mAh capacity, you can expect several vaping sessions before needing a recharge.
Key Takeways
In conclusion, the Yocan Ari Plus 900mAh Battery is a harmonious blend of style, portability, and functionality. Whether you're new to vaping or a seasoned enthusiast, the Yocan Ari Plus is a must-have addition to your vaping collection.
Want more articles like this one delivered straight to your inbox? Use our "Stay in Touch" form below to get up-to-date news, tips and discounts on vape devices and juices.