Overview
In the ever-evolving realm of vaping, the VOOPOO Drag H40 Pod Mod Kit stands out as a symbol of sophistication, merging a sleek aesthetic with top-tier performance.
The VOOPOO Drag H40 isn't just another vaping device; it's a reflection of the advancements in vaping technology. With its modern design, efficient charging, and unparalleled performance, the Drag H40 is poised to elevate the vaping experience for both newcomers and seasoned vapers.
Discover the VOOPOO DRAG H40: Where compact design meets remarkable power, delivering a direct lung vaping experience that defies its size.
— Black Note
The VOOPOO Drag H40 Pod Mod Kit is a testament to VOOPOO's commitment to innovation. Every product they launch sets a new standard, and the Drag H40 is no different. This state-of-the-art pod mod, with its compact frame and a 1500mAh battery, promises a vaping session that's both potent and enduring.
With a rapid charging feature and a focus on MTL vaping, the Drag H40 is equipped with the PnP Pod 2, allowing users to experience the intricate flavors of their preferred eJuice. The 1500mAh battery ensures consistent performance, and with the Type-C Port, charging is swift and efficient.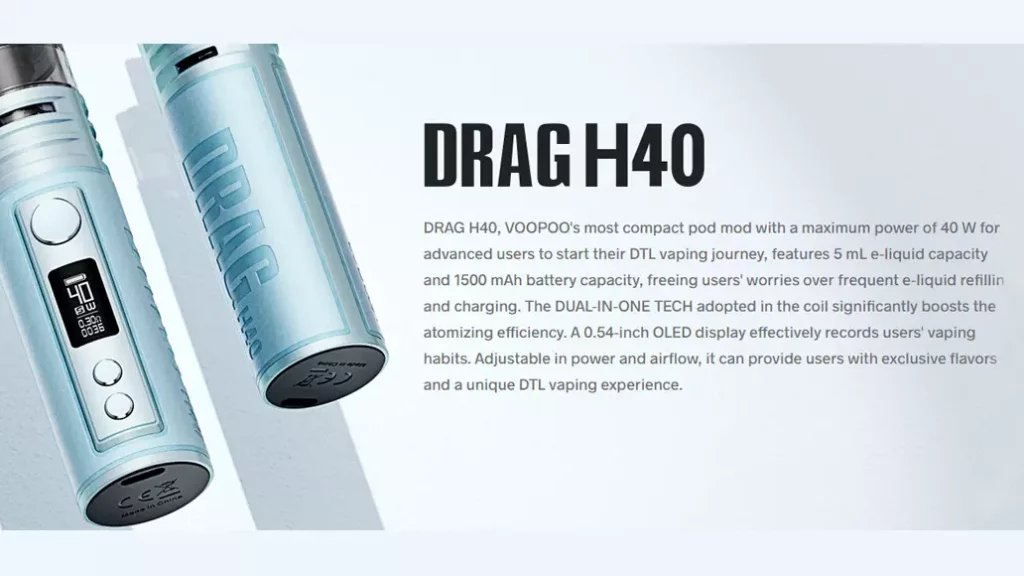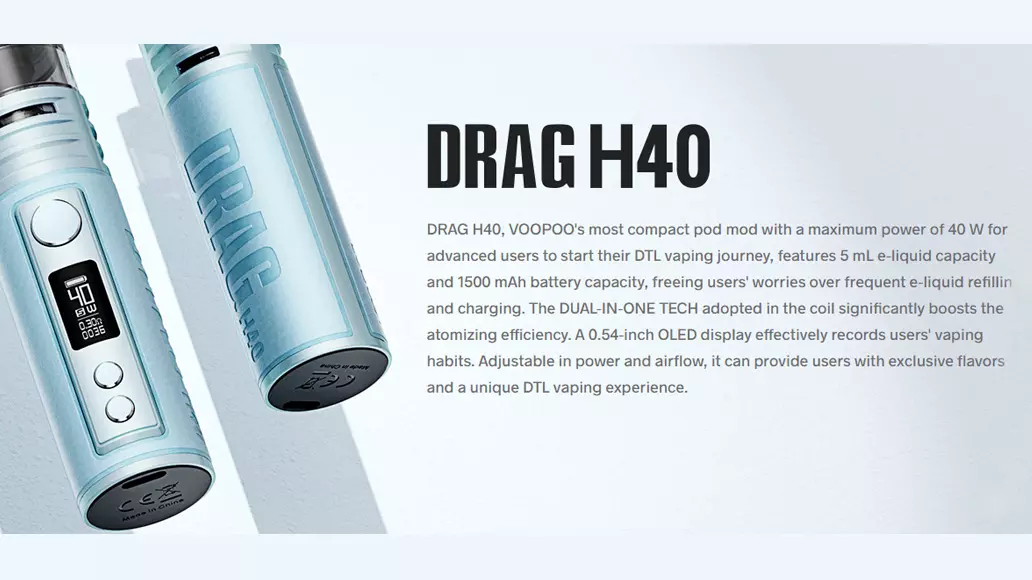 Features and Specs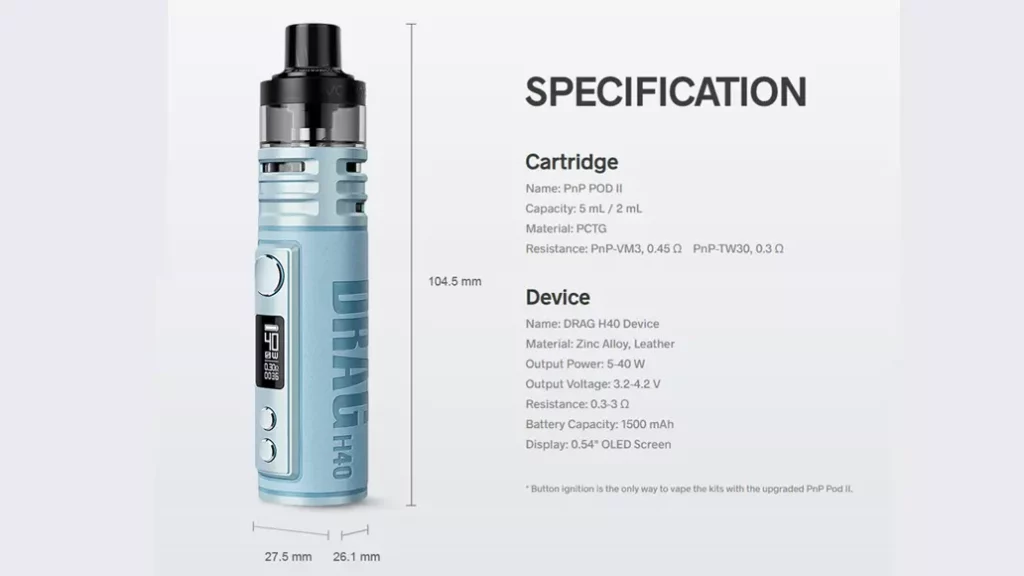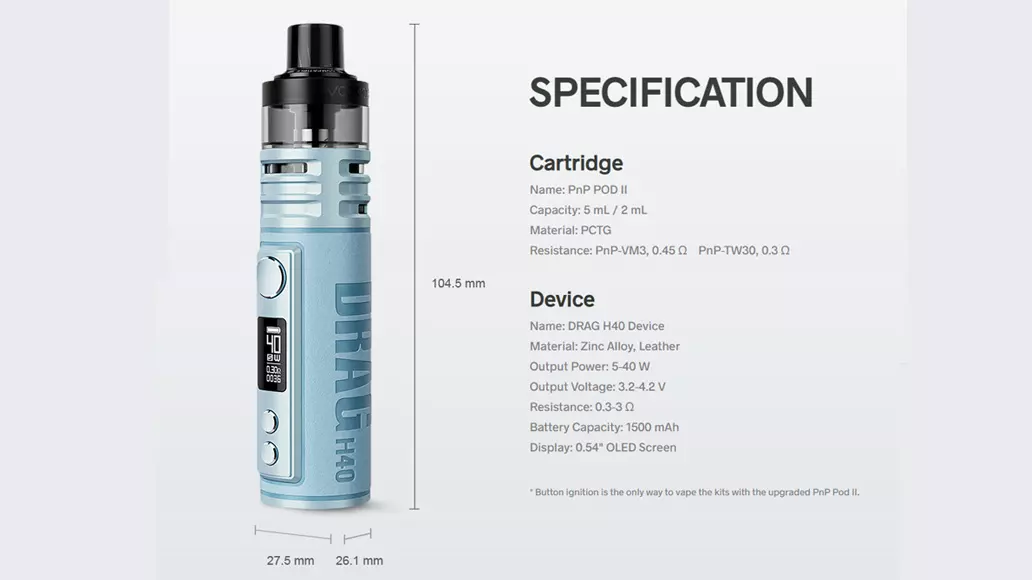 Specifications
Materials: Zinc Alloy, Leather
Dimensions: 104.5 x 27.5 x 26.1mm
Weight: 103g with pod
Battery Capacity: 1500mAh
Output Power: 5-40W
Output Voltage: 3.2-4.2V
Resistance Range: 0.3-3Ω
Pod Capacity: 5ml (standard) / 2ml (TPD)
Screen: 0.54″ OLED
Chipset: Gene AI
Charging: Type-C USB
What's in the Box?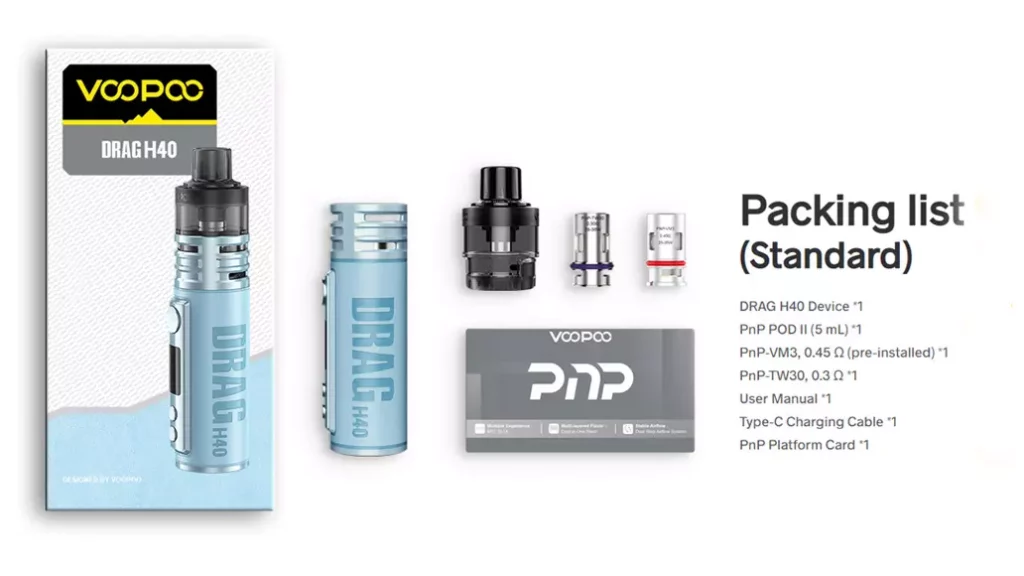 DRAG H40 Device
PnP POD II
PnP-VM3, 0.45Ω Coil
PnP-TW30, 0.3Ω Coil
Type-C Cable
User Manual
Design and Appearance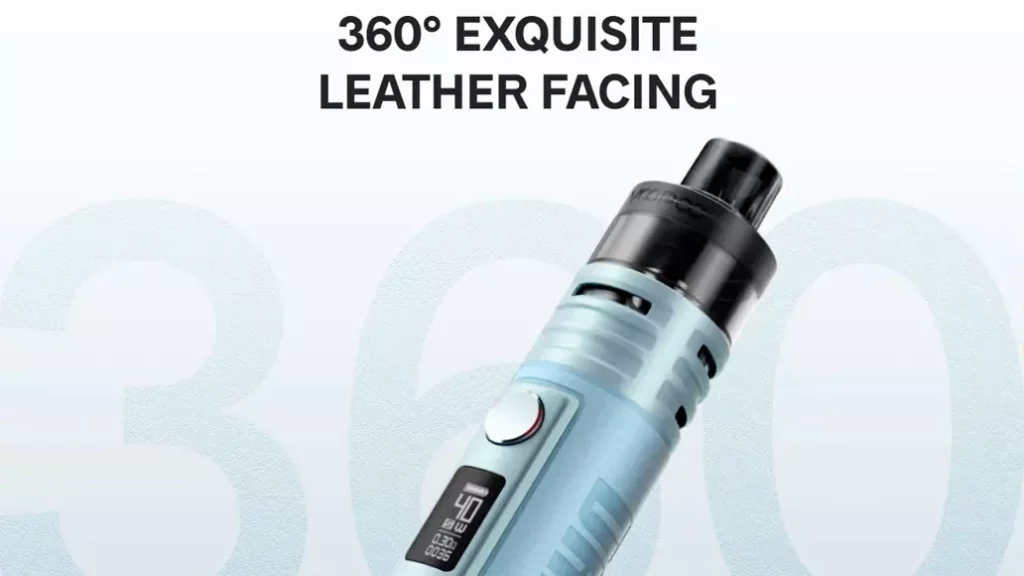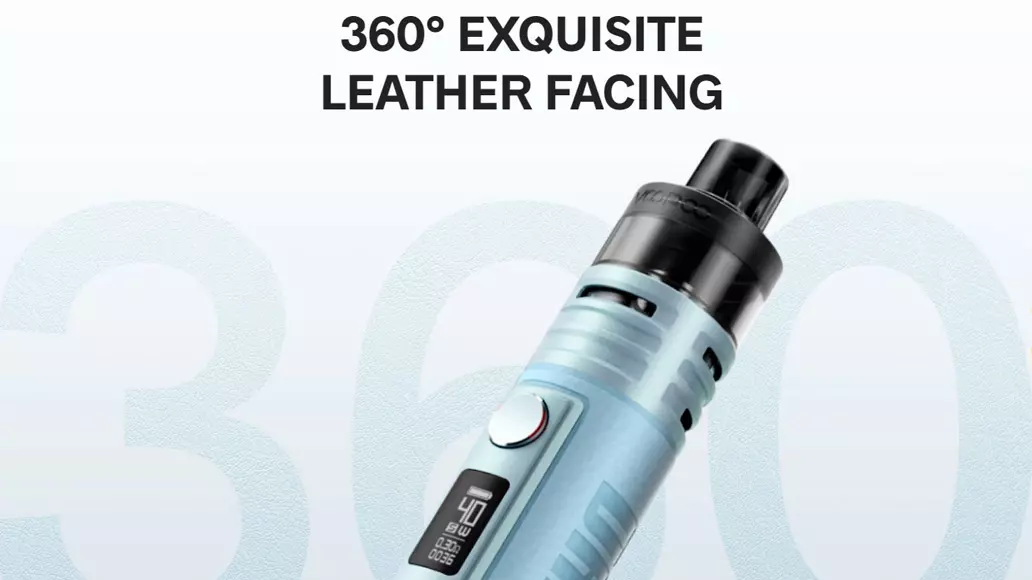 The DRAG H40 boasts a classic Drag design with a modern twist, featuring leather-style panels and a sturdy zinc alloy body. It's comfortable to hold and comes in a variety of colors to suit any style.
Available Colors:
The VooPoo DRAG H40 is available in the aforementioned colors.
DRAG H40 Functionality
With the Gene AI chipset at its core, the DRAG H40 offers a smart mode for beginners and an RBA mode for veterans. The device is straightforward to use, with a clear OLED display and adjustable airflow for a tailored vape.
DRAG H40 Performance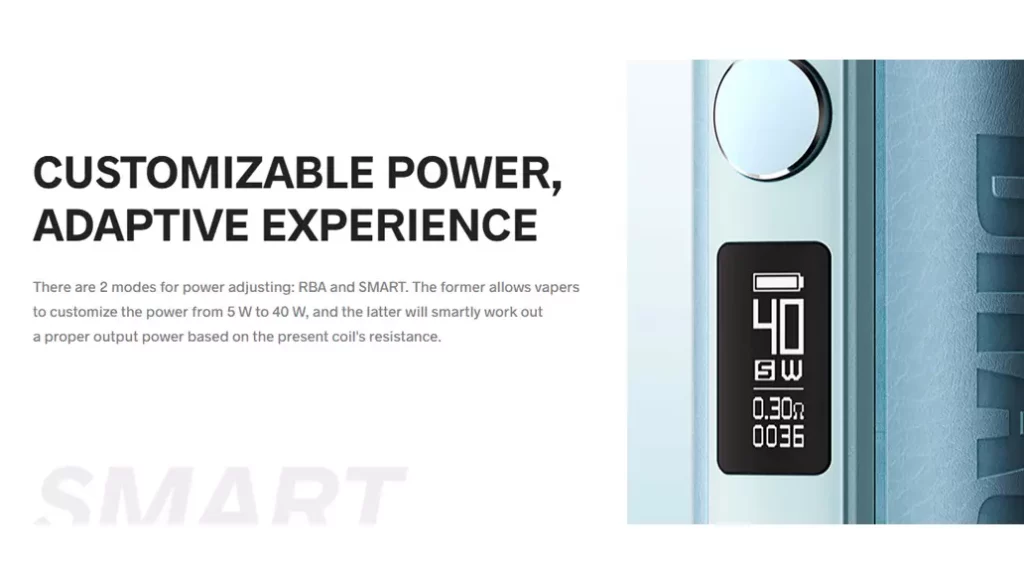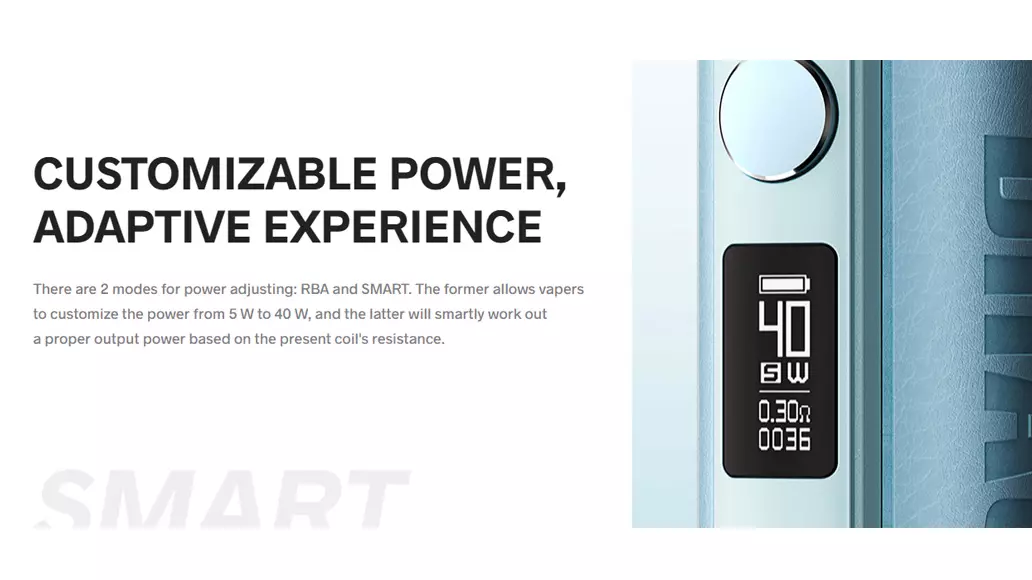 The DRAG H40 shines in performance, thanks to the PnP coil range known for excellent flavor and vapor production. The adjustable airflow complements the direct lung coils, providing a satisfying vape with every puff.
DRAG H40 Battery Performance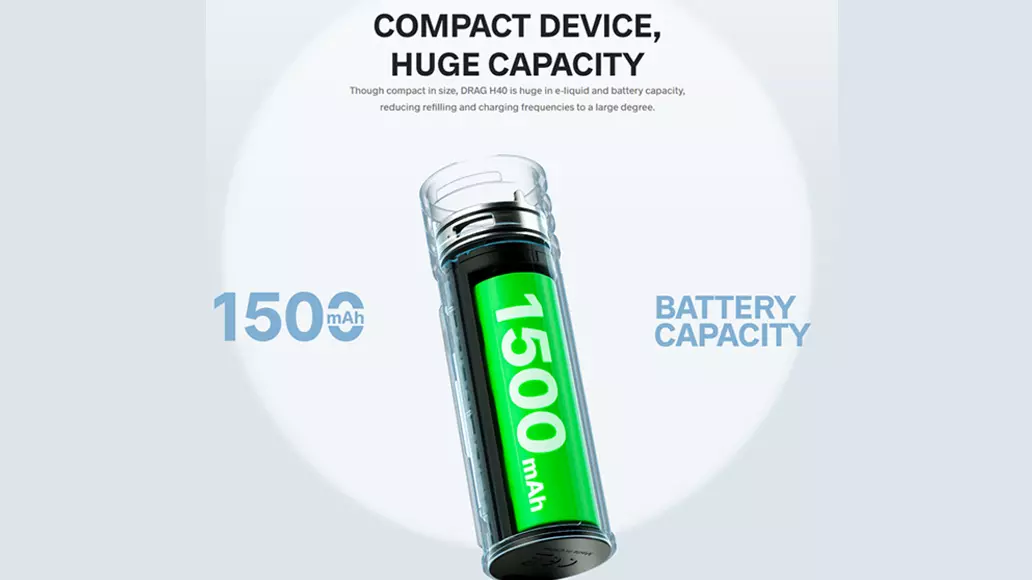 The integrated 1500mAh battery ensures a day and a half of moderate use, making it a reliable companion for on-the-go vapers. While the charging isn't the fastest, the convenience of Type-C USB makes up for it.
Pros & Cons
Pros
Excellent build quality
Compact and portable
Great flavor and vapor production
Easy-to-use interface
Good battery life
Cons
Slightly heavy for a pod system
Slower charging time
No MTL coils included
Types of Coils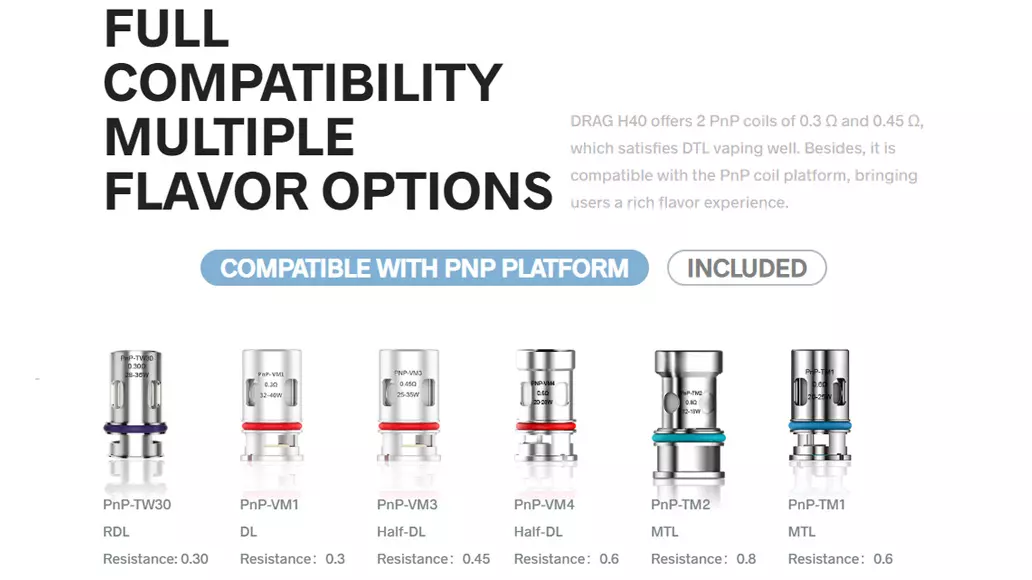 The DRAG H40 is compatible with all PnP coils, offering a wide range of vaping experiences. It includes:
PnP-VM3, 0.45Ω Mesh Coil (25-35W)
PnP-TW30, 0.3Ω Mesh Coil (28-36W)
Both coils are designed for direct lung vaping, with the VM3 being ideal for fruit and candy flavors, and the TW30 excelling with creamy, dessert profiles.
Perfectly Paired E-Liquids
Enhance your vaping experience with Black Note Natural Tobacco Eliquids. Our e-liquids, crafted from organic tobacco leaves, are free from artificial flavors, sweeteners, and synthetic nicotine.
This juice is like the first cigarette from a fresh pack of Marlboro Lights in every puff! I started with the 6 mg and found myself still wanting cigarettes now & then, so i bought the 12 mg this time- that was kind of strong so I mixed the two and Perfection happened! I change my cartridge after every third refill for the best flavor. Thank You Black Note!
— Crystal Osteen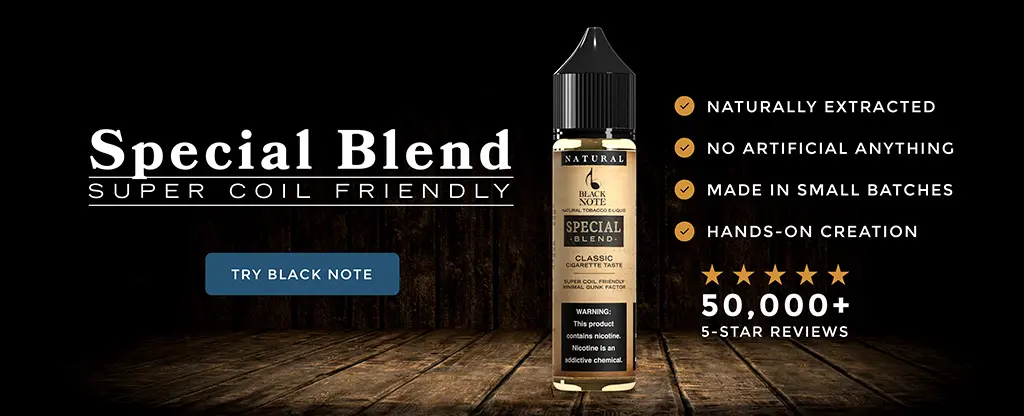 Pairing Guide for Optimal Flavor
Coils between 0.15 – 0.8Ω: Opt for Black Note's 70VG/30PG blends.
Coils above 0.8Ω: Choose Black Note's 50VG/50PG blends.
Coils above 1.0Ω: Dive into Black Note's Salt Nicotine blends.
Order the VooPoo DRAG H40
To shop Voopoo Vaping Devices, visit Blacknote.com and make sure to explore our wide range of vaping products.
Gallery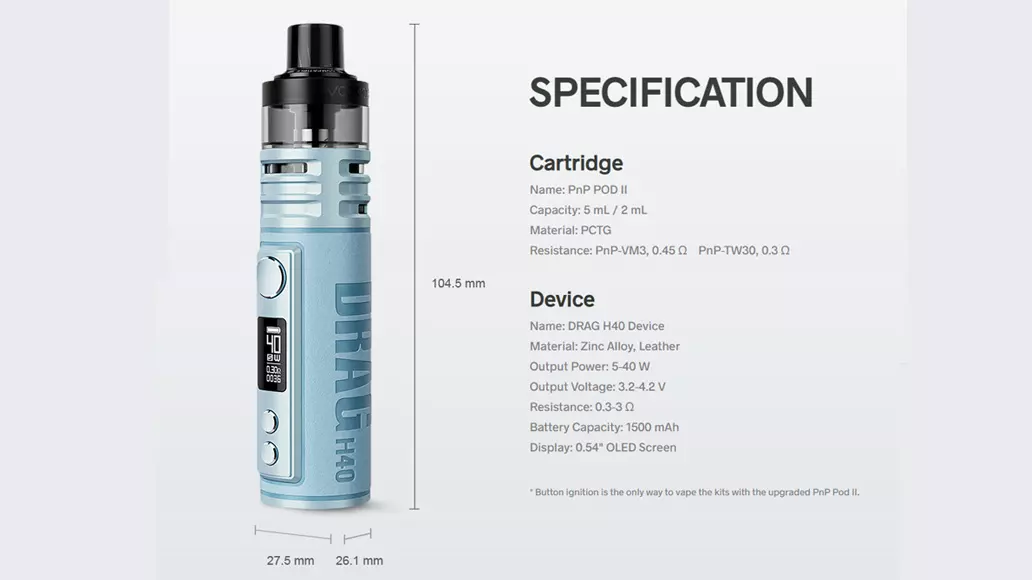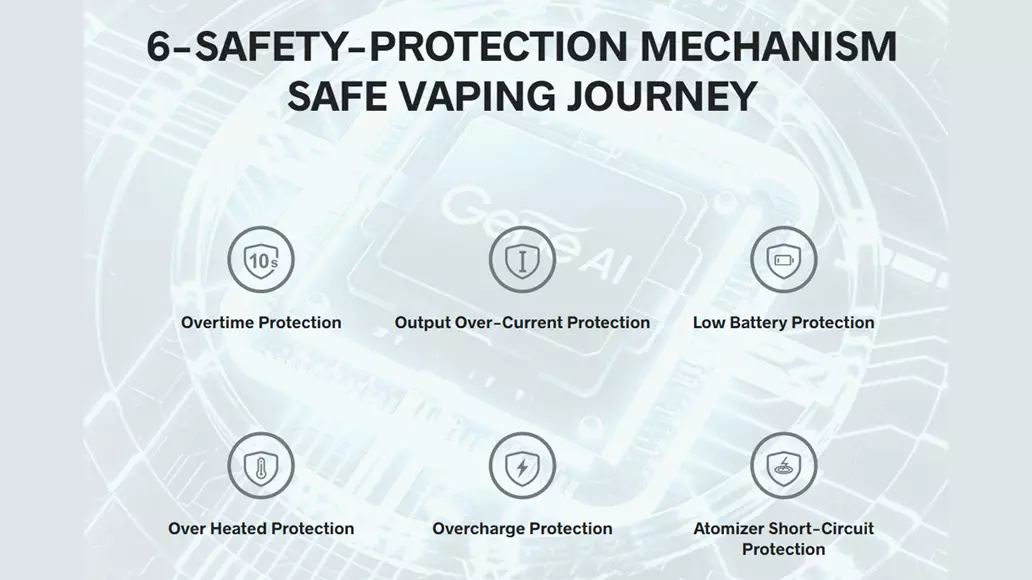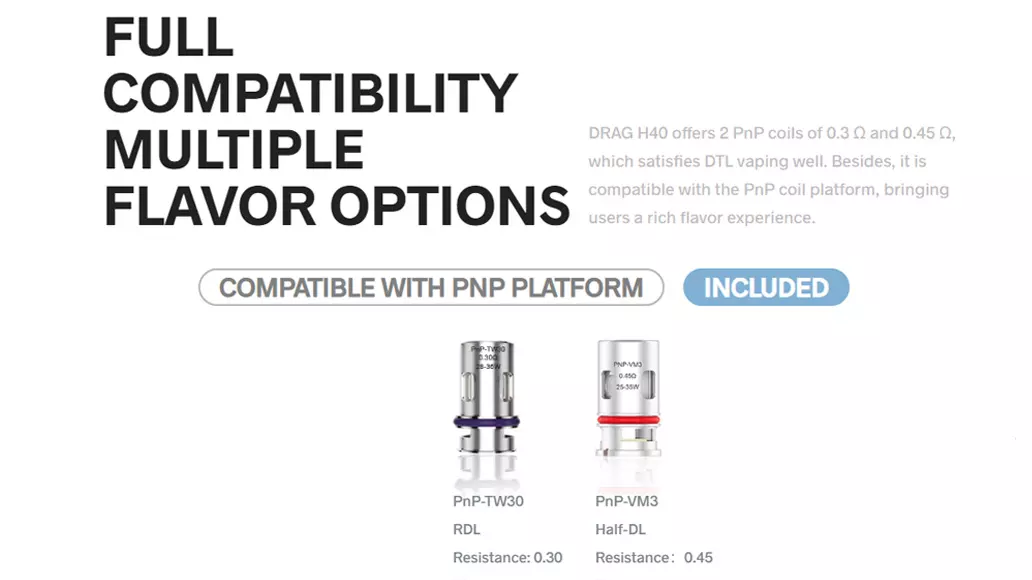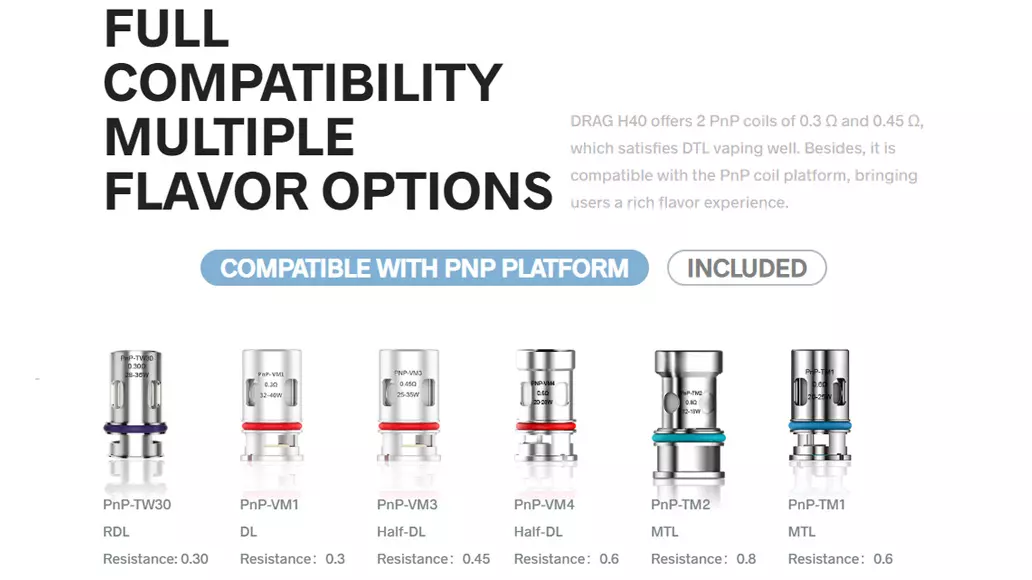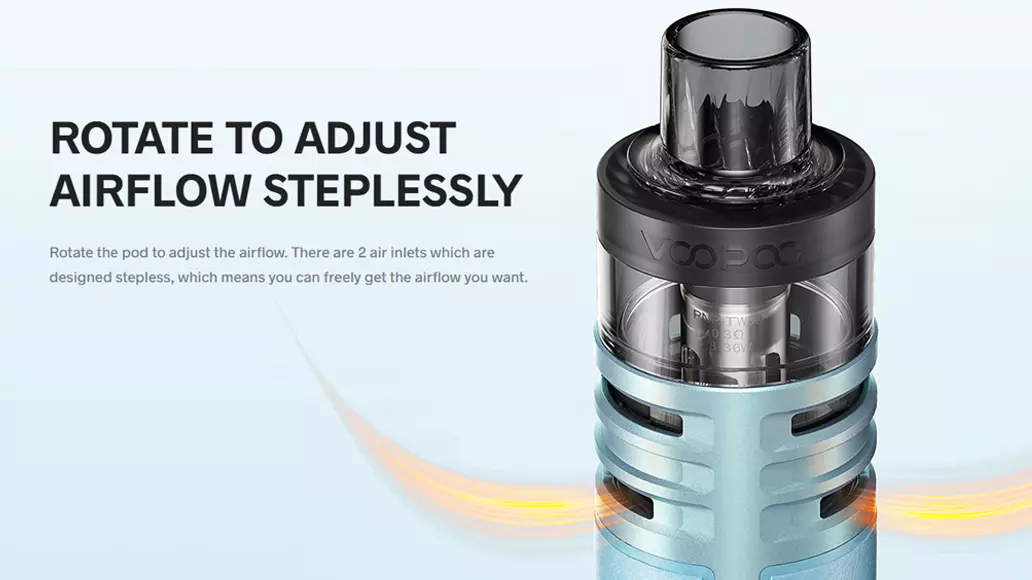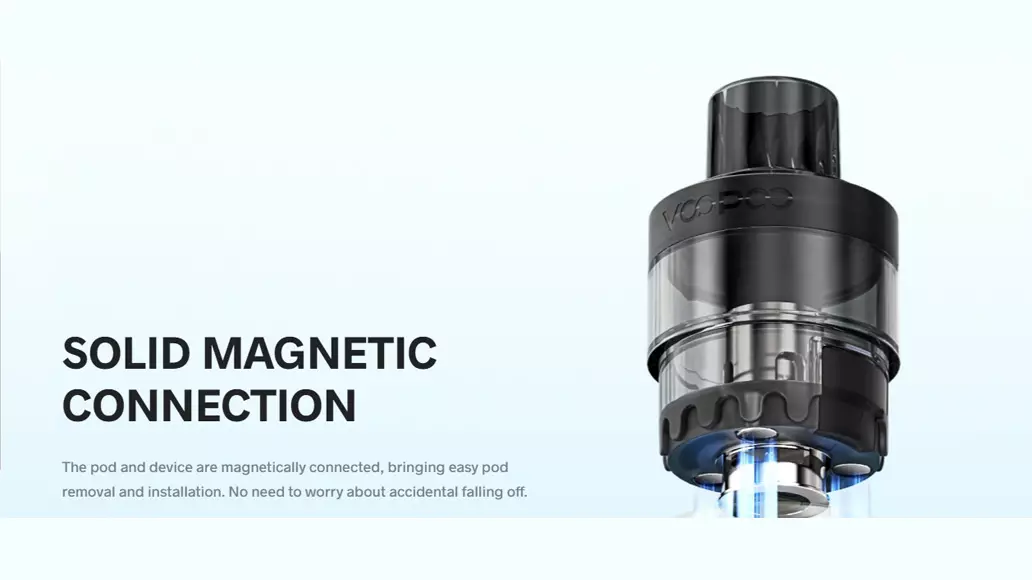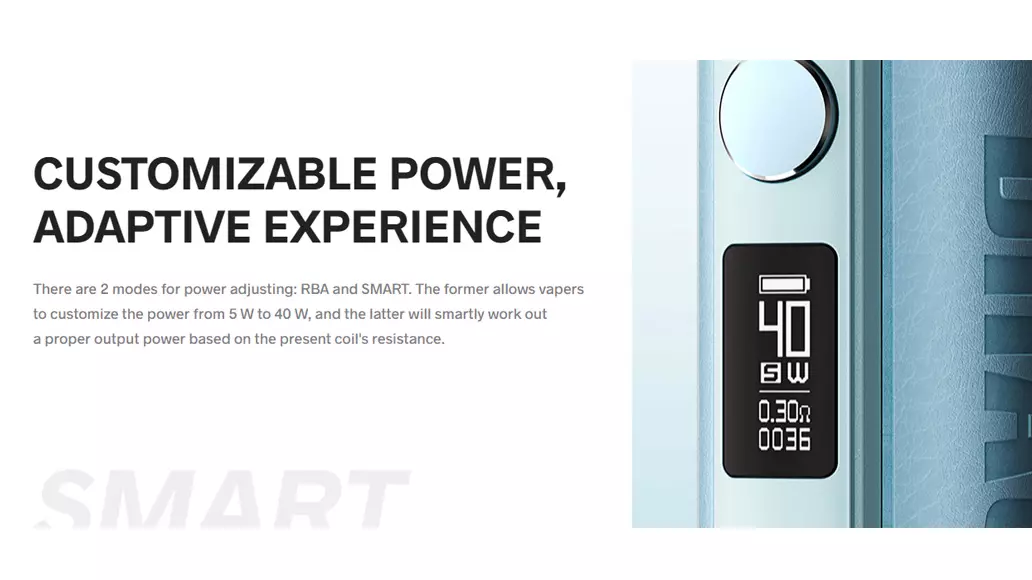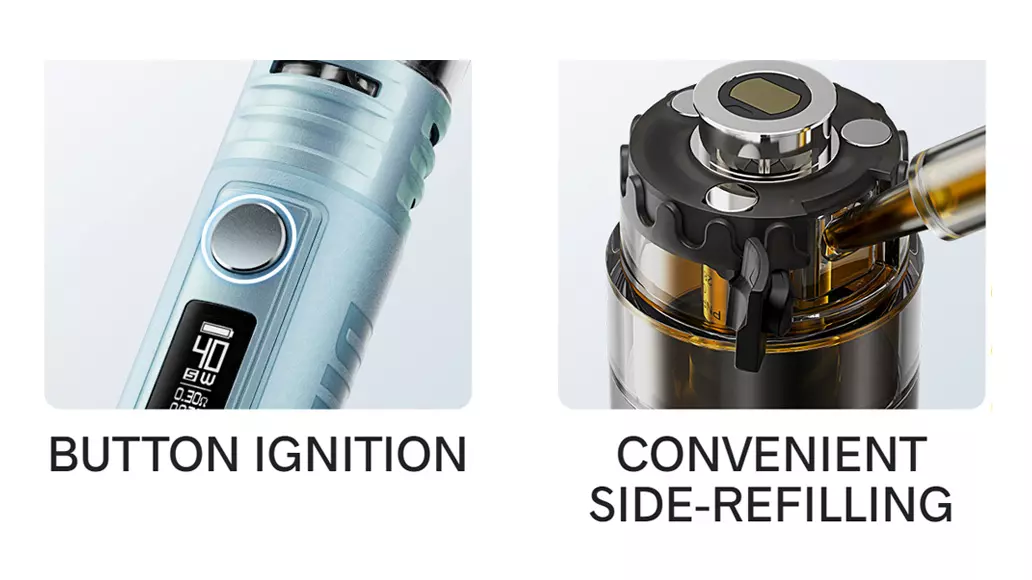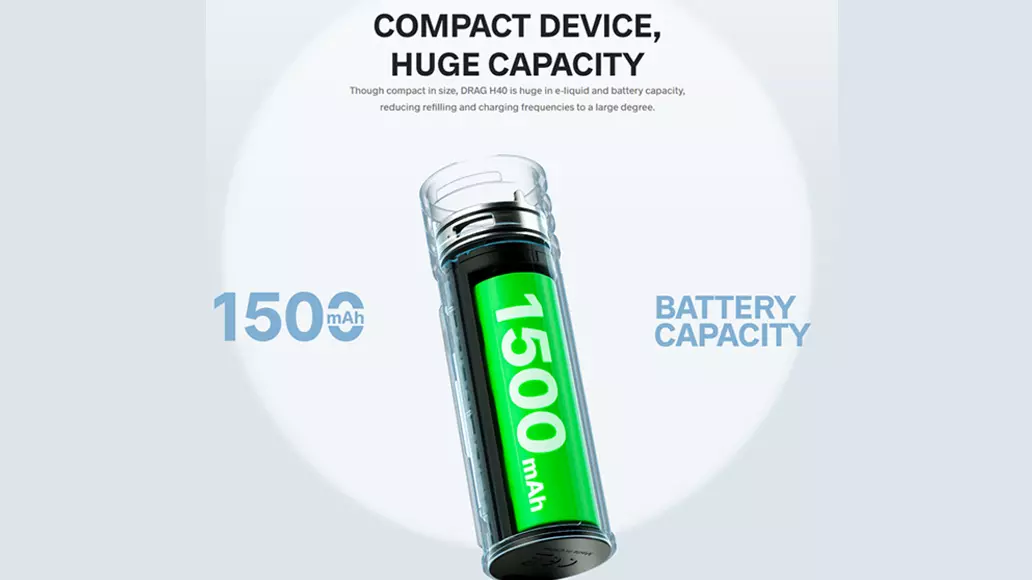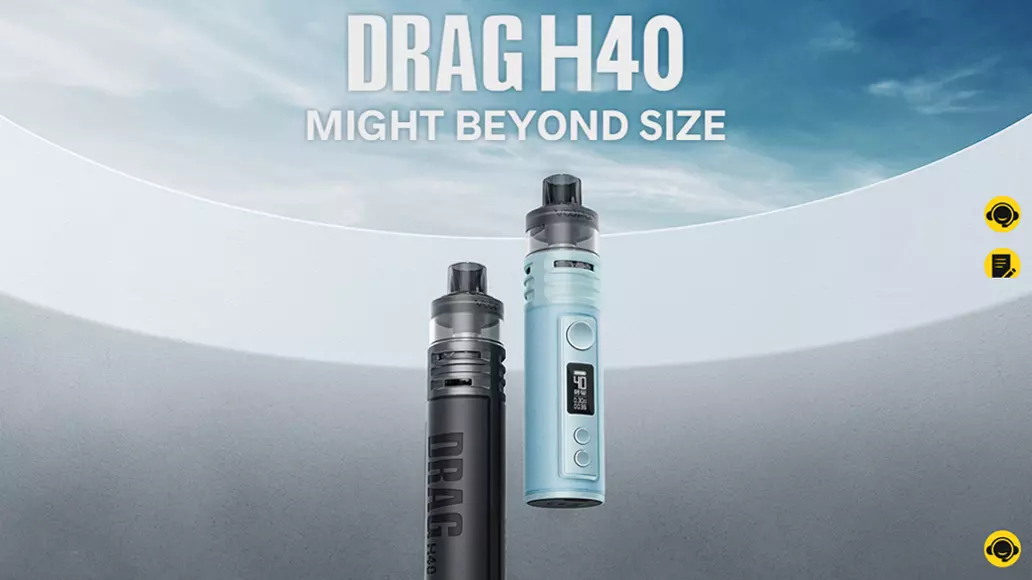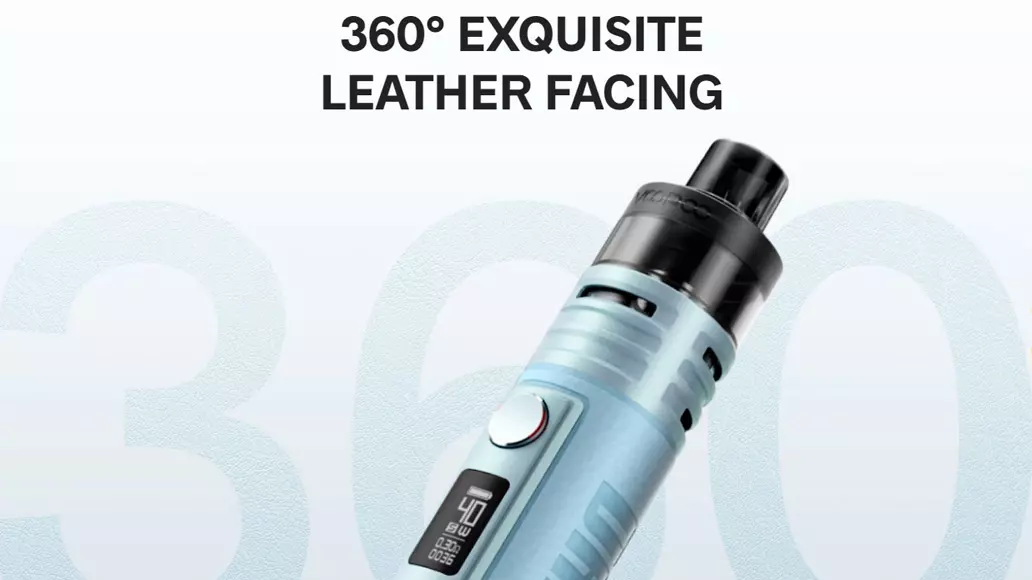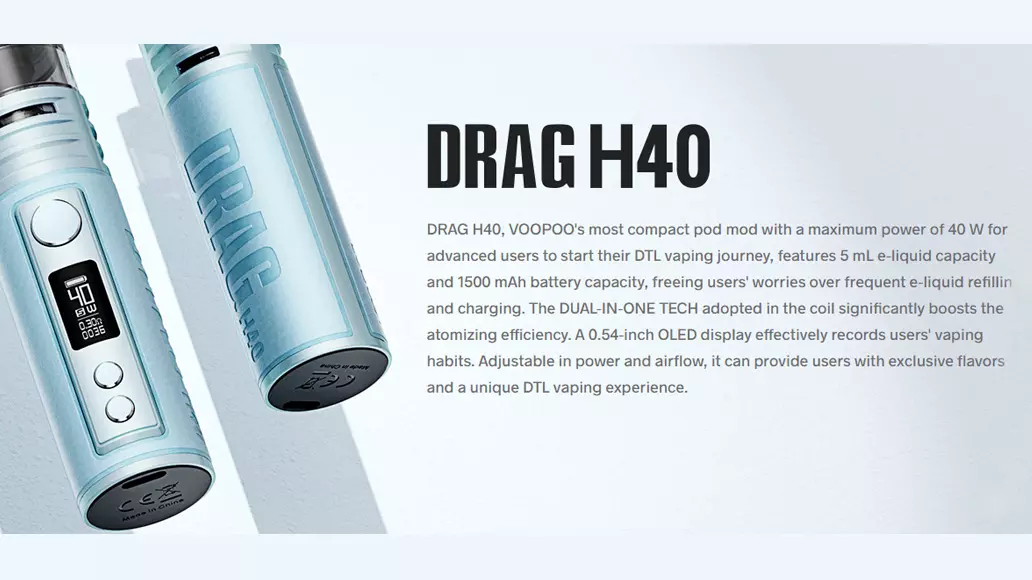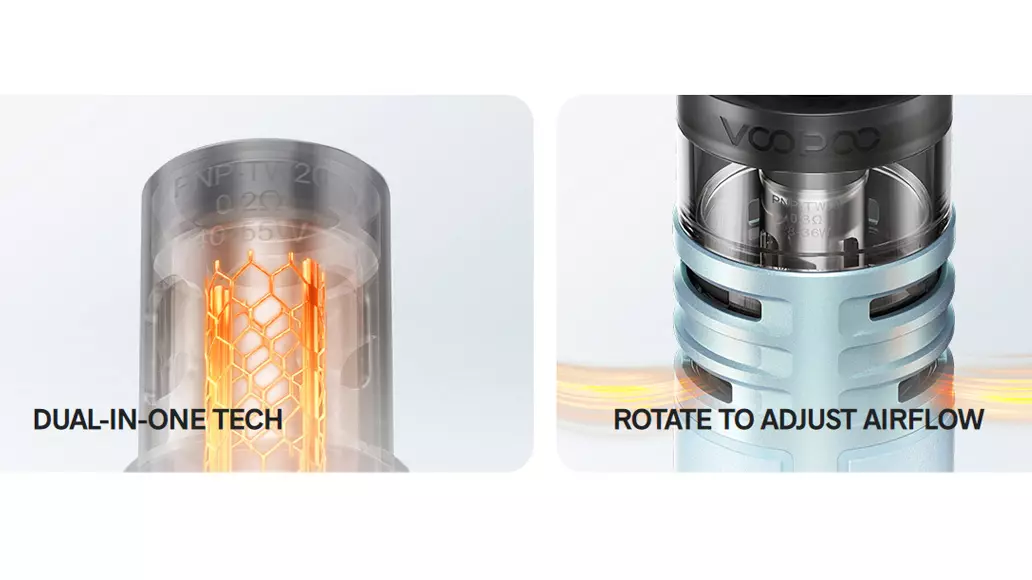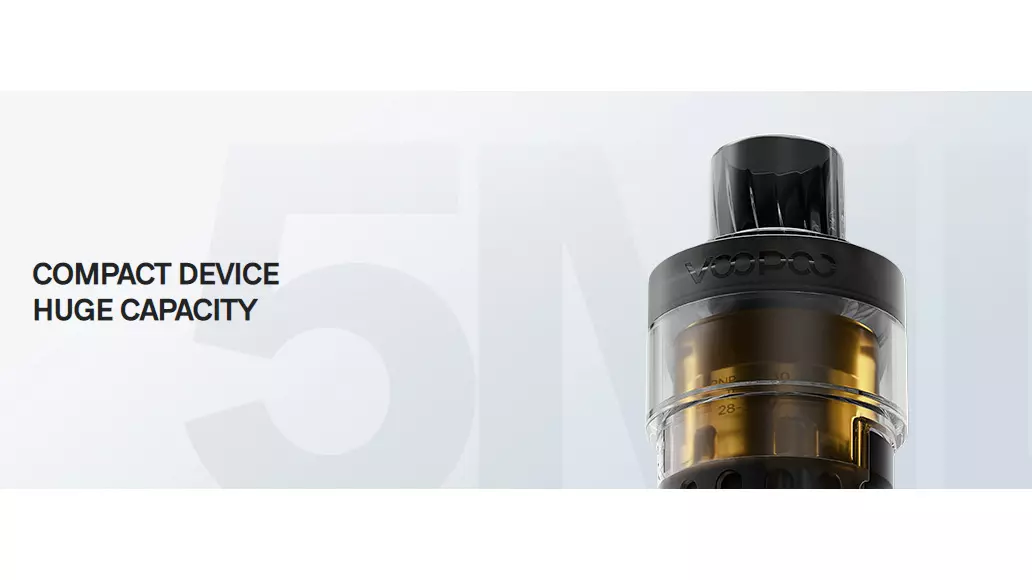 FAQ's
What is the VOOPOO Drag H40 Pod Kit?
The VOOPOO Drag H40 Pod Kit is a compact pod system designed for direct lung vaping. It features a 1500mAh battery, the Gene AI chipset with up to 40W of power, adjustable airflow, and power settings. The kit is known for its quality build and performance.
How is the design and build quality of the VOOPOO Drag H40?
The Drag H40 has a zinc alloy body with leather-style panels, providing a classy and comfortable grip. It's compact and pocket-friendly, weighing 103g with a pod attached. The device features a small 0.54-inch OLED display and a metal firing button, along with up/down buttons for easy operation.
What are the key features and functions of the VOOPOO Drag H40?
The Drag H40 uses the GENE AI chipset for up to 40W power output and offers Smart and RBA modes. Smart mode automatically detects the ideal wattage for the installed coil, while RBA mode allows manual wattage adjustment. The device also has a lock feature and adjustable airflow control.
What type of pods and coils does the VOOPOO Drag H40 use?
The Drag H40 uses the PNP Pod II with a 5ml capacity (standard version) and is compatible with Voopoo's PNP coil range. The kit includes VM3 0.45Ω and TW30 0.3Ω mesh coils, designed for direct lung vaping.
How does the VOOPOO Drag H40 perform in terms of vaping experience?
The Drag H40 delivers excellent flavor and vapor production, especially with the included mesh coils. The adjustable airflow provides a range from direct lung to restricted direct lung vaping. The device is suitable for both beginners and experienced vapers.
What is the battery life and charging capability of the VOOPOO Drag H40?
The Drag H40 has a 1500mAh internal battery, offering around a day and a half of moderate use. It charges via a Type-C USB port, although the charging speed is not the fastest.
What are the pros and cons of the VOOPOO Drag H40?
Pros include its compact design, excellent build quality, great flavor and vapor production, adjustable airflow, and easy-to-use interface. Cons are its slightly heavier weight for a pod system, slower battery charging time, and lack of MTL coils in the kit.
Key Takeways
The VOOPOO DRAG H40 is a robust pod system that stands out for its build quality, performance, and ease of use. It's an excellent choice for vapers who prefer a direct lung experience and want a device that's both powerful and portable. With its smart mode for beginners and RBA mode for more experienced users, the DRAG H40 caters to a wide audience.
The compatibility with the PnP coil family ensures versatility and satisfaction with every vape. While it may be heavier than some pod systems and lacks MTL coils in the kit, these are minor trade-offs for the quality and performance it delivers. The DRAG H40 is a continuation of VOOPOO's commitment to quality vaping experiences, making it a recommended choice for anyone looking to enjoy a flavorful and dense vapor production in a compact form factor.
Want more articles like this one delivered straight to your inbox? Use our "Stay in Touch" form below to get up-to-date news, tips and discounts on vape devices and juices.