Overview
The Uwell Crown D Pod Mod Kit represents a significant leap forward in the world of vaping technology, blending sophisticated functionality with a sleek, modern design. This kit is a testament to Uwell's commitment to innovation, offering a versatile and enriching vaping experience that caters to both beginners and seasoned enthusiasts. The Crown D stands out not only for its aesthetic appeal but also for its advanced features that make vaping more enjoyable and convenient.
The Uwell Crown D Pod Mod Kit – A fusion of elegance and efficiency, setting a new standard in the vaping experience.
— Black Note
At its core, the Crown D is powered by a robust 1100mAh internal battery, providing ample power for extended vaping sessions. This is particularly beneficial for vapers who are on the go and prefer a device that can keep up with their active lifestyle. The battery's capacity, coupled with the device's efficient power management, ensures that users can enjoy a consistent vaping experience throughout the day without the need for frequent recharging.
One of the most striking features of the Crown D is its versatility in firing modes. With options like POW, VOLT, CURVES, BYPASS, and CUSTOMIZE, it offers an unprecedented level of control over the vaping experience. These modes cater to a wide range of preferences, allowing users to fine-tune their device to produce the exact vapor quality they desire, whether it's a smooth, flavorful draw or a more robust and intense cloud.
The design of the Crown D Pod Mod Kit is a perfect blend of form and function. Constructed from high-quality aluminum alloy, it boasts a lightweight yet durable build, capable of withstanding the rigors of daily use. The device's sleek lines and minimalist aesthetic make it a stylish accessory, while its ergonomic design ensures comfortable handling during use. The inclusion of a 0.96-inch TFT display is a thoughtful touch, providing clear and accessible information about the device's settings and status, further enhancing the user experience.
Features and Specs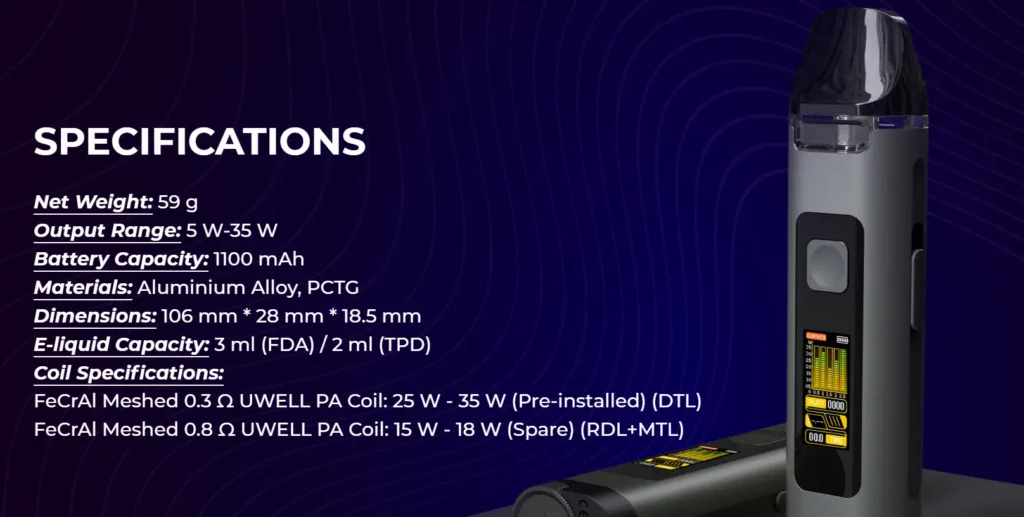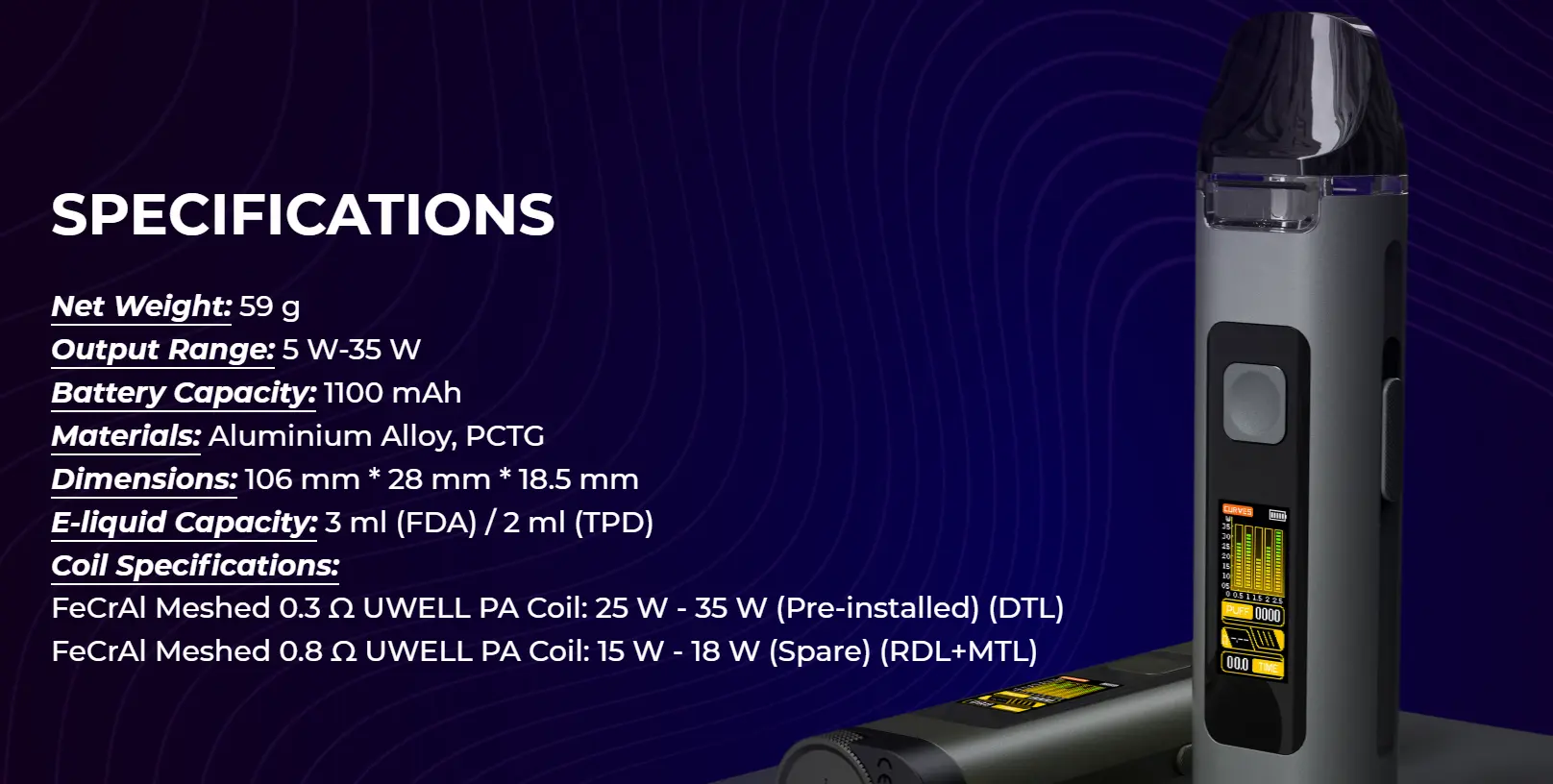 Specifications
Battery: 1100mAh internal battery
Power Output: 5-35W
Firing Modes: POW, VOLT, CURVES, BYPASS, CUSTOMIZE
Display: 0.96-inch TFT screen
Pod Capacity: 3mL
Coils: 0.3 Ω and 0.8 Ω meshed coils
Charging: Type-C USB
Material: Aluminum alloy
What's in the Box?
1 Uwell Crown D Device
1 Refillable Pod
2 Meshed Coils (0.3 Ω and 0.8 Ω)
1 Type-C USB Cable
User Manual
Design and Appearance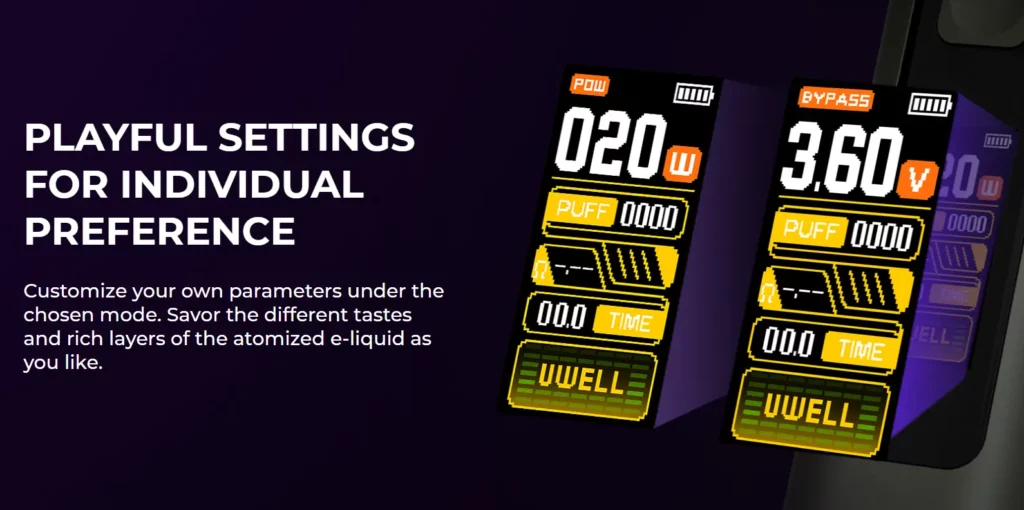 The Crown D Pod Mod Kit is a testament to Uwell's commitment to quality and aesthetics. Crafted from durable aluminum alloy, it is both lightweight and robust. The device features a sleek, minimalist design with a comfortable grip, making it both a functional and fashionable accessory. The 0.96-inch TFT display adds a modern touch, providing clear and accessible information about your vaping settings.
Available Colors: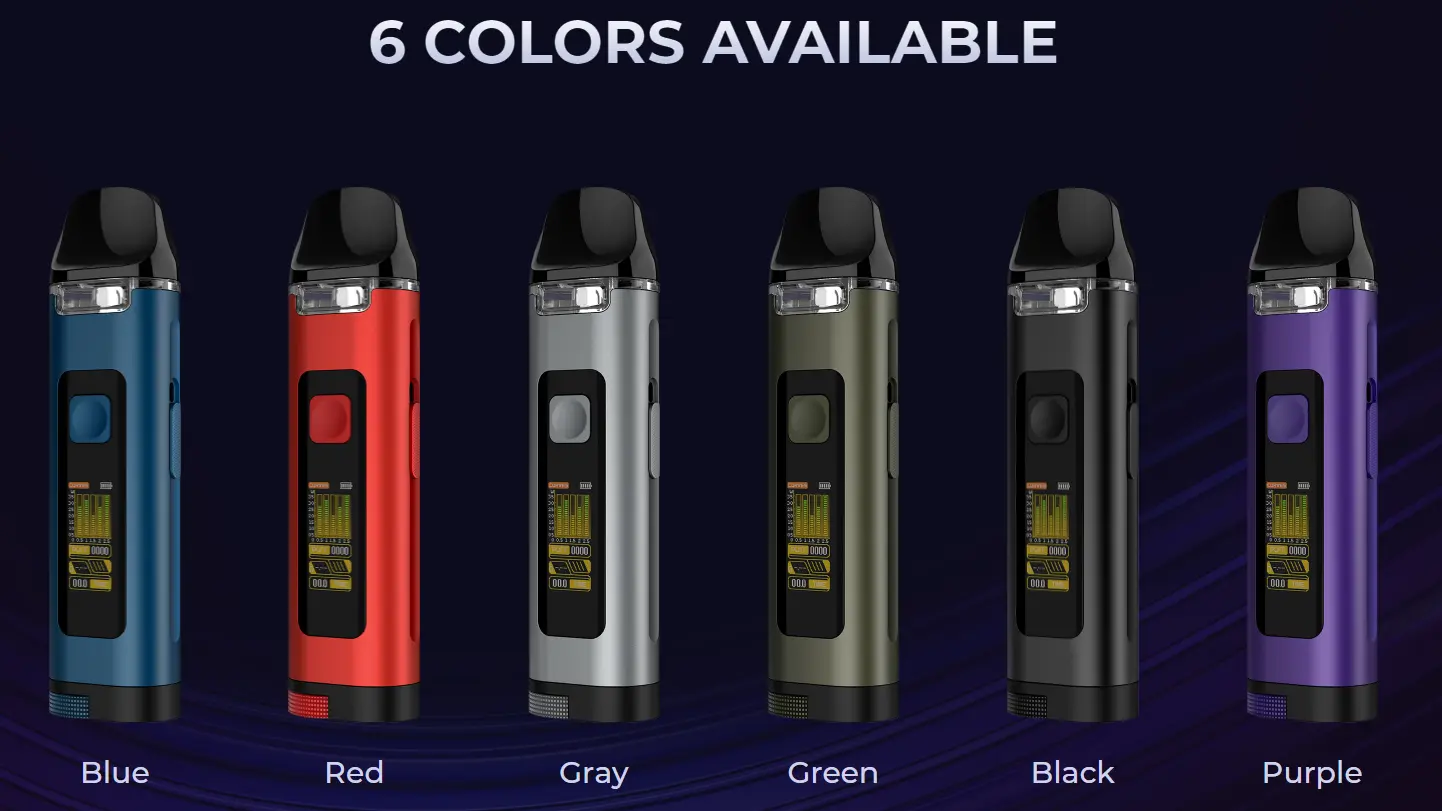 The Uwell Crown D is available in aforementioned colours
Uwell Crown D Functionality
Uwell has equipped the Crown D with an intuitive interface, making it easy to navigate through various settings. The multiple firing modes, including POW, VOLT, CURVES, BYPASS, and CUSTOMIZE, allow users to personalize their vaping experience. The top-fill system simplifies the process of refilling e-liquid, and the magnetic pod connection ensures a secure fit.
Uwell Crown D Performance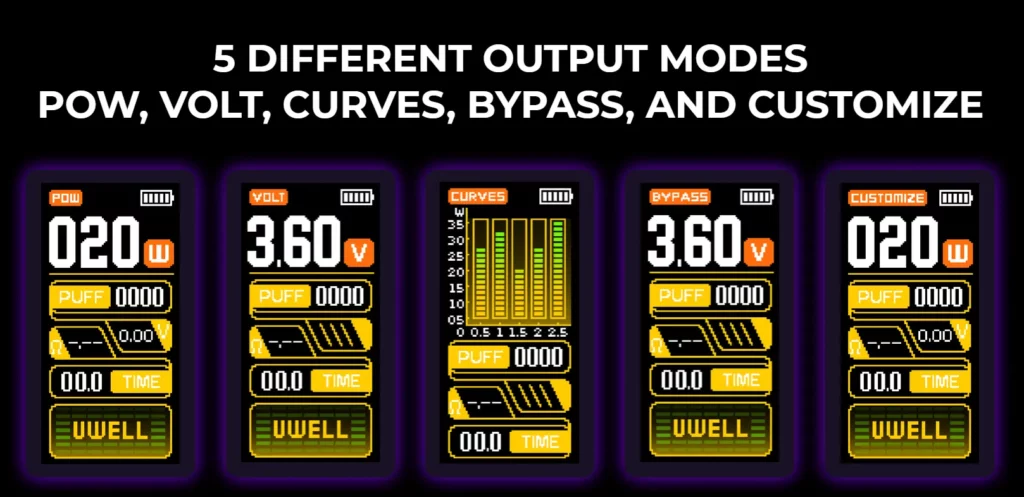 The performance of the Crown D Pod Mod Kit is impressive. The 0.3 Ω and 0.8 Ω meshed coils provide excellent flavor and vapor production, catering to different vaping styles. The device's power range and the responsive firing mechanism ensure a satisfying and consistent vaping experience.
Uwell Crown D Battery Performance
The 1100mAh internal battery is a standout feature, offering extended vaping sessions without the need for frequent charging. The Type-C USB charging port ensures fast and efficient power-ups, minimizing downtime.
Pros & Cons
Pros:
Versatile firing modes
High-quality build and sleek design
Long-lasting battery life
User-friendly interface
Excellent coil options for flavor and vapor
Cons:
Limited to a 3mL pod capacity
May not be suitable for extremely high-wattage vapers
Types of Coils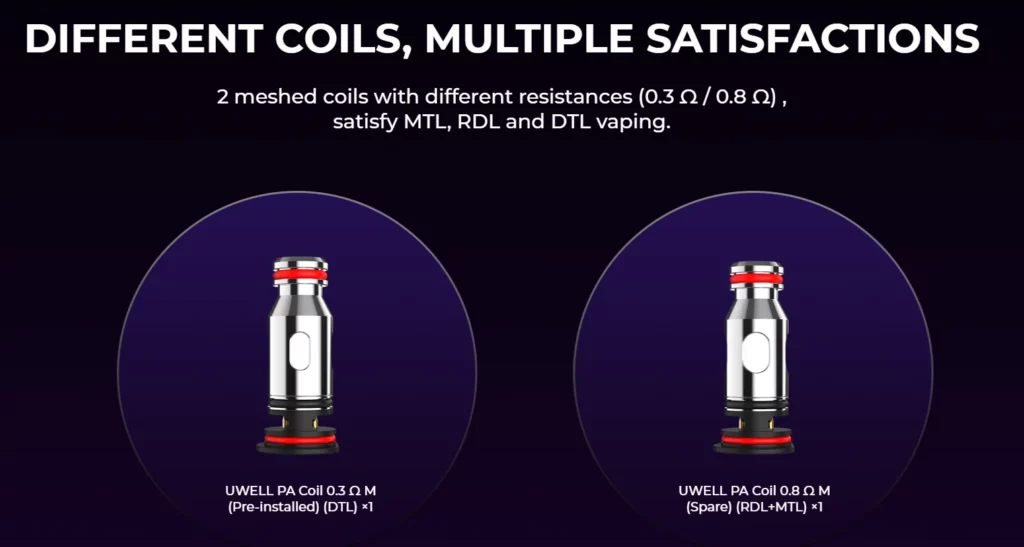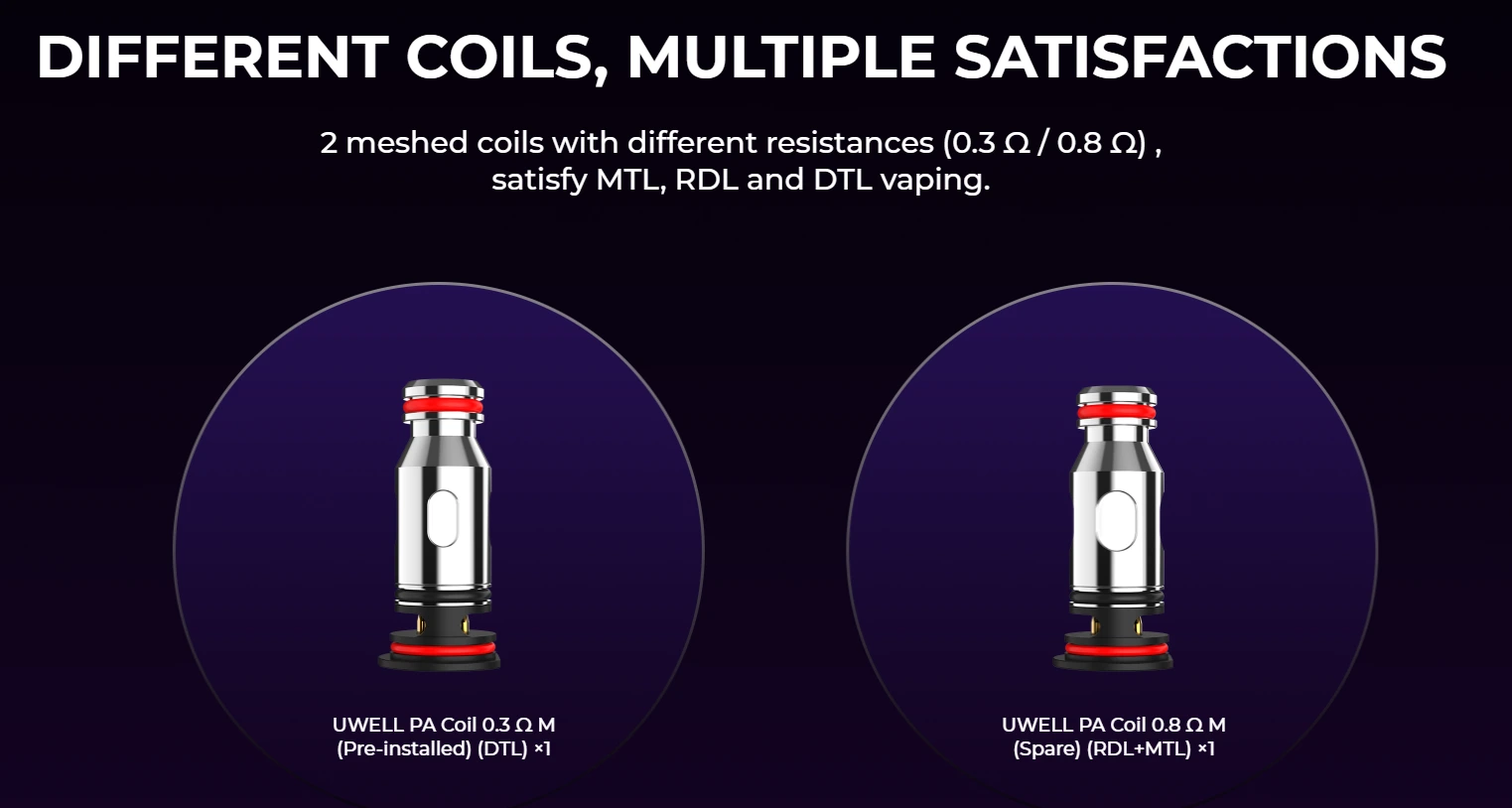 0.3 Ω Meshed Coil: Ideal for DTL vaping, producing rich flavor and dense vapor.
0.8 Ω Meshed Coil: Perfect for RDL or MTL vaping, offering a more controlled vapor production.
Perfectly Paired E-Liquids
Enhance your vaping experience with Black Note Natural Tobacco Eliquids. Our e-liquids, crafted from organic tobacco leaves, are free from artificial flavors, sweeteners, and synthetic nicotine.
This juice is like the first cigarette from a fresh pack of Marlboro Lights in every puff! I started with the 6 mg and found myself still wanting cigarettes now & then, so i bought the 12 mg this time- that was kind of strong so I mixed the two and Perfection happened! I change my cartridge after every third refill for the best flavor. Thank You Black Note!
— Crystal Osteen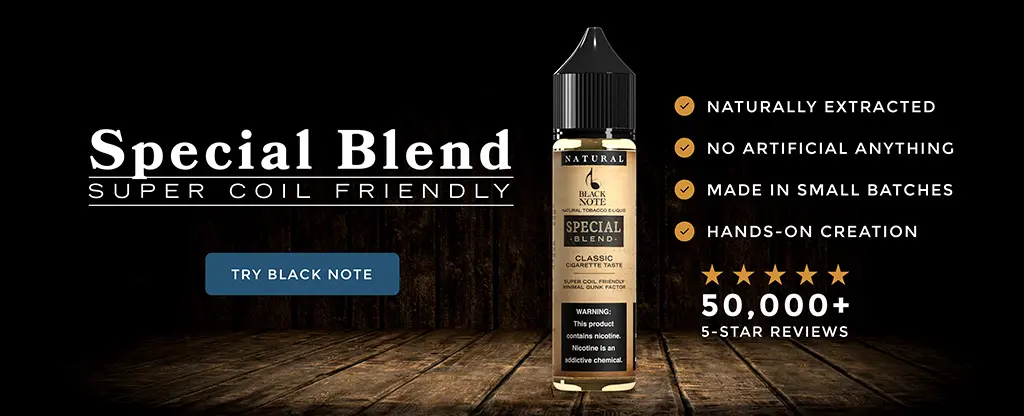 Pairing Guide for Optimal Flavor
Coils between 0.15 – 0.8Ω: Opt for Black Note's 70VG/30PG blends.
Coils above 0.8Ω: Choose Black Note's 50VG/50PG blends.
Coils above 1.0Ω: Dive into Black Note's Salt Nicotine blends.
Order the Uwell Crown D
To shop Uwell Vaping Devices, visit Blacknote.com and make sure to explore our wide range of vaping products.
Gallery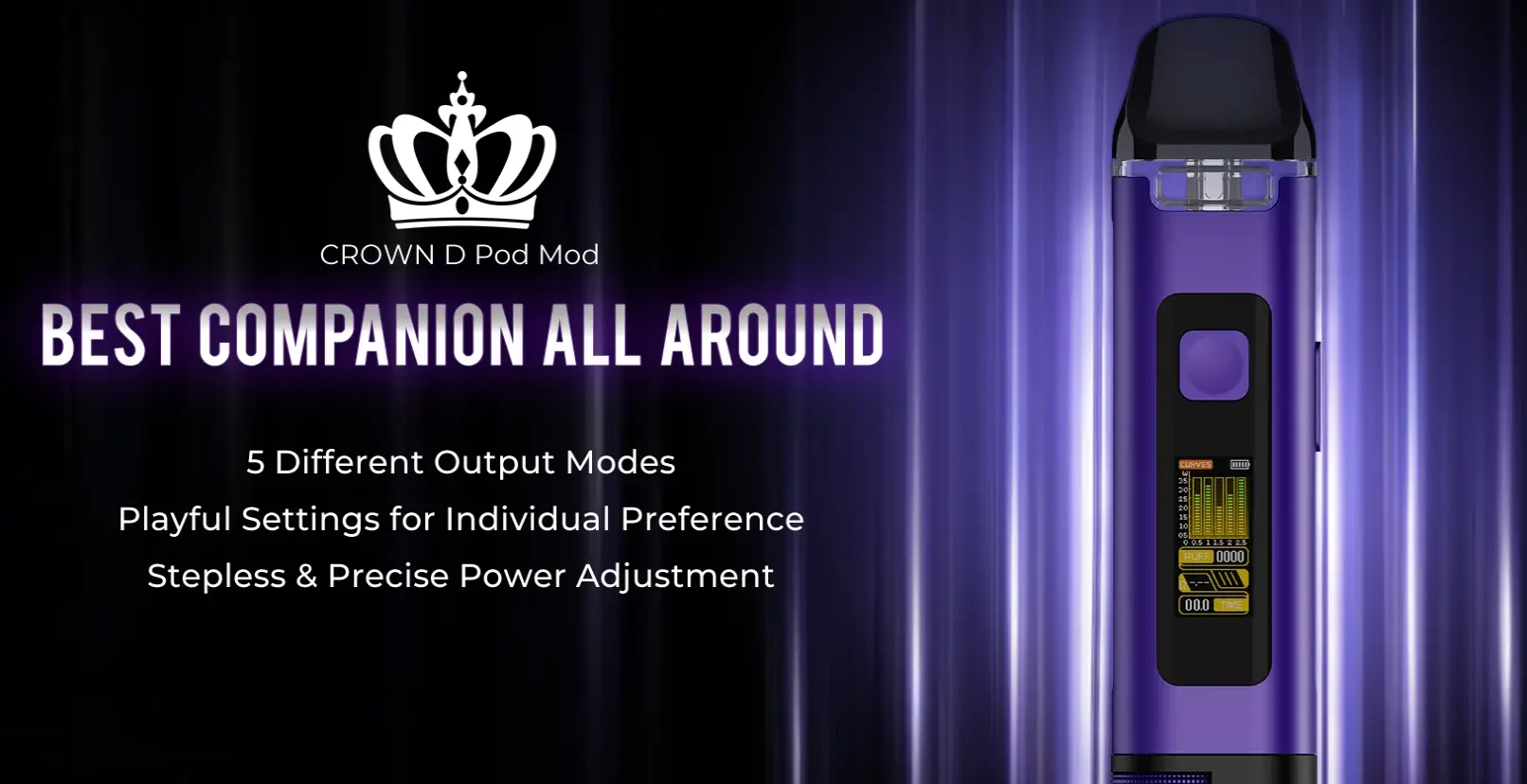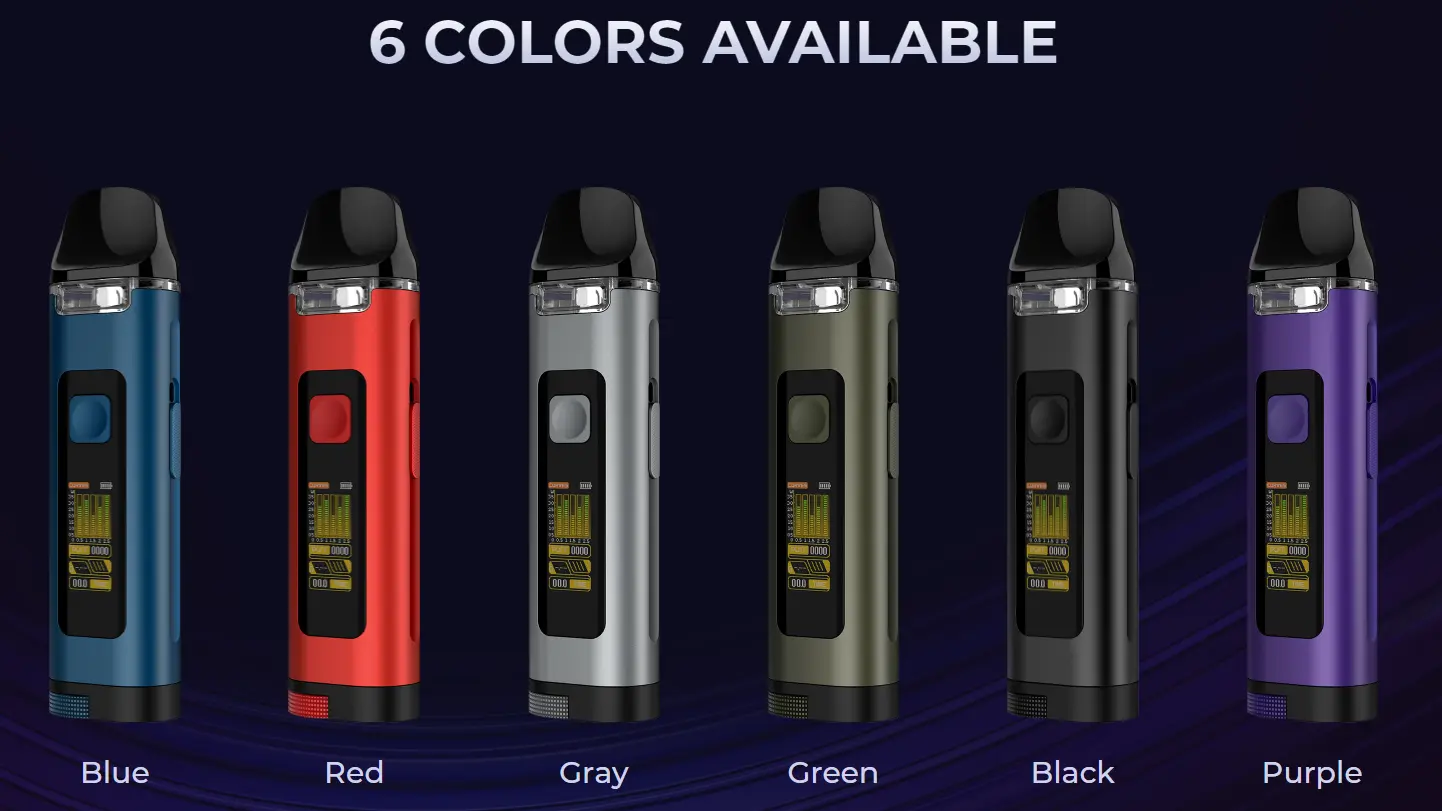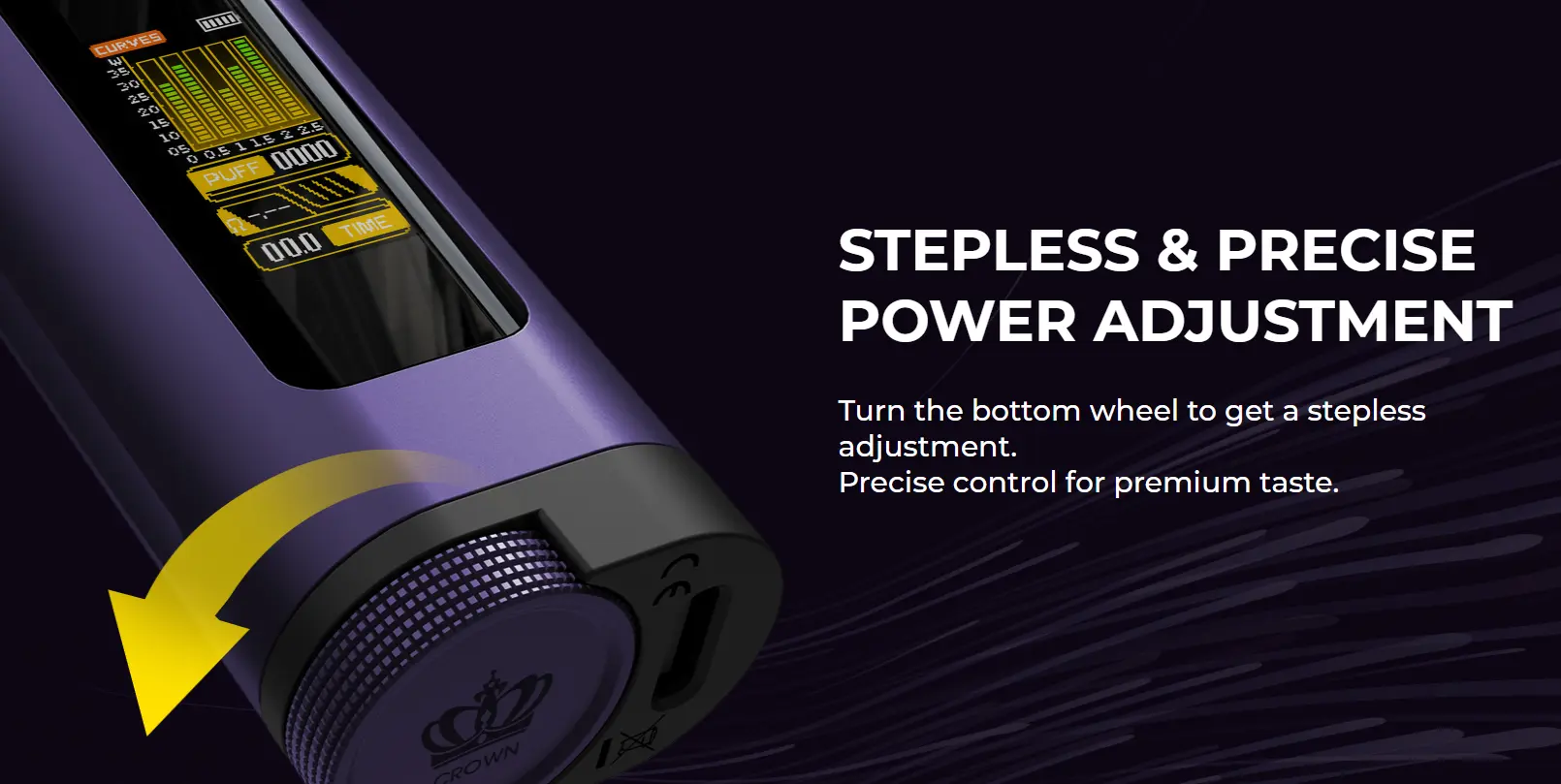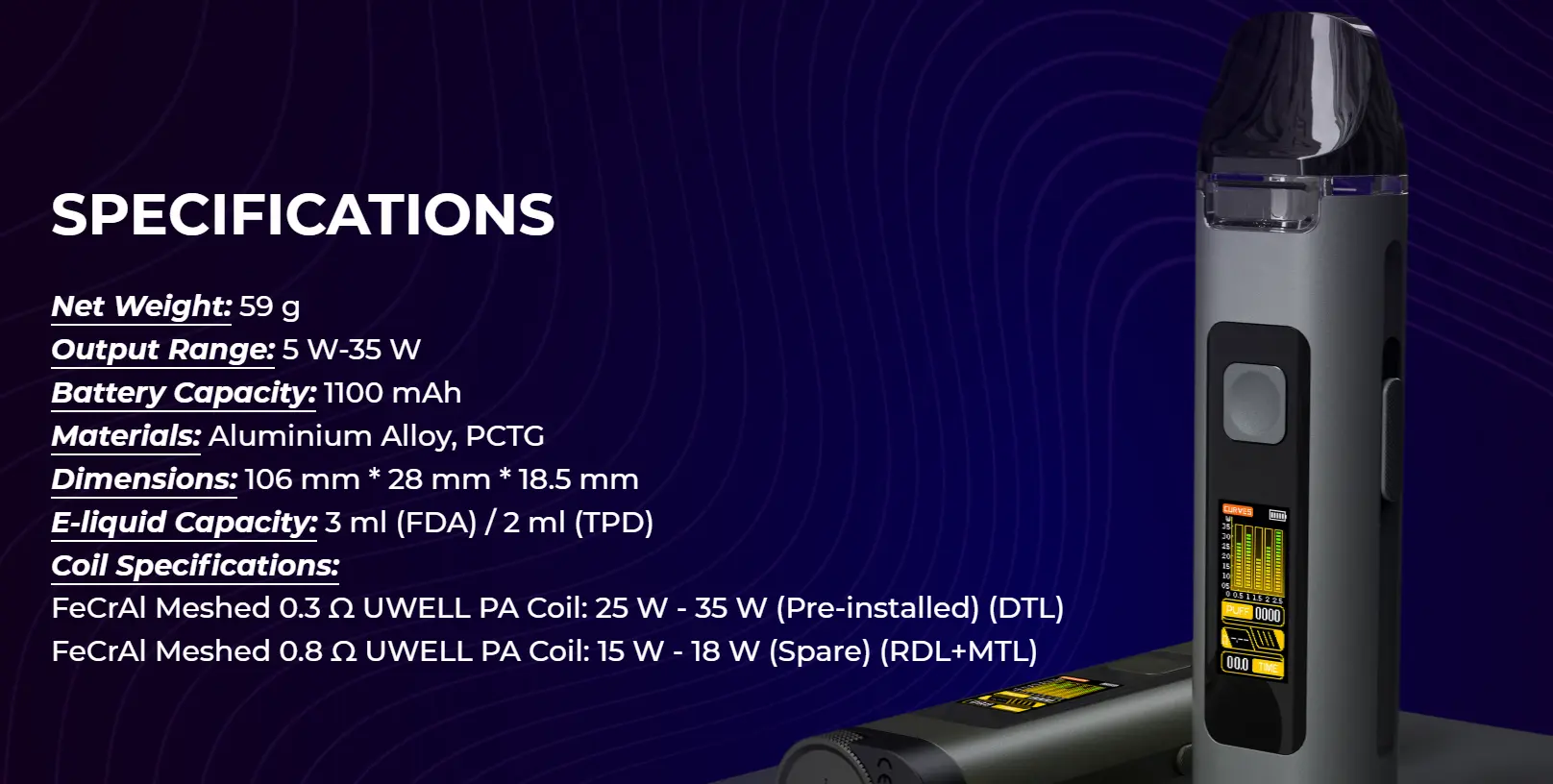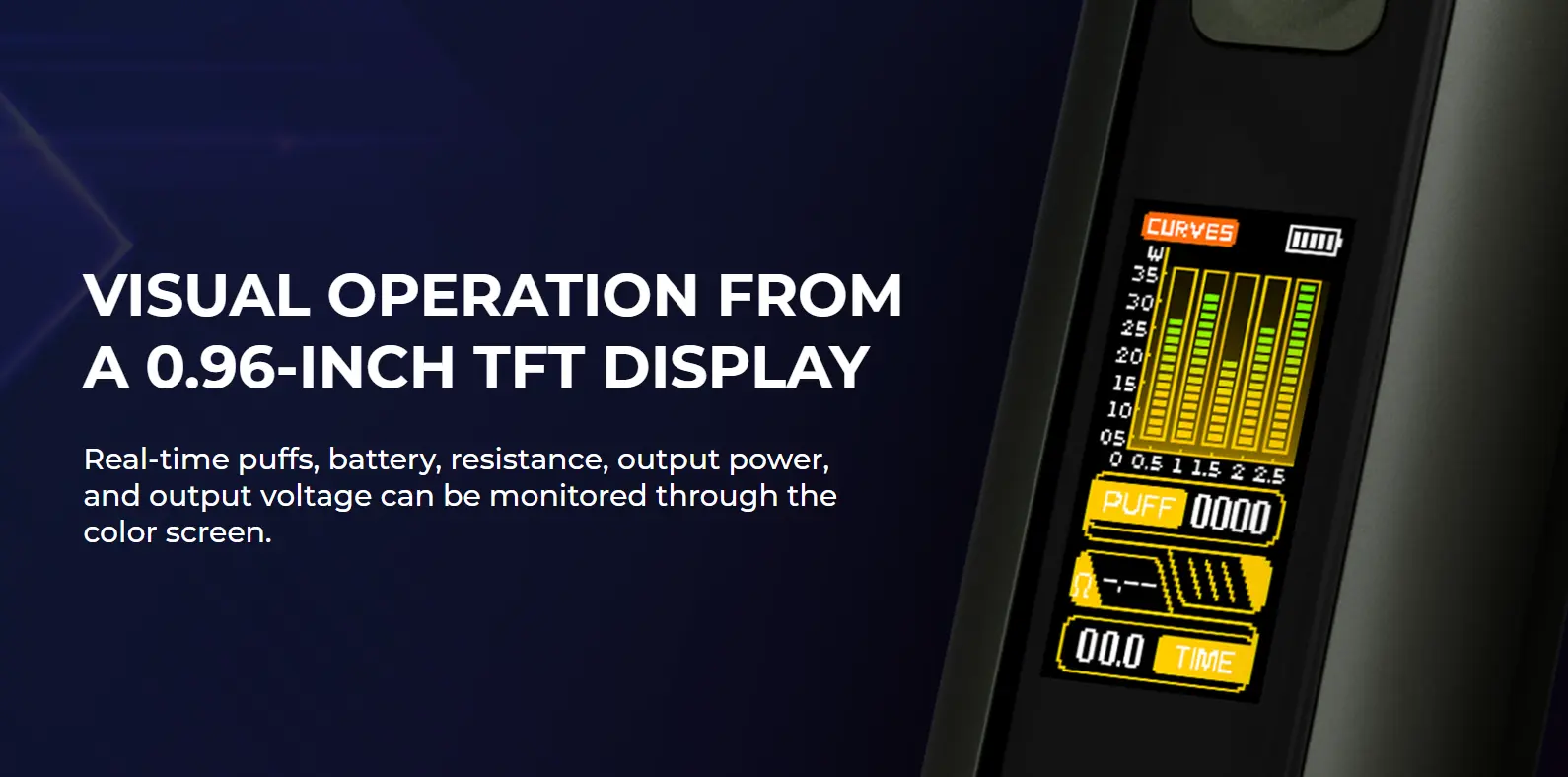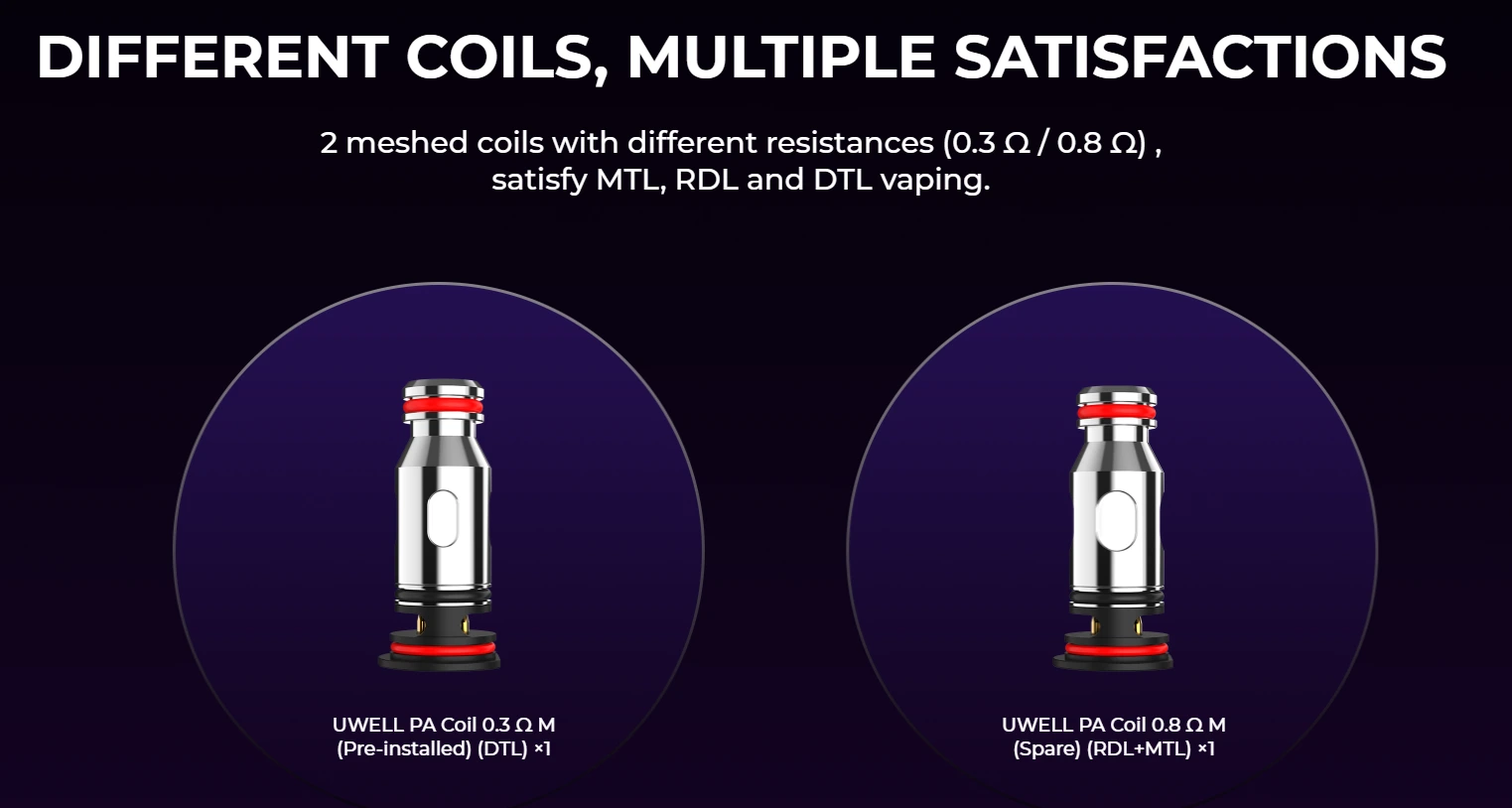 FAQ's
How do I fill the Crown D Pod with eJuice?
Unscrew the top cap to access the fill port and add your preferred eJuice or nicotine salts.
What type of charging port does the Crown D use?
The Crown D Pod Mod Kit uses a Type-C port for fast and efficient charging.
Can I adjust the wattage on the Crown D Pod Mod Kit?
Yes, you can adjust the wattage within the 5-35W range to suit your vaping preference.
What coils are compatible with the Crown D?
The Crown D is compatible with the Uwell PA Coil Series for a versatile vaping experience.
Does the Crown D have a button-activated firing option?
Yes, the Crown D features dual-activation, allowing you to use either draw-activation or button-activation.
Key Takeways
The Uwell Crown D Pod Mod Kit is an excellent choice for vapers who value both style and substance.
Its versatile firing modes and robust coil options cater to a wide range of vaping preferences.
The device's design and build quality are top-notch, offering a premium feel.
The long-lasting battery and user-friendly features make it a practical choice for everyday use.
Want more articles like this one delivered straight to your inbox? Use our "Stay in Touch" form below to get up-to-date news, tips and discounts on vape devices and juices.