Overview
The SMOK MAG P3 Kit is a fusion of robust design and top-tier performance, setting a new standard for vaping devices. This kit is tailored for vapers who seek a durable, high-performance device that can withstand the rigors of everyday use. The MAG P3, with its distinctive gun-handle shape, is not just a vaping device; it's a statement of strength and reliability. Its IP67 waterproof, dustproof, and shockproof features make it one of the most resilient mods in the market, ideal for vapers leading an active lifestyle.
Embrace the rugged and powerful vaping experience with the SMOK MAG P3 Kit – where durability meets performance.
— Black Note
The MAG P3 is more than just its rugged exterior. It boasts an impressive wattage range of up to 230W, accommodating a wide range of vaping preferences. Paired with the renowned TFV16 Tank, the kit promises an exceptional vaping experience, delivering rich flavor and dense vapor. The device's ergonomic design ensures a comfortable grip, while its high-tech features, like the touchscreen interface, add a layer of convenience and modernity. The SMOK MAG P3 Kit is a testament to SMOK's commitment to combining power, durability, and innovation in their products.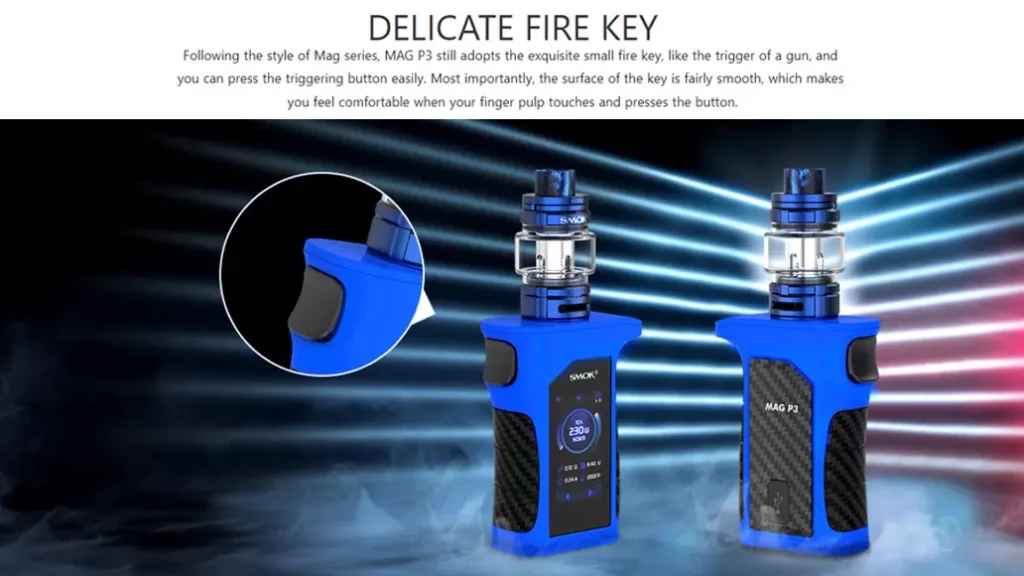 Features and Specs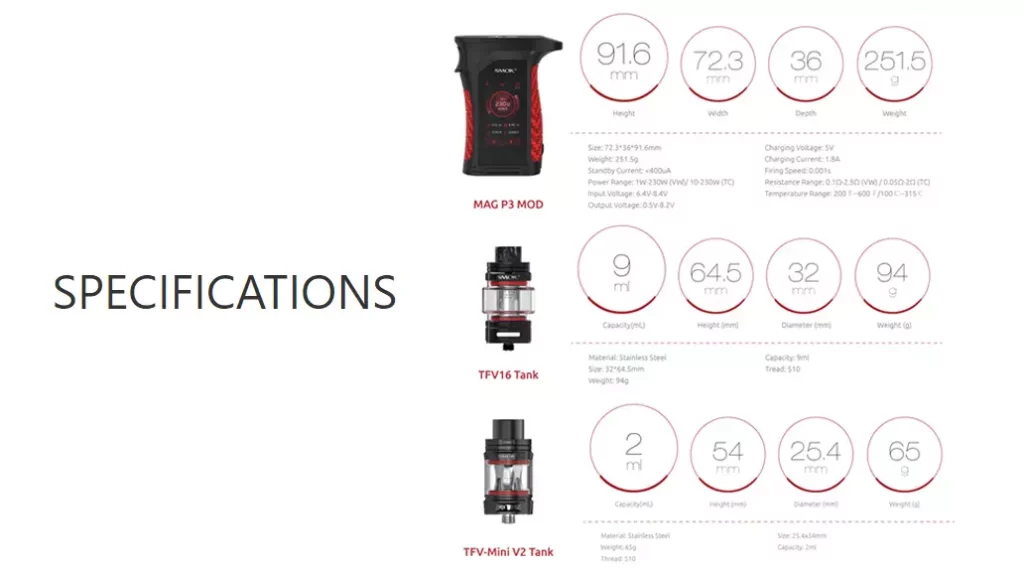 Specifications
Dimensions: 91.6mm (H) x 72.3mm (W) x 36mm (D)
Wattage Output: 1W-230W
Battery: Dual 18650 batteries (not included)
Display: 1.9-inch HD Touch Screen
Tank Capacity: 9ml (TFV16 Tank)
Filling Type: Top Filling System
Charging Port: Micro USB Port
IP67 Waterproof, Dustproof, and Shockproof
What's in the Box?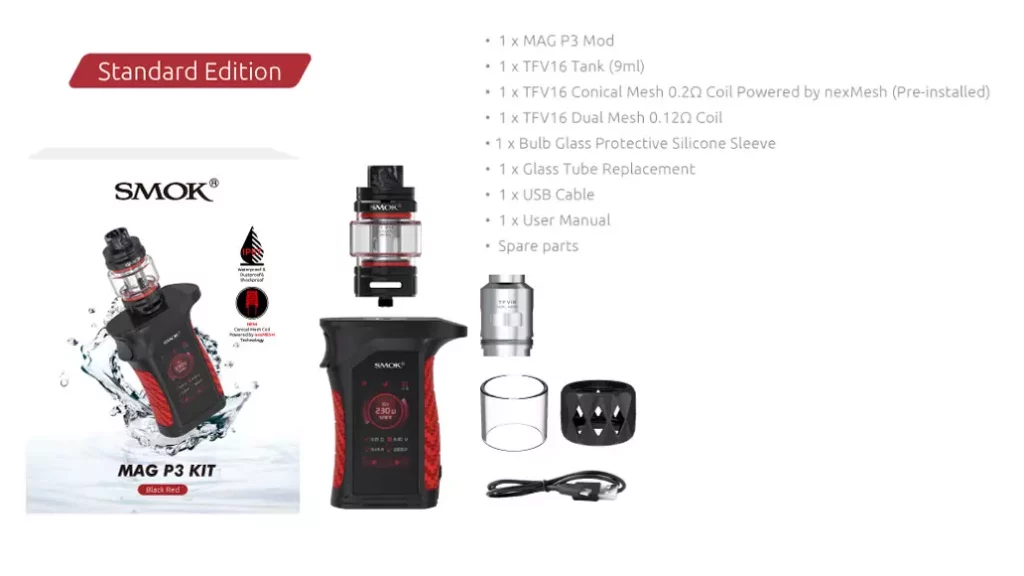 Unboxing a new device is always a thrill, and with the SMOK MAG P3 Kit, the excitement is justified. Here's what you'll find inside:
1x SMOK MAG P3 Mod
1x TFV16 Tank (9ml)
1x TFV16 Conical Mesh 0.2ohm Coil (Pre-installed)
1x TFV16 Dual Mesh 0.12ohm Coil
1x Micro USB Cable
1x User Manual
Design and Appearance
The MAG P3's design is a perfect blend of aesthetics and practicality. Its gun-handle shape is not only visually striking but also ergonomically pleasing, ensuring a comfortable grip. The mod's rugged construction, combined with its IP67 rating, makes it a reliable companion for outdoor and adventurous vapers.
Available Colors:
The SMOK MAG P3 Kit is available in aforementioned colours
SMOK MAG P3 Kit Functionality
The MAG P3 features a responsive 1.9-inch HD touch screen, offering an intuitive interface for easy adjustments. The device's advanced chipset provides a range of features, including temperature control and a smart IQ-M Chipset, enhancing the vaping experience.
SMOK MAG P3 Kit Performance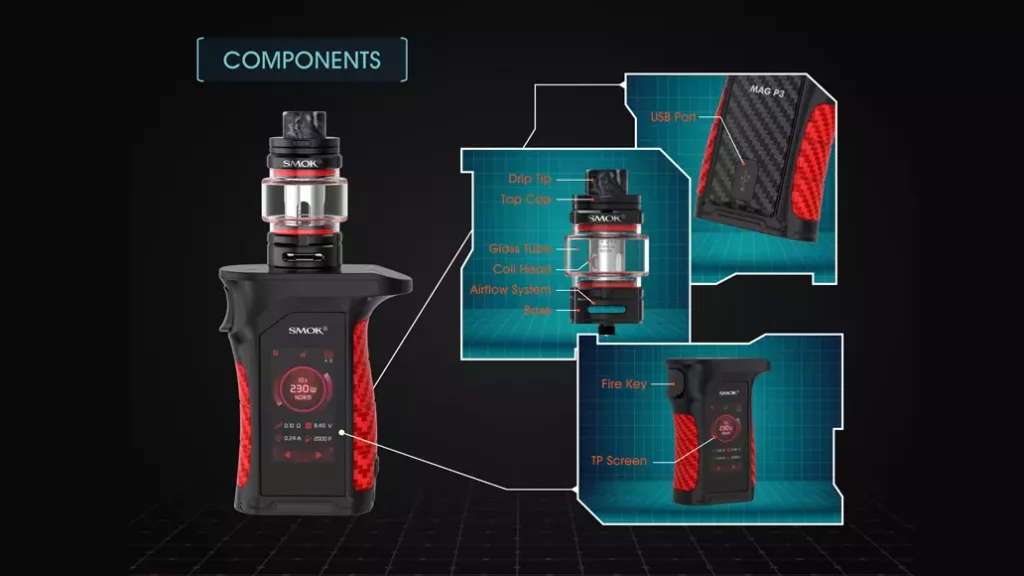 With a wattage range of 1W to 230W, the MAG P3 caters to various vaping styles, from subtle flavor chasing to cloud chasing. The TFV16 Tank, known for its massive cloud production and flavor enhancement, complements the mod's robust performance.
SMOK MAG P3 Kit Battery Performance
The device operates on two 18650 batteries, providing long-lasting power for extended use. The micro USB port facilitates convenient charging, though external charging is recommended for optimal battery health.
Types of Coils
Included in the kit are a TFV16 Conical Mesh 0.2ohm Coil and a TFV16 Dual Mesh 0.12ohm Coil, both designed for maximum flavor and vapor production.
Pros & Cons
Pros:
Durable and rugged design
High wattage output
Large tank capacity
Advanced touch screen interface
IP67 waterproof, dustproof, and shockproof
Cons:
Bulky for some users
Requires dual 18650 batteries (not included)
Perfectly Paired E-Liquids
Enhance your vaping experience with Black Note Natural Tobacco Eliquids. Our e-liquids, crafted from organic tobacco leaves, are free from artificial flavors, sweeteners, and synthetic nicotine.
This juice is like the first cigarette from a fresh pack of Marlboro Lights in every puff! I started with the 6 mg and found myself still wanting cigarettes now & then, so i bought the 12 mg this time- that was kind of strong so I mixed the two and Perfection happened! I change my cartridge after every third refill for the best flavor. Thank You Black Note!
— Crystal Osteen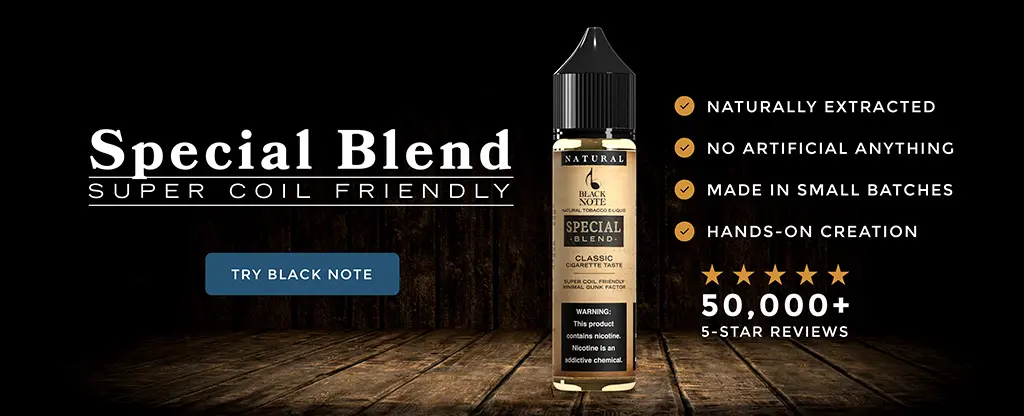 Pairing Guide for Optimal Flavor
Coils between 0.15 – 0.8Ω: Opt for Black Note's 70VG/30PG blends.
Coils above 0.8Ω: Choose Black Note's 50VG/50PG blends.
Coils above 1.0Ω: Dive into Black Note's Salt Nicotine blends.
Order the SMOK MAG P3 Kit
To shop SMOK Vaping Devices, visit Blacknote.com and make sure to explore our wide range of vaping products.
Gallery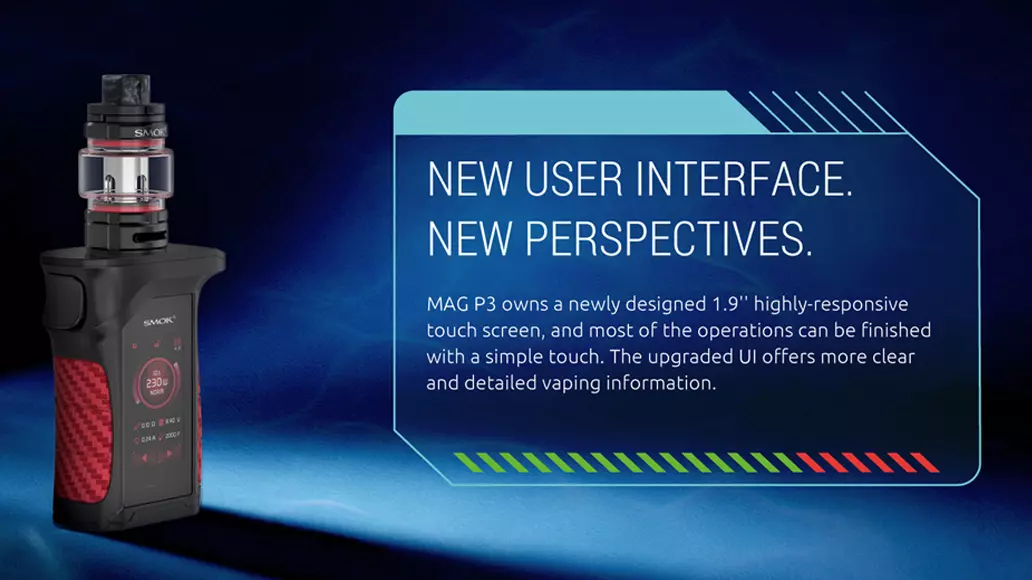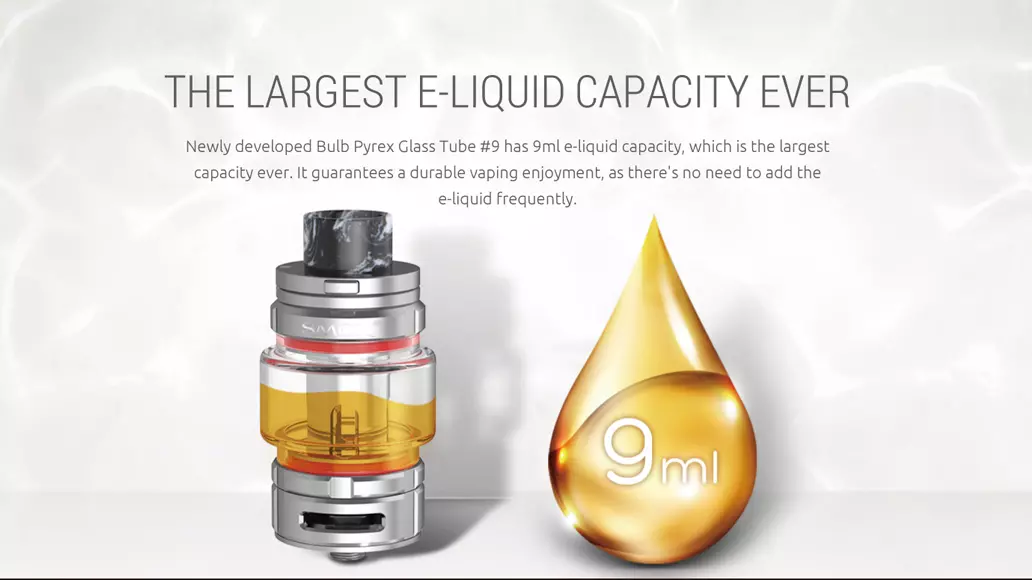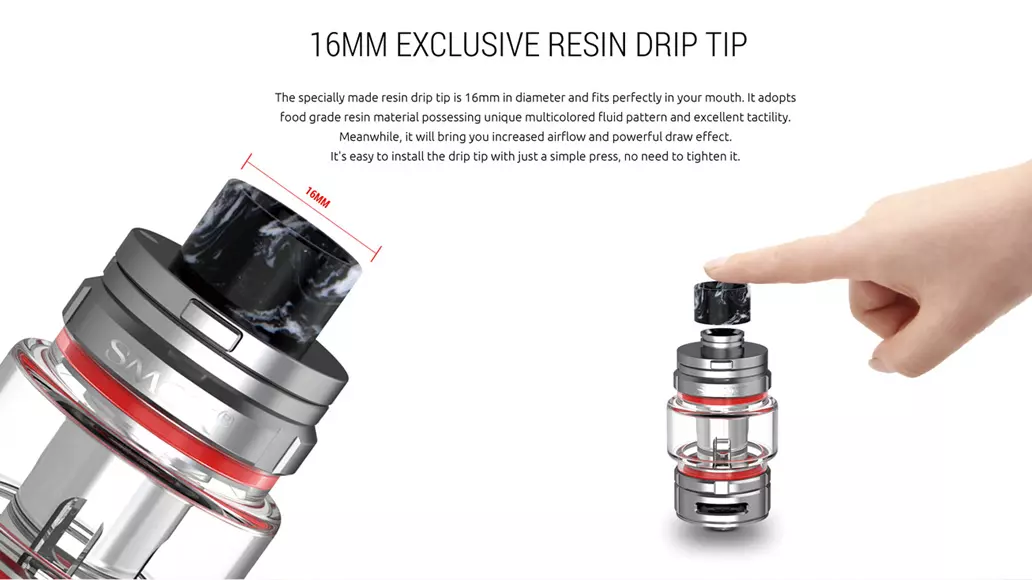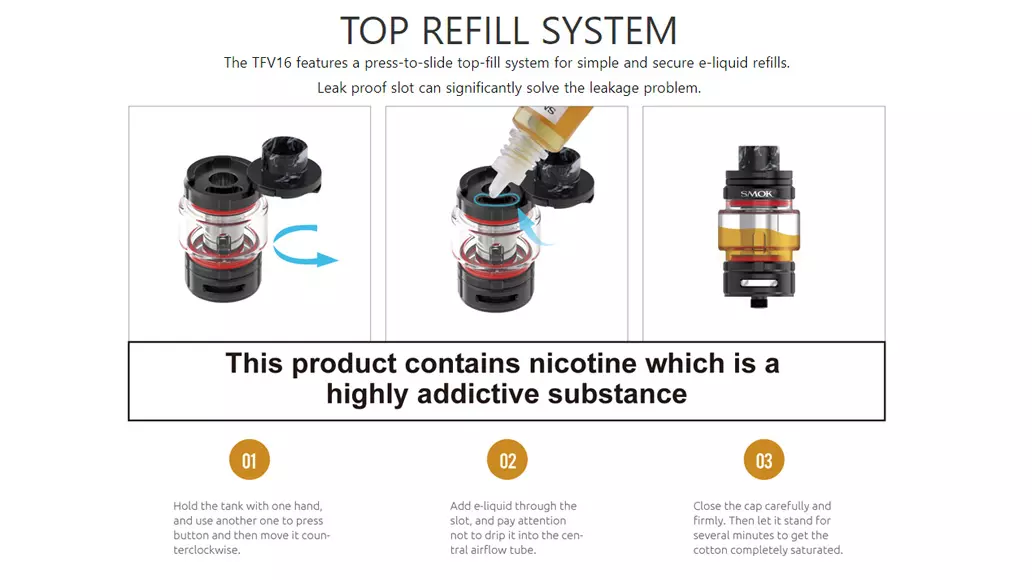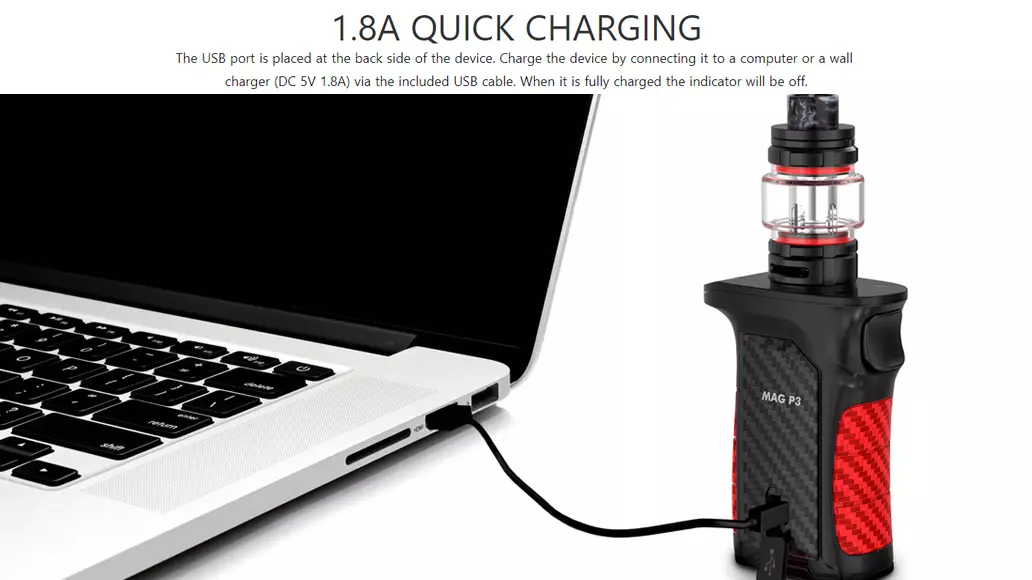 FAQ's
What are the key features of the SMOK Mag P3 230W Box Mod?
The SMOK Mag P3 230W Box Mod features a trigger-inspired design with an ultra-durable chassis upgrade, IP67 Waterproof implementation, and is powered by two high-amp 18650 batteries (sold separately). It has a 1.9″ HD Touch Screen for easy operation and an Input Keyboard that can feature Password Protection.
What is the wattage output range of the SMOK Mag P3?
The wattage output range of the SMOK Mag P3 is 1-230W.
What type of batteries does the SMOK Mag P3 use?
The SMOK Mag P3 uses two high-amp 18650 batteries, which are not included in the kit.
What is the e-liquid capacity of the SMOK TFV16 Tank included in the kit?
The SMOK TFV16 Tank in the kit has a maximum e-liquid capacity of 9mL.
What types of coils are included with the SMOK Mag P3 Kit?
The kit includes a 0.17ohm TFV16 Single Mesh Coil and a 0.12ohm TFV16 Dual Mesh Coil.
Does the SMOK Mag P3 Kit include a USB cable?
Yes, the kit includes a MicroUSB Cable with a 1.8A charging current.
Key Takeways
The SMOK MAG P3 Kit is an ideal choice for vapers who value durability, power, and advanced features in a uniquely designed package.
Want more articles like this one delivered straight to your inbox? Use our "Stay in Touch" form below to get up-to-date news, tips and discounts on vape devices and juices.