We Craft Our Natural Tobacco Vaping Liquids With The Mentality of a Fine Winemaker
This is Black Note's motto: patience, passion, and high-quality ingredients. We craft Black Note Natural tobacco vaping liquid with the same mentality taken to produce high-quality fine wine or brew premium beer.
Our team utilizes technology and science to give you the world's best tobacco vaping experience. Unlike synthetic or chemically treated vaping liquids, Black Note contains natural flavor extracts from real tobacco leaves.
We launched Black Note many years ago for one reason – to give you a superior alternative to cigarettes. When you vape Black Note e-Liquids, you'll taste the difference.
If you want to enhance your vaping experience with Black Note, then take two minutes to read our story. Knowing what inspired our journey will help you enjoy your vaping experience with our blends.
What you'll discover after reading this article:
What Makes Menthol Tobacco Unique
Black Note's Natural Menthol tobacco is fresh, crisp, mellow, and ultra-smooth, especially when natural menthol flavoring is used.
High-quality menthol starts with sun-cured Oriental tobacco, overlaid with a menthol extract derived from genuine peppermint leaves.
The History Behind Menthol Tobacco
Tobacco farming entered Anatolia in the early 1600s due to a trade with Venetian merchants. The Oriental variety of tobacco grown in Basma or Izmir was characterized by small leaves, low nicotine levels, a sophisticated, delicate fragrance, and a balmy taste.
In the 19th century, Egyptian soldiers invented cigarettes by putting tobacco in empty tubes of wrapping paper from gunpowder and smoking it. To boost morale, they received rations of tobacco every day.
Where Menthol Tobacco Comes From
The menthol flavoring used in tobacco can come from the natural extract from mint or peppermint plants. It can also be created synthetically.
Black Note uses an extract derived from genuine peppermint leaves, which is added to a base of sun-cured Oriental tobacco.
How Menthol Tobacco Originated
Credit for creating menthol tobacco goes to an Ohio man named Lloyd Hughes. He worked as a restaurant cashier when he thought of adding menthol flavor to cigarettes in 1925. He figured the menthol would give the illusion of a "cooler" smoke.
Hughes' nickname was Spud, and the Spud brand became the first widely sold menthol cigarette in the U.S. They were the fifth most popular cigarettes by 1932.
Our Menthol Tobacco Extraction Process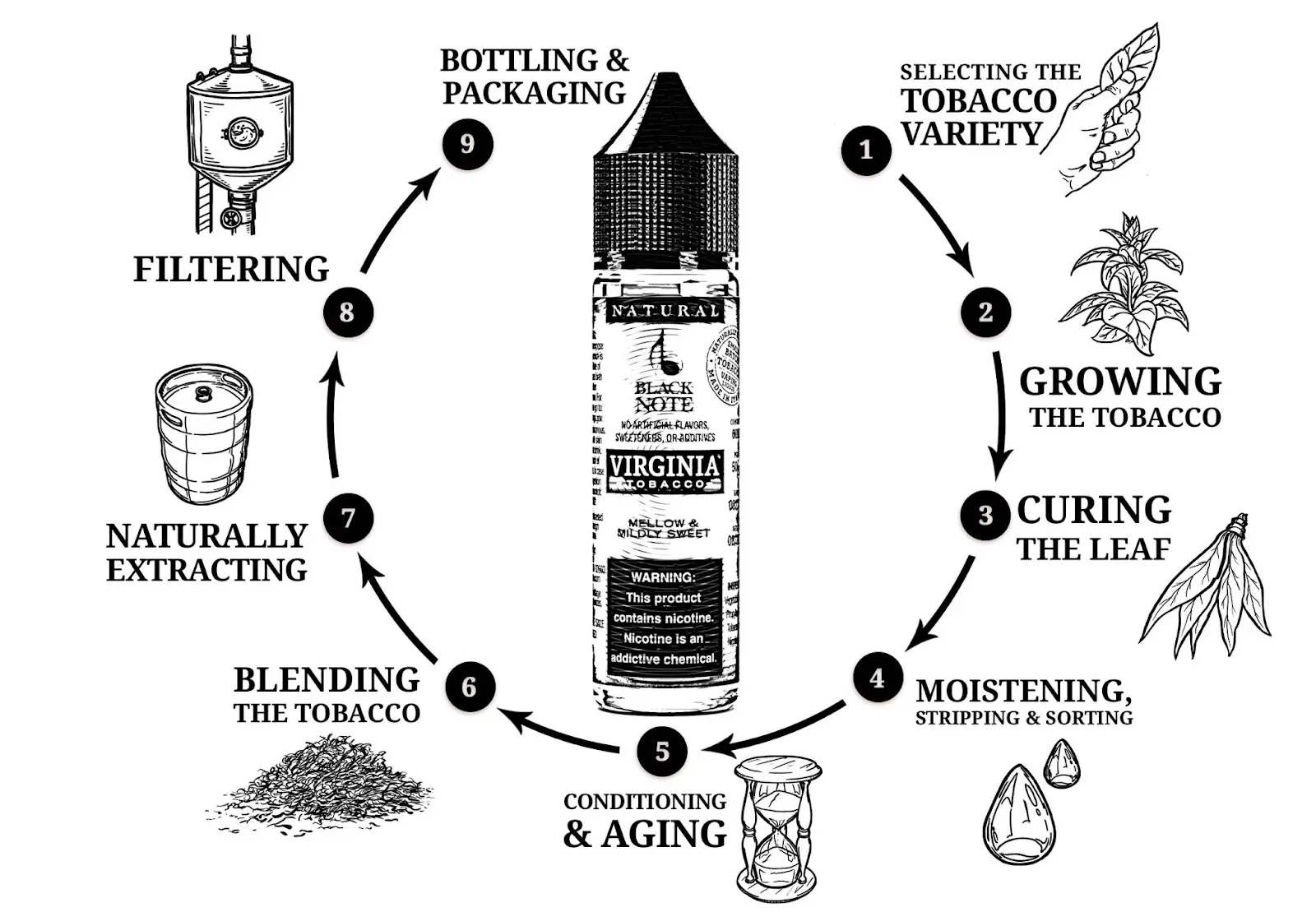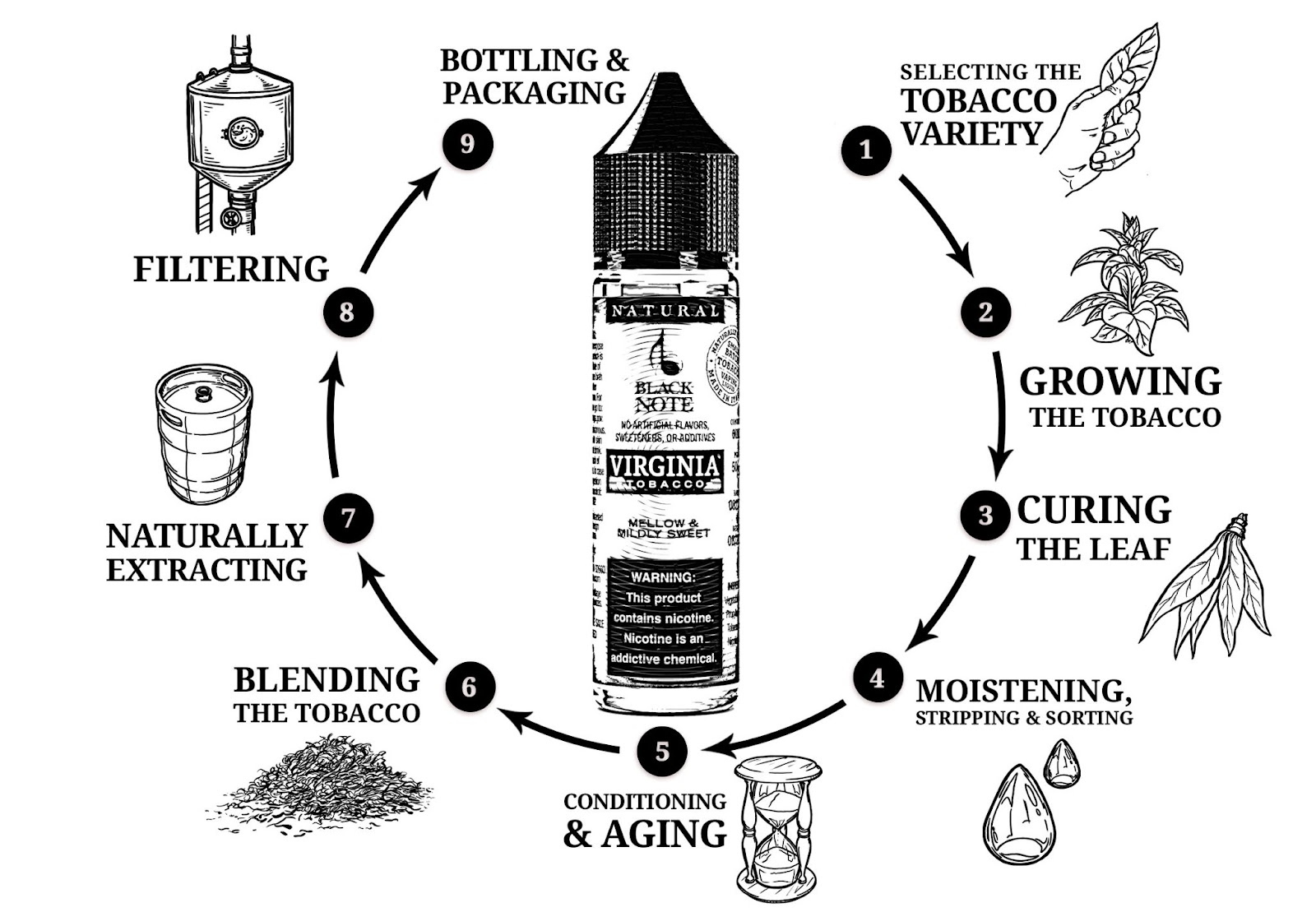 Black Note's Menthol tobacco blend is naturally extracted from sun-cured Oriental tobacco leaves, overlaid with a menthol extract derived from genuine peppermint leaves.
Black Note's Menthol tobacco blend is not artificially made in a lab. That means you get a natural menthol tobacco taste fueled by sunlight and care, not a synthetic flavor from chemicals.
Black Note's Menthol tobacco vaping liquid is:
Naturally extracted from real tobacco and peppermint leaves, using only the best leaves and the best part of the leaves
100% FREE from artificial flavors, colors, or sweeteners
No diacetyl, acetyl propionyl, ethylene glycol, diethylene glycol, acrolein, and acetoin
Handcrafted in small batches
Warning: Some Mint and Menthol E-Liquids Contain Carcinogen
Menthol and mint-flavored vaping liquids may be crisp and refreshing, but some may also be hazardous to your health. The hazard comes from a potential carcinogen called pulegone.
Studies from the Centers for Disease Control and Prevention have shown many e-liquids marketed in the U.S. contain substantial amounts of pulegone. Black Note's menthol vaping liquids, however, have absolutely none.
What You Should Know About Pulegone
Where Pulegone Comes From
Pulegone is found in the essential oils of various plants, such as peppermint, mentha Piperita, and catnip. It can also be created synthetically when attempting to mimic the natural mint flavors of such plants.
The FDA Ban on Pulegone
Although the U.S. Food and Drug Administration banned the use of synthetic pulegone as a food additive, it still shows up in many mint and menthol e-liquids. And it shows up in relatively high amounts.
What is 'Rather High?'
"Rather high" amounts exceed the threshold of concern or the amount the FDA noted caused tumors in animal studies. Duke University researchers compared pulegone levels in various mint and menthol products against the FDA threshold of concern.
The products were:
Three e-cigarette brands: above the threshold of concern
One smokeless tobacco brand: above the threshold of concern
Menthol cigarettes: below the threshold of concern
Since the tobacco industry has long been aware of the hazards of pulegone, it would explain why menthol cigarettes have levels below the threshold of concern. On the other hand, E-liquid manufacturers may not be aware of the fears and focus on using the least expensive ingredients.
It must also be noted that the high levels of concern are for pulegone used as a food additive. No available data shows the effects of pulegone when inhaled, which could be even more damaging. Toxicologists consider the lungs more sensitive to toxins than the digestive system.
Why Black Note Does Not Contain Pulegone
As with all our vaping tobacco liquid, the flavoring used in our Menthol blend contains mint flavoring derived from the mint extract. But that mint extract does not come from plants containing pulegone. Instead, it comes from menthe Arvensis, a species of mint plant that does not have the carcinogen.
It pays to do your research if you vape menthol and mint e-liquids. This way, you can ensure you're choosing a product that does not contain pulegone. Or go right for a product you know and trust: Black Note natural tobacco vaping liquid.
The Story Behind Our Journey
Our journey to create the most authentic-tasting tobacco e-liquid started when we realized tobacco e-liquids on the market didn't taste like real tobacco. As a result, we were inspired to do things better by crafting real tobacco vaping liquid without sweeteners and flavors.
Naturally extracting tobacco flavor in small batches was the only way to preserve the signature flavor of our tobacco blends.
Thanks to our cold maceration extraction process, the hidden flavors of real tobacco are unlocked. Our commitment to this approach uncovers the subtle notes of each Black Note tobacco blend, giving them a unique character and preserving their natural flavor.
When you try one of our real tobacco vaping liquid blends, you'll immediately taste the difference between Black Note and everyone else. We hope you enjoy the fruits of our labor.
The Second Best Alternative to Help You Quit Smoking Cigarettes
Our mission at Black Note is to be the second-best alternative to quitting smoking cigarettes. Not smoking anything is the number one alternative.
Although we are the best tobacco vaping liquid company on earth (according to many of our customers), we don't want non-smokers to start vaping, we won't encourage vapers to vape more, and we DON'T want you to vape forever.
We encourage people to QUIT cold turkey if that works better, without putting Black Note into the mix and relying on vaping to quit smoking cigarettes.