Welcome to our product review blog article on the Geekvape H45 Classic. In this review, we will delve into its features, design, functionality, and more. Read on to discover if this device is the right fit for your vaping needs.
Order the Geekvape H45 Classic
Table of Contents
Who Should Buy the Geekvape H45 Classic
The Geekvape H45 Classic (Aegis Hero 2 Classic) Pod Kit is perfect for vapers seeking a powerful and robust device with a classic Aegis aesthetic. Its lightweight design and new Tri-proof and top airflow features make it ideal for active users seeking an exceptional vaping experience.
What's Included in the Package
H45 Classic device
4ml pod
Spare MTL drip tip
Two Geekvape B Series coils
Type-C USB cable
Coil tool
Design and Build Quality
The Geekvape H45 Classic boasts a classic Aegis aesthetic and is 15% lighter than the previous generation, providing a comfortable grip. The Tri-proof and top airflow design ensures durability and ease of use during an active lifestyle.
Battery Size and Strength
With its built-in 1400mAh battery, the H45 Classic offers a maximum output of 45W. The Type-C charging port allows for quick and convenient charging, and the battery can support extended vaping sessions.
Refillable Pod Size
The Geekvape H45 Classic comes with a 4ml pod capacity, allowing for ample e-liquid storage. The top airflow leakproof design and compatibility with the same cartridge as H45 ensure a hassle-free refill experience.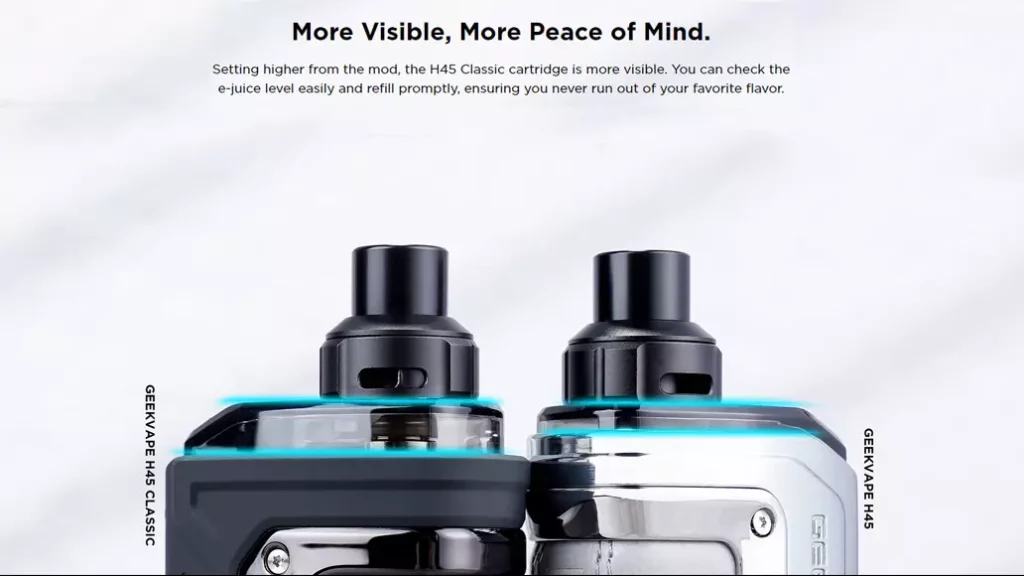 Types of Coils
The H45 Classic uses Geekvape B Series coils, including a pre-installed 0.4Ω coil (25-35W) and a spare 0.6Ω coil (15-25W). These coils deliver outstanding flavor and vapor production, catering to both MTL and RDL vaping styles.
Perfectly Paired E-Liquids
Enhance your vaping experience with Black Note Natural Tobacco Eliquids. Our e-liquids, crafted from real tobacco leaves, are free from artificial flavors, sweeteners, and synthetic nicotine.
Use the list below to pair the coils in your favorite devices with the right e-liquid based on VG/PG ratios:
For coils between 0.15 – 0.8Ω: Choose our 70VG/30PG blends
For coils above 0.8Ω: Opt for our 50VG/50PG blends
For coils above 1.0Ω: Select our Salt Nicotine blends
How to Use the Geekvape H45 Classic
Step 1: Insert the B Series coil into the pod.
Step 2: Fill the pod with your favorite e-liquid from the top.
Step 3: Reattach the pod to the device.
Step 4: Press the power button five times to turn on the device.
Step 5: Adjust the wattage to your desired level using the buttons.
Step 6: Inhale through the drip tip to start vaping.
Order the Geekvape H45 Classic
To order the Geekvape H45 Classic, visit Blacknote.com and make sure to explore our wide range of vaping products.
Click here to order the Geekvape H45 Classic today.
Key Takeaways
The Geekvape H45 Classic offers a classic Aegis aesthetic with powerful performance.
Its lightweight and durable design make it ideal for active users.
The B Series coils provide excellent flavor and versatility for MTL and RDL vapers.
Want more articles like this one delivered straight to your inbox? Use our "Stay in Touch" form below to get up-to-date news, tips, and discounts on vape devices and juices.