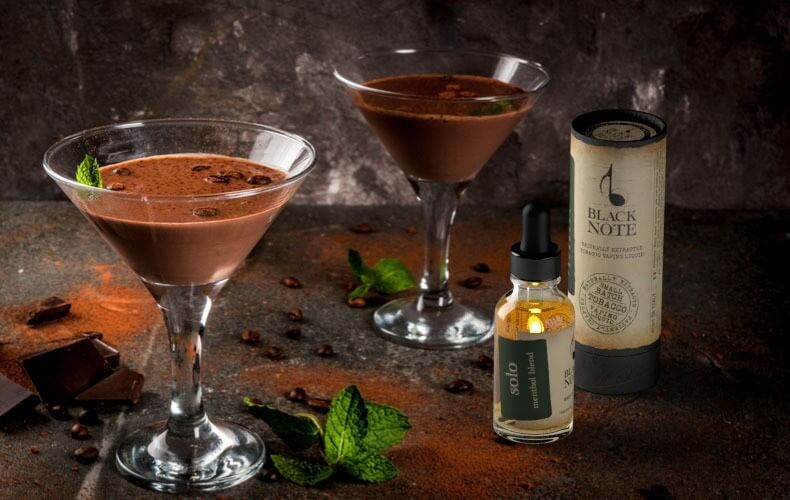 Delicious Duo 8: Solo and Chocolate Liqueur
Solo's naturally minty zing sings a melodious tune when matched with a flavorful chocolate liqueur.
Mint and chocolate are a natural mix, showing up in treats like mint chocolate chip ice cream and chocolate-covered peppermint candies. It's also the flavors showcased when you couple the genuine mint flair of Black Note's menthol blend with a delectable chocolate liqueur.
Solo Highlights
Solo starts with real Turkish tobacco, which is flue-cured then overlaid with a menthol extract. As with all things Black Note, natural ingredients are a must. That the menthol extract is derived from real mint leaves, providing a crisp, smooth experience with no harsh bite. The medium-bodied blend is the perfect pick for those who enjoy the tingly, invigorating experience of genuine mint.
Chocolate Liqueur Highlights
Chocolate liqueur boasts an alcohol base that has been imbued with some form of chocolate or chocolate flavoring. Vodka is generally the alcohol of choice for the base, while caramel, coffee, orange or other flavors may be included in addition to chocolate. Chocolate liqueur may also be sweetened, ensuring it makes an ideal after-dinner drink that can be enjoyed as a form of dessert.
Why the Two Make a Delicious Duo
The zesty mint and soothing chocolate flavors mingle magnificently, especially when they're savored together after a hearty meal. Both treats feature a medium-bodied weight with an adaptable base. Solo features the much-loved and versatile Turkish tobacco while chocolate liqueur typically contains the equally versatile vodka.
The crisp and invigorating mint of Solo also provides a tasty punch for the smooth and luxurious chocolate of the liqueur. The mingled sensations leave your taste buds with a pleasantly sweet and invigorating perk.